This article is incomplete.
This article is missing one or more sections. You can help the BirdForum Opus by expanding it.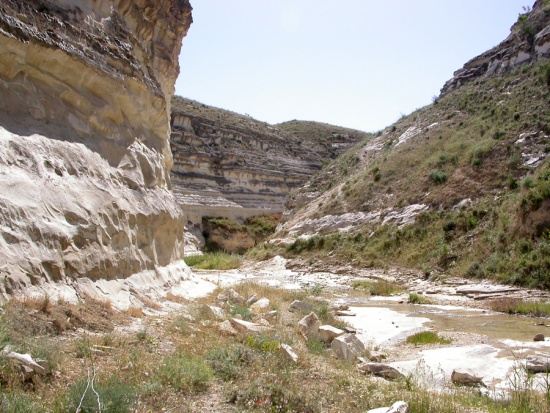 Overview
Birecik is a small village on the Euphrates close to the Syrian border that has long been famous among ornithologists as a site for Northern Bald Ibis. The colony once bred on cliffs above the village but although free-flying ibis can still be seen in the area there are no longer any truly wild birds present.
The ibis breeding station is run by the WWF and has a resident warden. It is located on the eastern bank just north of Birecik. The land along the river is heavily cultivated but there are patches of dense scrub in some areas and on sandbanks in the river. Away from the river the land is mainly scrub-covered and rocky hillsides and semi-desert with wadis.
Birds
Notable Species
Birders attracted here by the ibis have discovered a wealth of other species including several Middle Eastern specialities on the limits of their range and difficult to see elsewhere in the Western Palearctic. One of the best of these is Striated Scops Owl which can be seen in the tea-gardens in the south of the town along with Eurasian Scops Owl and Long-eared Owl. Spotted Sandgrouse has been recorded in this area in recent years and may be regular.
Pied Kingfisher occur along the river and in early morning sandgrouse come to drink on the islands close to the ibis colony to the north of the town. Black-crowned Night Heron, Stone-curlew and Spur-winged Plover can also be seen on the river as well as terns.
Iraq Babbler has recently colonized the area and can be seen in the reedbeds along the river.
Further to the north of the town is a large and densely vegetated wadi where Dead Sea Sparrow, Rock Sparrow, Pale Rock Sparrow and Yellow-throated Sparrow can be seen. Menetries's Warbler also occurs here and Eagle Owl is usually present. These owls are apparently intermediate between Eurasian and Desert Eagle Owl.
Other birds of the area include Chukar Partridge and See-see Partridge, Blue-cheeked Bee-eater, Delicate Prinia and Desert Finch. Wheatears include Eastern Black-eared Wheatear and Desert Wheatear and larks include Greater Short-toed Lark and Mediterranean Short-toed Lark, Bimaculated Lark and Desert Lark. Long-legged Buzzard are common in the area and Short-toed Eagle and Lesser Kestrel also occur.
Rarities
Rarities seen here have included White-tailed Plover and Spotted Sandgrouse, Sooty Falcon and Barbary Falcon have also been recorded and Barbary Falcon and Cream-coloured Courser is possibly regular and best looked for along the Birecik-Halfeti road.
Check-list
Birds you can see here include:
White Stork, Black-crowned Night Heron, Northern Bald Ibis, Black Kite, Egyptian Vulture, Short-toed Eagle, Long-legged Buzzard, Bonelli's Eagle, Osprey, Lesser Kestrel, Northern Hobby, Barbary Falcon, Chukar Partridge, See-see Partridge, Black Francolin, Stone-curlew, Cream-coloured Courser, Little Ringed Plover, Spur-winged Plover, Gull-billed Tern, Little Tern, Black-bellied Sandgrouse, Pin-tailed Sandgrouse, Laughing Dove, Striated Scops Owl, Eurasian Scops Owl, Eurasian/Desert Eagle Owl, Little Owl, Tawny Owl, Long-eared Owl, European Nightjar, Little Swift, Pied Kingfisher, Blue-cheeked Bee-eater, European Bee-eater, European Roller, Eurasian Hoopoe, Syrian Woodpecker, Desert Lark, Bimaculated Lark, Greater Short-toed Lark, Mediterranean Short-toed Lark, Crested Lark, Red-rumped Swallow, Iraq Babbler, Rufous-tailed Scrub Robin, White-throated Robin, Isabelline Wheatear, Eastern Black-eared Wheatear, Desert Wheatear, Finsch's Wheatear, Kurdistan Wheatear, Blue Rock Thrush, Cetti's Warbler, Delicate Prinia, Great Reed Warbler, Eastern Olivaceous Warbler, Upcher's Warbler, Menetries' Warbler, Orphean Warbler, Eastern Rock Nuthatch, Western Rock Nuthatch, Sombre Tit, Woodchat Shrike, House Sparrow, Spanish Sparrow, Dead Sea Sparrow, Pale Rock Sparrow, Yellow-throated Sparrow, Rock Sparrow, Desert Finch, Cinereous Bunting, Black-headed Bunting
Other Wildlife
To do
Site Information
May is by far the best time to visit, any earlier and some of the migrants will not yet be present and any later will be too hot.
History and Use
To do
Areas of Interest
The village of Halfeti lies about 40km to the north of Birecik where the Euphrates flows through a deep gorge with sheer cliffs. Egyptian Vulture and Bonelli's Eagle breed here as well as Little Swift, Red-rumped Swallow, Kurdistan Wheatear and both White-throated Robin and Rufous-tailed Scrub Robin. Also found here are both Rock Nuthatch, Cinereous Bunting and many of the species occurring at Birecik.
Access and Facilities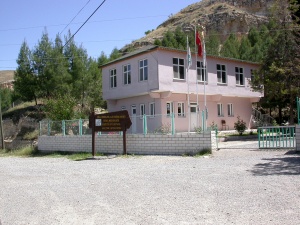 Birecik has hotel accommodation and is situated on the Gaziantep-Urfa road where it crosses the Euphrates. It is easily reached from Adana which has an airport. Halfeti is north of Birecik and can be reached by turning left about 5km east of Birecik. Halfeti has no hotels but there is a bus service between the two villages.
The entire area has good birds but the best areas are probably those on the east bank, in particular the wadi to the north of town and the sand-pits to the south. The ibis colony is north of the town and well signposted.
This area is subject to occasional security issues due to ongoing conflict between the PKK and Turkish troops. Birdwatchers have been detained overnight 'for their own security' and adviced by the authorities to leave town. It might be wise to seek the current situation before travelling to the area.
Contact Details
To do
External Links
To do