Emberiza cineracea
Identification
16–17 cm
Male - dull yellow head, bright yellow moustache and throat, grey back, grey underparts, brownish wings, long white cornered tail, thick pale bill.
Female - brownish grey above, white throat, yellow moustache.

The males are distinctive thanks to a greeny yellow head much plainer than in other male buntings. The birds in eastern Turkey are of a different race in which the yellow extends down the underparts as far as the undertail. Females and first winter birds are dull and streaky with an obvious white eye-ring so could be confused with Ortolan or Cretzschmar's Buntings. However, they tend to be less prominently streaked, especially below, and the females often have a distinct yellow tinge to the throat. The most important clinching feature, though, is that the bill of a Cinereous Bunting is always dull grey rather than pinkish.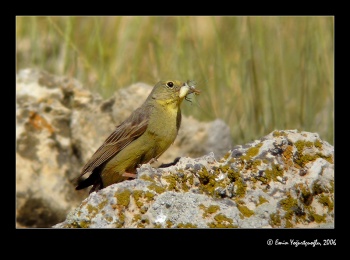 Distribution
Southern Turkey, southern Iran, winters in northeast Africa and Yemen.
Taxonomy
There are 2 subspecies.[1]
Arid rocky slopes of western and southern Turkey
Habitat
Rocky mountain slopes with scrub.
Behaviour
Diet
The diet includes seeds and insects.
Breeding
Three eggs are laid.
Vocalisation
Call: harsh tschrip; song: zru- zru-zru-zru
References
Clements, JF. 2008. The Clements Checklist of Birds of the World. 6th ed., with updates to December 2008. Ithaca: Cornell Univ. Press. ISBN 978-0801445019.
Wikipedia
Recommended Citation
External Links
GSearch checked for 2020 platform.1