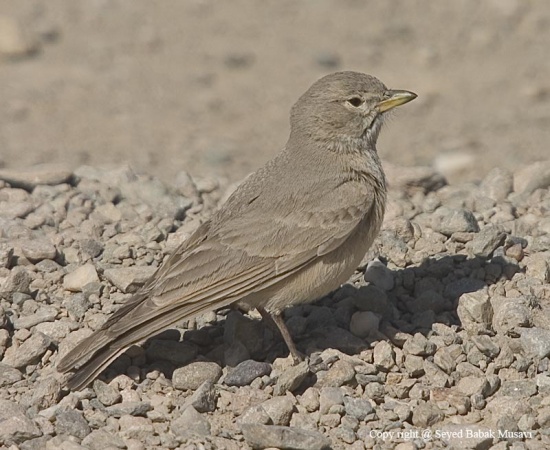 Ammomanes deserti
Identification
15–17 cm (6-6¾ in)
Sandy upperparts
Pale pink grey underparts
Rufous tail with dark terminal band
Thick yellow bill
Sexes alike
There is some colour variation according to subspecies.
Distribution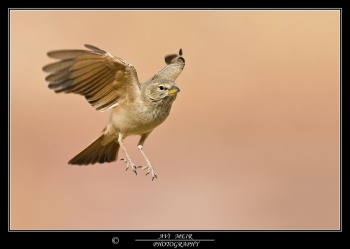 Africa, Middle East and Asia:
Northern Africa: Morocco, Algeria, Tunisia, Libya, Egypt
Western Africa: Mauritania, Mali, Burkina Faso, Nigeria, Niger, Chad
Eastern Africa: Sudan, Eritrea, Ethiopia, Djibouti, Somalia
Middle East: Turkey, Syria, Lebanon, Israel, Jordan, Arabian Peninsula, Saudi Arabia, Yemen, Oman, United Arab Emirates, Qatar, Bahrain, Kuwait, Iraq, Iran
Asia: Uzbekistan, Turkmenistan, Tajikistan, Afghanistan, Pakistan, India, Western Himalayas
Taxonomy
Subspecies
There are 22 subspecies[1]:
A. d. mya: Central Algerian Sahara (between 27øN and 30øN)
A. d. geyri: Mauritania to southern Algeria and north-western Niger (Air Massif)
A. d. whitakeri: South-eastern Algeria to south-western Libya and north-western Chad (Tibesti Mountains)
A. d. kollmanspergeri: North-eastern Chad (Ennedi Mountains) and western Sudan (Darfur)
A. d. isabellina: Northern Egypt (west of the Nile Valley) east to Israel, Jordan, Syria, southern Turkey (Birecik), northwestern Saudi Arabia, and Iraq (west of the Tigris River)
A. d. deserti: Eastern Egypt (east of Nile to Red Sea) south to Sudan
A. d. erythrochroa: Western Chad (Ndjamena) to northern Sudan (Dongola to Kordofan)
A. d. samharensis: Red Sea coast of eastern Sudan, Eritrea and Arabian Peninsula (south to northern Yemen)
A. d. akeleyi: Highlands of northern Somalia
A. d. azizi: North-eastern Saudi Arabia (Al Hufuf area)
A. d. saturata: Black lava deserts of southern Arabia (northern Hijaz to Aden)
A. d. insularis: Bahrain (Persian Gulf)
A. d. taimuri: Oman (Muscat area)
A. d. cheesmani: Iraq (east of Tigris River) to western Iran (west of Zagros Mountains to Persian Gulf
A. d. parvirostris: Western Turkmenistan (Kara-Bogaz-Gol to Kopet Dagh and Atrak Basin)
A. d. orientalis: North-eastern Iran, Turkestan and northern Afghanistan
A. d. iranica: central, southern, and eastern Iran (including the southern Zagros Mountains) east to southwestern Afghanistan and western Pakistan (Baluchistan)
A. d. phoenicuroides: South-eastern Afghanistan, eastern Pakistan and north-western India (extreme western Rajasthan)
Habitat
Semi desert and deserts.
Behaviour
Breeding
It is a ground nester, building the nest in rocks or stones. The clutch consists of 3-4 eggs.
Diet
The diet consists of small seeds and insects.
Vocalisation
Song' choo-wee-chacha wooee.
References
Clements, J. F., T. S. Schulenberg, M. J. Iliff, S. M. Billerman, T. A. Fredericks, J. A. Gerbracht, D. Lepage, B. L. Sullivan, and C. L. Wood. 2021. The eBird/Clements checklist of Birds of the World: v2021. Downloaded from https://www.birds.cornell.edu/clementschecklist/download/
Avibase
Wikipedia
Recommended Citation
External Links