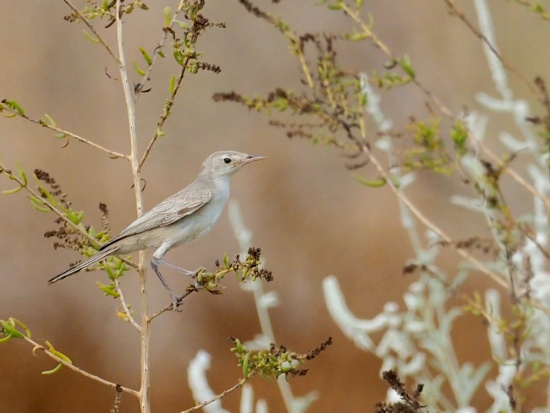 Hippolais languida
Identification
14–15 cm (5½-6 in)br />
Light grey upperparts
Longish tail, broad at the base
A rounder head than in the olivaceous
Similar Species
Easily mistaken for Olivaceous Warbler especially flitting around in the greenery and the voice is similar as well. Tail movements are apparently the clincher when trying to distinguish from the Olivaceous, not only do they have the up and down waving tail but also a circular sideways movement as well.
Distribution
South-central Asia; winters in north-eastern Africa and southern Arabia
North Africa: Egypt
Eastern Africa: Eritrea, Ethiopia, Djibouti, Somalia, Kenya, Uganda and Tanzania
Middle East: Turkey, Syria, Lebanon, Israel, Jordan, Arabian Peninsula, Saudi Arabia, Yemen, Oman, United Arab Emirates, Bahrain, Kuwait, Iraq, Iran, Armenia, Azerbaijan and Georgia
Asia: Turkestan, Kazakhstan, Uzbekistan, Turkmenistan, Kyrgyzstan, Tajikistan, Afghanistan
Taxonomy
This is a monotypic species[1].
Subspecies magnirostris is generally considered invalid[2].
Habitat
Semi-desert, bushy scrub, tamarisk thickets, gardens and farmland.
Behaviour
Diet
Their diet hasn't been thoroughly studied, but apparently mainly consists of insects and invertebrates.
Breeding
The clutch of 4-5 eggs is laid in a well-built neat cup nest in bushes and low trees. It is constructed from grasses, plant stems and soft twigs.
Gallery
Click on photo for larger image
References
Clements, J. F., T. S. Schulenberg, M. J. Iliff, S. M. Billerman, T. A. Fredericks, B. L. Sullivan, and C. L. Wood. 2019. The eBird/Clements Checklist of Birds of the World: v2019. Downloaded from http://www.birds.cornell.edu/clementschecklist/download/
Avibase
Svensson, L. (2019). Upcher's Warbler (Hippolais languida). In: del Hoyo, J., Elliott, A., Sargatal, J., Christie, D.A. & de Juana, E. (eds.). Handbook of the Birds of the World Alive. Lynx Edicions, Barcelona. (retrieved from https://www.hbw.com/node/58833 on 2 September 2019)
Recommended Citation
External Links
Search the Gallery using the scientific name:
Search the Gallery using the common name:
GSearch checked for 2020 platform.