Falco concolor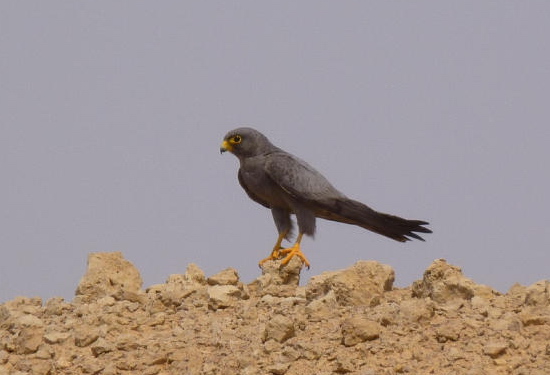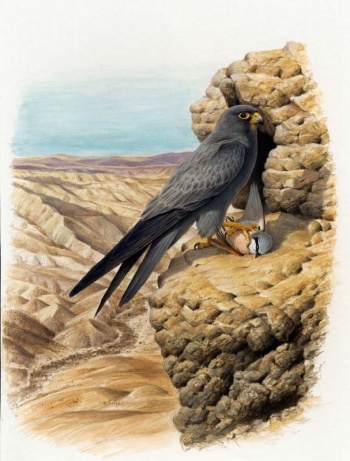 Identification
32-35 cm. (12.5-14 ins.)
It is shaped like a large Hobby or a small Eleonora's Falcon, with its long pointed wings, long tail and slim body. The adults are blue-grey.
Distribution
Africa and Asia: patchy and very scattered breeding range in south-east Libya and western Egypt, on the Red Sea coast of Egypt and southern Sinai, Jordan and small areas of southern Israel. Also breeds in parts of the Arabian Peninsula, the Makran coast of Pakistan, Sudan and Ethiopia.
Winters mainly in Madagascar and coastal East Africa and migrates overland through north-eastern Africa. As a vagrant recorded on Malta (three records) and Cyprus, Turkey, Syria and Iran.
Taxonomy
This species is monotypic.[1]
Habitat
Breeds in stony deserts with rocky outcrops and cliffs and arid rocky islands. Winters in coastal areas with cliffs.
Behaviour
Like the closely related Eleonora's Falcon this species is a late summer breeder, feeding the young on migrating passerines before departing the breeding areas in October-November. Returns to breeding areas in March-April.
The diet includes mainly birds, but it will take large insects, such as dragonflies, which are transferred from talons to beak and eaten in flight. It nests on a ledge or on rocks, laying up to 4 eggs.
References
Clements, JF. 2008. The Clements Checklist of Birds of the World. 6th ed., with updates to December 2008. Ithaca: Cornell Univ. Press. ISBN 978-0801445019.
Recommended Citation
External Links