Alternative name: Eurasian Nightjar
Includes Vaurie's Nightjar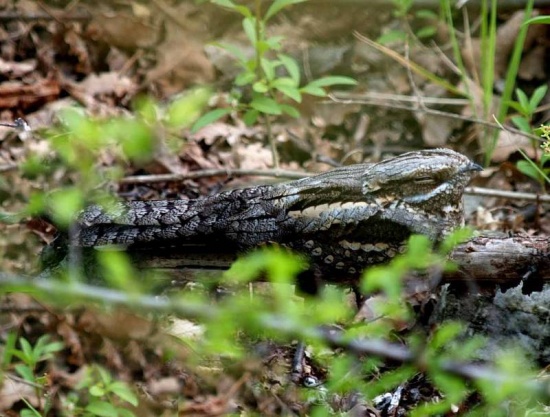 Caprimulgus europaeus
Identification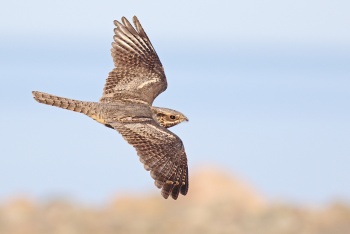 24·5–28 cm (9½-11 in)
Male
Plumage is heavily streaked with buff, chestnut and black
Underparts are barred
White areas on primaries and outer tail feathers
Black bill
Legs: reddish brown

Female similar, but lacks the white spots on wings and tail.
In the Juvenile these areas are buff.
Distribution
Widespread summer visitor to much of the region. Breeds in Ireland (rare) and southern Britain. In the north reaches south-east Norway and southern parts of Sweden and Finland, and across Russia north to about 62 degrees N. Also breeds south to Morocco to Tunisia in North-West Africa and along the Mediterranean and on most larger islands, throughout Turkey and the Caucasus. East of there, range goes east to eastern Mongolia and China. Range patchy and discontinuous in much of North-Western Europe and still in decline in many areas.
Begins to leave breeding areas in late July, by early October most have left for sub-Saharan Africa (this includes even birds breeding in east Asia). The spring return movement is mainly April-May, rarely earlier.
Vagrant north to Iceland and Faroes, and west to the Azores, Madeira and Canary Islands.
Taxonomy
Genetic analysis of the sole specimen of Vaurie's Nightjar Caprimulgus centralasicus, known from a 1960 specimen from western Xinjiang, strongly suggests that this is not a separate species, but instead is an example of European Nightjar Caprimulgus europaeus; it has therefore been lumped into the present species. 'Vaurie's Nightjar' probably represents an example of subspecies plumipes, but it can not be assigned to any specific subspecies of Eurasian Nightjar based on the available data[3].
Subspecies
Several subspecies occur in the Region differing slightly in size, ground colour and amount of white in wings of male. Other less differentiated races are found in the east of the Region but there is much intergradation and variation occurs within, as well as between, races.
There are 6 subspecies[1]:
C. e. meridionalis: generally smaller and paler
Eastern side of Caspian Sea (Kazakstan) to Altai Mountains
North-eastern Mongolia and southern Transbaikalia
Habitat
Dry open woodland and woodland edge, usually pine but also birch or oak, heathland and moorland with scattered trees, young forestry plantations and chalk downland. In some areas found on stony steppe country with sparse vegetation.
Behaviour
Nocturnal.
Breeding
Ground nesters.
Diet
Hawks for moths and other night-flying insects.
Vocalisation
References
Clements, J. F., T. S. Schulenberg, M. J. Iliff, D. Roberson, T. A. Fredericks, B. L. Sullivan, and C. L. Wood. 2018. The eBird/Clements checklist of birds of the world: v2018. Downloaded from http://www.birds.cornell.edu/clementschecklist/download/
Cleere, N., D. A. Christie, and P. C. Rasmussen (2021). Eurasian Nightjar (Caprimulgus europaeus), version 1.1. In Birds of the World (P. C. Rasmussen, Editor). Cornell Lab of Ornithology, Ithaca, NY, USA. https://doi.org/10.2173/bow.eurnig1.01.1
Schweizer et al. 2020 A molecular analysis of the mysterious Vaurie's Nightjar Caprimulgus centralasicus yields fresh insight into its taxonomic status
Recommended Citation
External Links
GSearch checked for 2020 platform.