This article is incomplete.
This article is missing one or more sections. You can help the BirdForum Opus by expanding it.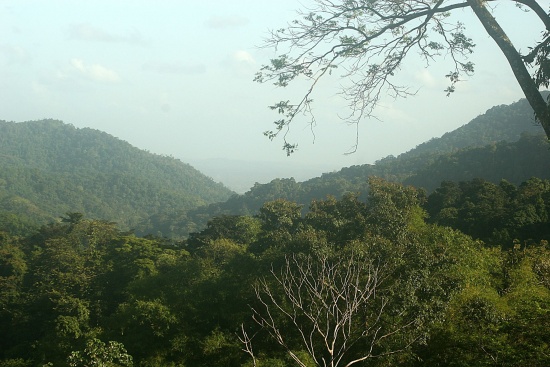 Overview
The Asa Wright Nature Center in the Northern Range in Trinidad is a not-for-profit organization aimed at protecting the natural habitat in currently almost 1500 acres. One part of the operation is a lodge situated at a former plantation, where the cost for the users help pay the overall cost of keeping the operation running.
Birds
Notable Species
Among the many birds at Asa Wright are the easiest accessible cave with Oilbirds in the world, Bearded Bellbirds along the trail all tourists normally are allowed on, Manakin leks, and fantastic hummingbirds.
Rarities
To do
Check-list
Birds you can see here include:
Little Tinamou, Magnificent Frigatebird, American Black Vulture, Turkey Vulture, Grey-headed Kite, Swallow-tailed Kite, Pearl Kite, Double-toothed Kite, Plumbeous Kite, White Hawk, Common Black-Hawk, Grey Hawk, Short-tailed Hawk, Zone-tailed Hawk, Ornate Hawk-Eagle, Merlin, Bat Falcon, Peregrine Falcon, Rock Pigeon, Scaled Pigeon, Pale-vented Pigeon, Ruddy Ground-Dove, White-tipped Dove, Grey-fronted Dove, Ruddy Quail-Dove, Green-rumped Parrotlet, Lilac-tailed Parrotlet, Blue-headed Parrot, Orange-winged Parrot, Squirrel Cuckoo, Little Cuckoo, Smooth-billed Ani, Striped Cuckoo, Barn Owl, Tropical Screech-Owl, Mottled Owl, Spectacled Owl, Ferruginous Pygmy-Owl, Oilbird, Common Potoo, Short-tailed Nighthawk, Lesser Nighthawk, Common Pauraque, White-tailed Nightjar, Chestnut-collared Swift, White-collared Swift, Band-rumped Swift, Grey-rumped Swift, Short-tailed Swift, Fork-tailed Palm-Swift, Lesser Swallow-tailed Swift, Rufous-breasted Hermit, Green Hermit, Little Hermit, White-necked Jacobin, Black-throated Mango, Ruby-topaz Hummingbird, Tufted Coquette, Blue-chinned Sapphire, White-chested Emerald, Copper-rumped Hummingbird, Long-billed Starthroat, Green-backed Trogon, Guianan Trogon, Collared Trogon, American Pygmy Kingfisher, Trinidad Motmot, Rufous-tailed Jacamar, Channel-billed Toucan, Red-rumped Woodpecker, Golden-olive Woodpecker, Chestnut Woodpecker, Lineated Woodpecker, Crimson-crested Woodpecker, Pale-breasted Spinetail, Stripe-breasted Spinetail, Grey-throated Leaftosser, Streaked Xenops, Plain-brown Woodcreeper, Cocoa Woodcreeper, Streak-headed Woodcreeper, Great Antshrike, Black-crested Antshrike, Barred Antshrike, Plain Antvireo, White-flanked Antwren, Silvered Antbird, White-bellied Antbird, Black-faced Antthrush, Scaled Antpitta, Bearded Bellbird, Golden-headed Manakin, White-bearded Manakin, Forest Elaenia, Yellow-bellied Elaenia, Southern Beardless Tyrannulet, Slaty-capped Flycatcher, Olive-striped Flycatcher, Ochre-bellied Flycatcher, Northern Scrub Flycatcher, Short-tailed Pygmy Tyrant, Yellow-olive Flycatcher, Ochre-lored Flatbill, Bran-colored Flycatcher, Euler's Flycatcher, Olive-sided Flycatcher, Northern Tropical Pewee, Piratic Flycatcher, Great Kiskadee, Streaked Flycatcher, Boat-billed Flycatcher, Sulphury Flycatcher, Tropical Kingbird, Grey Kingbird, Fork-tailed Flycatcher, Dusky-capped Flycatcher, Bright-rumped Attila, Black-tailed Tityra, White-winged Becard, White-winged Swallow, Grey-breasted Martin, Southern Rough-winged Swallow, Barn Swallow, Rufous-breasted Wren, House Wren, Tropical Mockingbird, Yellow-legged Thrush, Cocoa Thrush, Bare-eyed Thrush, White-necked Thrush, Long-billed Gnatwren, Red-eyed Vireo, Golden-fronted Greenlet, Rufous-browed Peppershrike, Trinidad Euphonia, Violaceous Euphonia, Tropical Parula, Yellow Warbler, Chestnut-sided Warbler, American Redstart, Northern Waterthrush, Golden-crowned Warbler, Bananaquit, White-shouldered Tanager, White-lined Tanager, Red-crowned Ant-Tanager, Hepatic Tanager, Silver-beaked Tanager, Blue-grey Tanager, Blue-capped Tanager, Palm Tanager, Turquoise Tanager, Speckled Tanager, Bay-headed Tanager, Blue Dacnis, Green Honeycreeper, Purple Honeycreeper, Red-legged Honeycreeper, Blue-black Grassquit, Sooty Grassquit, Olive-gray Saltator, Carib Grackle, Shiny Cowbird, Giant Cowbird, Yellow Oriole, Yellow-rumped Cacique, Crested Oropendola
Other Wildlife
Two species everyone should see pretty quickly are the Tegu (Tiger) Lizards and the Agouti.
Site Information
History and Use
To do
Areas of Interest
To do
Access and Facilities
As someone staying overnight, you will have free access to the trails around the lodge, and if you stay at least three nights, there will be a free guided tour to the Oilbird cave. The veranda at the lodge is fantastic, overlooking both hummingbird feeders and fruit feeders sought by many spectacular species. As a day visitor, you will be allowed on the veranda and one short guided trail, but the longer trails are reserved for people with overnight stay. (Correct as of 2004).
AWNC will arrange transportation from and to the airport (for a fee), and they can also arrange trips to other locations in Trinidad, including places to see Leatherback Turtles, Caroni Swamp, Waller Field, etc.
Contact Details
To do
External Links
GSearch checked for 2020 platform.1


Content and images originally posted by antonie
Reviews
Graham Harcombe's review
We here several times whilst living in Trinidad. Tours are available for day trip only, but best value for birdwatchers is to stay for 1 or 2 nights in chalet accom. Do a guided night walk for some excellent/rare sights.
Food is local fare, well presented.
Pros
Wide range of fauna
some easily accessible. Terrace environment photographer's paradise.
Cons
This in rain forest. IT RAINS!