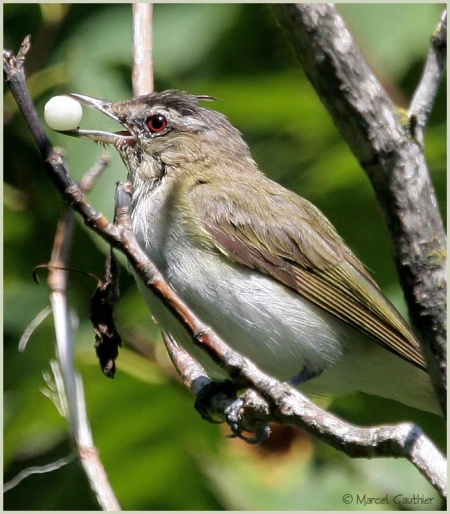 Vireo olivaceus
Identification
13·8–15·6 cm (5½-6 in)
Sparrow-sized. Olive green above, whitish below, with a narrow white eyebrow bordered above with black. Gray crown. No wing bars.
Red eye in adult northern migratory birds; eye dark in immature and brown in adult birds breeding in South America.
Similar Species
Warbling Vireo similar, but lacks gray crown and black border over bold white eyebrow. Similar to a number of species, including Black-whiskered Vireo, Cuban Vireo and others.
Distribution
Canada, western-central and eastern United States. Winters Cuba and central South America.
Canada, United States, Central America, Caribbean, South America, Spain, and Pacific Islands.
Species known as a vagrant in western Europe.
Taxonomy
This is a monotypic species[1].
Chivi Vireo was formerly included in this species.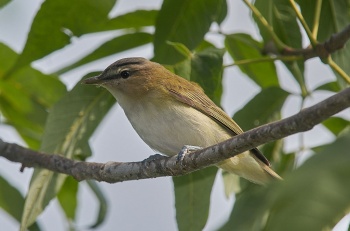 Habitat
Breeding Range
• Forests of a deciduous and combination of coniferous and deciduous type, preferably where there is good undergrowth cover and Alder and Aspen growth in the northern portion.
• Gravitates to the interior of the forest as opposed to the outer perimeters.
• Canopy openings in the forest are a good spot for them.
• Found near streams in pine heavy forests in the southeastern United States where a concentration of hardwood growth is present.
• Known to breed up to 2,000 meters/6,500 feet elevation in the Rocky Mountains of the United States.
• Will go to urban areas with large trees
Nonbreeding Range
Migration
• Utilizes a broader classification of habitat than when breeding, still favoring deciduous trees over conifers.
• Will still use urban settings, groves, and scattered trees in open areas.
• Pine and oak areas with appreciable amounts of undergrowth in the autumn in northern Gulf coast.
• Forest perimeters and and recovering forested areas in Guatemala.
Wintering
• Various cover up to 3,000 meter/9800 feet elevation to include forests, agricultural areas, groves, trees in gardens and substantial undergrowth
Behaviour
Often heard but seldom seen.
Diet
Forages slowly high in trees.
Their summer diet is mostly insectivorous, especially caterpillars, with the addition of other insects, such as moths and butterflies, beetles, ants, grasshoppers, etc. During the autumn and winter they switch to a variety of seeds and berries.
Breeding
The cup nest is suspended below a branch. It is built by the female with help from the male. The clutch consists of 1-5 white eggs with sepia speckles. Incubation takes 11-15 days.
Vocalisation
A series of hurried phrases. Not burry like most vireos.

Recording by eiguoc
Toronto, Canada, July 2016
References
Clements, J. F., T. S. Schulenberg, M. J. Iliff, S. M. Billerman, T. A. Fredericks, B. L. Sullivan, and C. L. Wood. 2019. The eBird/Clements Checklist of Birds of the World: v2019. Downloaded from http://www.birds.cornell.edu/clementschecklist/download/
Restall et al. 2006. Birds of Northern South America. Yale University Press. ISBN 9780300124156
Ridgely and Tudor 2009. Field guide to the songbirds of South America - The Passerines. University of Texas Press. ISBN 978-0-292-71979-8
Neotropical Birds
Lepage D. (2020) [Avibase - https://avibase.ca/847717E2 ]. Retrieved 31 December 2020
Cimprich, D. A., F. R. Moore, and M. P. Guilfoyle (2020). Red-eyed Vireo (Vireo olivaceus), version 1.0. In Birds of the World (P. G. Rodewald, Editor). Cornell Lab of Ornithology, Ithaca, NY, USA. https://doi.org/10.2173/bow.reevir1.01
Recommended Citation
External Links
GSearch checked for 2020 platform.1