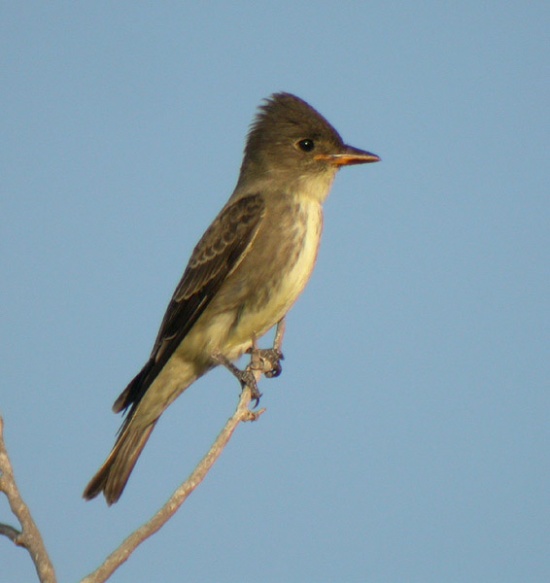 Contopus cooperi
Identification
18-20 cm (7.1-7.9 in)
The contrasting (off-)white centre line and dark breast sides are diagnostic.
Large-billed
Heavy-headed
Breast and flanks deep olive-brown/dark grey
Throat and central breast strongly contrasting (off-)white.
Base of tail with white feather tufts
Tail broad, notched
Similar Species
Eastern Wood-Pewee and Western Wood-Pewee similar but with longer tails and shorter bills, and they lack blurry breast streaks. Greater Pewee similar but without the vested appearance. Other pewee species such as Dark Pewee and Northern Tropical Pewee are broadly similar, as are empids. All these species lack the strongly contrasting whitish centerline with darker sides ("vest" or "waist coat")
Distribution
Breeds temperate North America; (Alaska, Canada through to the United States); winters south to Bolivia.
Taxonomy
This is a monotypic species[1].

Formerly Contopus borealis.
Formerly in the genus Nuttallornis.
Habitat
Boreal forest, and forest edges open wooded areas, riparian sycamore and oak woods, farm fields,
On migration may be seen in rain forest at heights of around 600 m.
Behaviour
They are inclined to perch on the very tops of trees.
Breeding
The nest is formed from twigs and lined with soft materials, such as lichen, moss and grass. It is placed high up in an evergreen tree, near the end of a branch. The clutch consists of 3 brown-spotted buff eggs.
Diet
Diet includes winged insects.
Vocalisation
Song is a loud whistled "What PEEVES you?" with the middle note highest and strongly accented. Common call is a "pip-pip-pip" similar to call of Greater Pewee.
Movements
Long-distance migrant, wintering in Central and South America; longest migration route of any North American flycatcher.
References
Clements, J. F., T. S. Schulenberg, M. J. Iliff, S. M. Billerman, T. A. Fredericks, B. L. Sullivan, and C. L. Wood. 2019. The eBird/Clements Checklist of Birds of the World: v2019. Downloaded from http://www.birds.cornell.edu/clementschecklist/download/
BirdForum Member observations
Farnsworth, A. and D. J. Lebbin (2017). Olive-sided Flycatcher (Contopus cooperi). In Handbook of the Birds of the World Alive (J. del Hoyo, A. Elliott, J. Sargatal, D. A. Christie, and E. de Juana, Editors). Lynx Edicions, Barcelona. Retrieved from Handbook of the Birds of the World Alive: https://birdsoftheworld.org/hbw/species/olsfly/1.0
Cornell Lab of Ornithology. 2019. Olive-sided_Flycatcher in: All About Birds. Cornell Lab of Ornithology, Ithaca, New York. https://www.allaboutbirds.org/ Accessed on 27May 2020
Recommended Citation
External Links
GSearch checked for 2020 platform.1