This article is incomplete.
This article is missing one or more sections. You can help the BirdForum Opus by expanding it.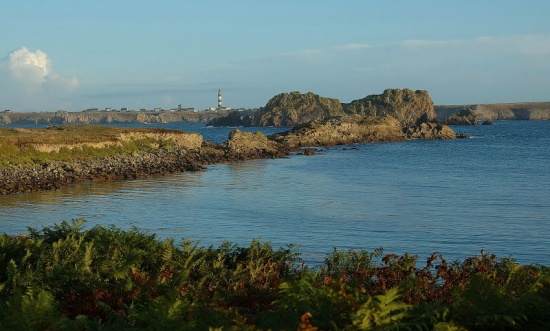 Overview
This is undoubtedly the premier rarity hotspot in France with a list of vagrants unequalled elsewhere in the country and matched only by the Isles of Scilly off south-west England, Scotland's Fair Isle and Germany's Helgoland.
Situated at the extreme north-western point of France this 8km X 3km island is ideally located to receive migrants in large numbers and is now the only permanent coastal bird observatory in France. More than 370 bird species have been recorded here.
The island is a large plateau with grazing land and heath, scrub and woodland, fringed by rocky cliffs around the deeply indented coastline. There are also shingle beaches and many rocky stacks and islets offshore. As well as the huge numbers of passerine migrants that occur, Ouessant has substantial seabird colonies. The island forms part of the Regional Nature Park of Armorique.
Birds
Notable Species
Breeding seabirds on the island and surrounding rocks include Northern Fulmar, Manx Shearwater and European Storm-petrel, Shag, Atlantic Puffin and gulls such as Herring Gull, Great Black-back Gull and Lesser Blackback Gull and Kittiwake. Red-billed Chough can be seen on the cliffs and Oystercatcher and Ringed Plover breed on the beaches.
Away from the cliffs the scrub is home to Dartford Warbler and Northern Wheatear nests on the heathland.
Passerine migrants are the birds Ouessant is most famous for and in addition to the commoner species of larks, pipits and wagtails, chats and thrushes, warblers, flycatchers and finches, the island attracts many scarcer species. Among those regularly seen here are Greater Short-toed Lark, Icterine Warbler, Melodious Warbler and Yellow-browed Warbler, Common Firecrest, Red-breasted Flycatcher and Red-backed Shrike, and Snow Bunting and Lapland Bunting. Wryneck, Golden Oriole and Common Rosefinch also appear regularly.
There are also many rarer species that turn up here with some frequency such as Red-rumped Swallow, and Arctic Warbler, Greenish Warbler, Pallas's Warbler and Barred Warbler. Zitting Cisticola is a frequent autumn visitor from the mainland.
As well as passerines a variety of other birds occurs here during passage periods. Raptors such as Eurasian Sparrowhawk, Merlin and Peregrine Falcon can be seen as well as Woodcock and Eurasian Dotterel. A good range of other waders pass through as well as ducks and some excellent seabirds. Northern Gannet, auks, skuas, terns and gulls including regular Sabine's Gull all occur in autumn but of most interest are the shearwaters. Cory's Shearwater, Sooty Shearwater, Great Shearwater, Manx Shearwater and Balearic Shearwater can all be seen during autumn seawatches, sometimes even Macaronesian Shearwater.
Rarities
Real rarities are frequently recorded on Ouessant and have included Nearctic waders such as Pectoral Sandpiper, Solitary Sandpiper and Buff-breasted Sandpiper and Long-billed Dowitcher. Other North American vagrants have included Great Blue Heron, Common Nighthawk, Red-eyed Vireo, Northern Parula Warbler and Grey-cheeked Thrush.
Like the Isles of Scilly this hotspot also attracts Asian species and Eye-browed Thrush, Gray's Grasshopper Warbler and Dusky Warbler and Isabelline Shrike are all on the Ouessant list and the globally rare Slender-billed Curlew has also been reported.
Check-list
Birds you can see here include:
Northern Fulmar, Cory's Shearwater, Great Shearwater, Sooty Shearwater, Manx Shearwater, Balearic Shearwater, Macaronesian Shearwater, European Storm Petrel, Northern Gannet, European Shag, Eurasian Sparrowhawk, Merlin, Peregrine Falcon, Eurasian Oystercatcher, Ringed Plover, Eurasian Dotterel, Northern Lapwing, Common Snipe, Eurasian Woodcock, Purple Sandpiper, Dunlin, Whimbrel, Eurasian Curlew, Common Redshank, Green Sandpiper, Common Sandpiper, Ruddy Turnstone, Grey Phalarope, Pomarine Skua, Arctic Skua, Great Skua, Sabine's Gull, Black-headed Gull, Lesser Black-backed Gull, Herring Gull, Great Black-backed Gull, Black-legged Kittiwake, Common Tern, Arctic Tern, Common Guillemot, Razorbill, Atlantic Puffin, European Turtle Dove, Common Cuckoo, Common Swift, Eurasian Wryneck, Greater Short-toed Lark, Eurasian Skylark, Barn Swallow, Northern House Martin, Richard's Pipit, Water Pipit, Rock Pipit, Tree Pipit, Meadow Pipit, Blue-headed Wagtail, White Wagtail, Bluethroat, Common Nightingale, Black Redstart, Common Redstart, Whinchat, Northern Wheatear, Ring Ouzel, Eurasian Blackbird, Fieldfare, Song Thrush, Redwing, Mistle Thrush, Zitting Cisticola, Icterine Warbler, Melodious Warbler, Dartford Warbler, Lesser Whitethroat, Common Whitethroat, Barred Warbler, Garden Warbler, Blackcap, Pallas's Leaf Warbler, Yellow-browed Warbler, Common Chiffchaff, Willow Warbler, Goldcrest, Common Firecrest, Spotted Flycatcher, Red-breasted Flycatcher, European Pied Flycatcher, Eurasian Golden Oriole, Red-backed Shrike, Red-billed Chough, Common Starling, Chaffinch, Brambling, European Greenfinch, European Goldfinch, Eurasian Siskin, Eurasian Linnet, Common Rosefinch, Common Bullfinch, Lapland Bunting, Snow Bunting, Little Bunting
Other Wildlife
To do
Site Information
History and Use
To do
Areas of Interest
Seawatching is generally best from Creac'h Head below the large lighthouse or Stiff Lightohouse and the best time is late-September or October during north-westerly winds.
Seabird colonies can be seen at Bac'haol Head and there are Atlantic Puffin at Youc'h Rock. Passage waders are best seen at Porz Doun in the south-west of the island and gulls tend to gather at Korz Beach.
To look for passerine migrants check the area around the observatory, the cemetery wood at Lampaul but especially Vallon d'Arland.
Penn Arland is the best site for nesting Dartford Warbler.
Access and Facilities
Ouessant is about 20km off the Brittany coast and can be reached by boat from Brest (2 hours) or Le Conquet (1 hour) by Penn Ar Bed ferries, or by air from Brest-Guipavas airport but advance booking is essential (for the ferry and the plane).
Hotel and guest-house accommodation can be found on the island and there is a campsite at Lampaul. Self-catering accommodation can be arranged at the observatory.
Buses and taxis are available on the island but most of the regular visiting birders hire bicycles from Lampaul or the port. If you book the bicycles in advance you can collect them at the port and they will bring your luggage to your accomodation.
Contact Details
For full details of access and accommodation contact Centre Ornithologique F-29242 Ile d'Ouessant Tel. 9848 8265.
External Links

Content and images originally posted by Steve