Alternative names: Eurasian Rock Pipit; European Rock Pipit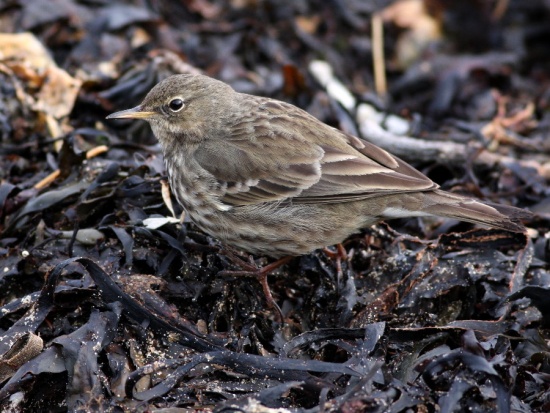 Anthus petrosus
Identification
Length 16·5–17 cm (6½-6¾ in), weight 18–32 g
A robust pipit, obviously larger than Meadow Pipit. Classic nominate birds they are strikingly dark, so much so that the diffuse black streaks on their underparts become almost lost in a dark grey-brown wash. The most prominent facial feature is a whitish eye-ring, usually broken at the lores. Legs dark red-brown to blackish, bill blackish, strong and fairly long.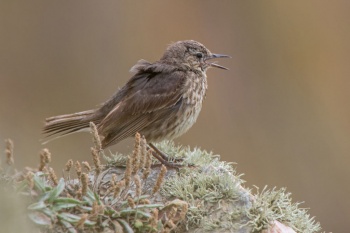 Similar species
Most can be told from the similar structured Water Pipit by their dull grey, not white, outer tail feathers and by their all dark head with no eyestripe or wingbars. However Scandinavian Rock Pipits of the subspecies A. p. littoralis may have obvious eyestripes and wing bars and some white in their outer tail and in spring their breasts become paler, pinker and less streaked much like Water Pipits. Fortunately they usually show some diffuseness to the breast streaking and more strongly streaked mantle. In non-breeding plumage littoralis Rock Pipits can also be distinguished from Water Pipit by their grey to olivaceous rather than brownish upperparts.
Here are two threads which discuss the contentious subject of racial identification of Rock Pipit and separation from Water Pipit Anthus spinoletta. [[1]] [[2]]
Distribution
Northern and western Europe; also northwest Africa (Morocco) in winter. Western populations resident, northeastern populations migratory. A vagrant in Iceland, the Canary Islands, several Mediterranean islands, and inland in Europe.
Taxonomy
Forms a superspecies with the recently split Water Pipit and Buff-bellied Pipit
Subspecies
Different authorities accept three subspecies[1] or just two subspecies[2]:
A. p. petrosus (British Rock Pipit):
A. p. littoralis (Scandinavian Rock Pipit):
Habitat
Sea coasts and islands with low growing vegetation. Breeding strictly coastal, on sea cliffs and rocky islets, usually just above the high water mark, and wintering in the same habitat but also on saltmarshes and other less stony coastal habitats and tidal rivers. Only rarely even a short distance inland, when typically on stony lake or reservoir margins.
Behaviour
Diet
They eat a variety of small invertebrates, such as snails, small crabs and worms. Much of its food is caught on tidal land at low tide, but also feeds above high water at high tide.
Vocalisation
Call: is a Fisst, markedly more emphatic than Meadow Pipit.
References
Clements, J. F., T. S. Schulenberg, M. J. Iliff, D. Roberson, T. A. Fredericks, B. L. Sullivan, and C. L. Wood. 2015. The eBird/Clements checklist of birds of the world: v2015, with updates to August 2015. Downloaded from http://www.birds.cornell.edu/clementschecklist/download/
Gill, F and D Donsker (Eds). 2017. IOC World Bird Names (version 7.1). Available at http://www.worldbirdnames.org/.
Handbook of the Birds of the World Alive (retrieved July 2016)
RSPB
Recommended Citation
External Links
GSearch checked for 2020 platform.1