This article is incomplete.
This article is missing one or more sections. You can help the BirdForum Opus by expanding it.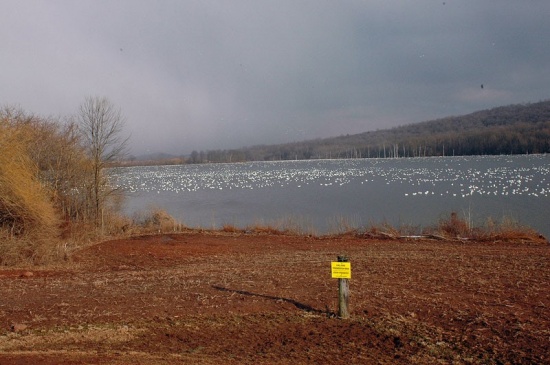 Overview
Middle Creek Wildlife Management Area is located in southeastern Pennsylvania, on the border between Lebanon and Lancaster counties near the small town of Kleinfeltersville. While Middle Creek is most famous for the thousands of wintering waterfowl attracted by its reservoir, it is also an excellent location for grassland birds and migrant passerines.
Birds
Notable Species
Waterfowl are the prime attraction, with up to one hundred thousand Snow Geese joined by smaller numbers of Tundra Swans and a variety of ducks. A concentration of nesting grassland species includes Bobolink, Eastern Meadowlark, and Grasshopper Sparrow. A wide variety of migrant passerines can be found in the wooded hills to the south and southwest of the lake.
The usual vantage points for the lake are the trail to Willow Point and Stop #1 on the WMA auto tour. (The stop is a wide gravel parking lot on the busy road to Kleinfeltersville, so be wary of traffic.) In winter there will be no lack of waterfowl. Snow Goose, Tundra Swan, and Canada Goose are the dominant species. Northern Pintail, Ring-necked Duck, Northern Shoveler, and Hooded Merganser are usually present as well. Bald Eagles may be present at any time of year; check the dead trees along the southern edge of the lake. In summer Stop #1 has an abundance of Yellow Warblers and usually a pair of Willow Flycatchers as well.
Turn right beyond Willow Point for a loop through the grasslands and small ponds on the far side of the lake. The grassy areas here should provide you with Bobolink, Eastern Meadowlark, Ring-necked Pheasant, and Grasshopper Sparrow, as well as Eastern Bluebird and all the Tree Swallows you care to observe. During migration shorebirds are often attracted to these ponds, marshes, and flooded fields. Dunlin and Least Sandpiper are typical.
For other migrants Middle Creek offers a variety of woodland, forest edge, and old-field habitats. Conservation Trail, a loop starting behind the visitors center, offers a typical sample. Three common nesters are White-eyed Vireo, Blue-winged Warbler, and Indigo Bunting. Good numbers of migrants are found as well, sometimes including Cape May and Blackpoll Warblers.
More migrant warblers can be found along the Middle Creek trail. The trailhead is located near the reservoir dam; an alternative jump-off point is on the far side of the creek along Kleinfeltersville Road. From either lot the trail leads along the forested banks of the creek to a powerline cut. The signature bird here is Louisiana Waterthrush, but other birds abound. The banks of the creek are excellent for migrant Canada Warblers and Swainson's Thrushes. Residents include Acadian Flycatcher and Yellow-throated Vireo.
Rarities
Every year a few sharp-eyed birders pick a Ross's Goose out of the crowd of Snows.
Check-list
Birds you can see here include:
Pied-billed Grebe, Double-crested Cormorant, Snowy Egret, Great Egret, Great Blue Heron, Little Blue Heron, Green Heron, Least Bittern, American Bittern, Black-crowned Night Heron, Tundra Swan, Canada Goose, Snow Goose, Ross's Goose, Mallard, American Black Duck, Northern Pintail, Gadwall, American Wigeon, Northern Shoveler, Blue-winged Teal, Green-winged Teal, Wood Duck, Canvasback, Redhead, Ring-necked Duck, Lesser Scaup, Greater Scaup, Ruddy Duck, Bufflehead, Common Merganser, Hooded Merganser, Bald Eagle, Turkey Vulture, Black Vulture, Sharp-shinned Hawk, Cooper's Hawk, Osprey, Red-shouldered Hawk, Red-tailed Hawk, Broad-winged Hawk, American Kestrel, Merlin, Ring-necked Pheasant, Wild Turkey, Virginia Rail, Sora, Common Gallinule, American Coot, Killdeer, Least Sandpiper, Spotted Sandpiper, Dunlin, Ring-billed Gull, Black Tern, Mourning Dove, Great Horned Owl, Eastern Screech Owl, Short-eared Owl, Chimney Swift, Ruby-throated Hummingbird, Belted Kingfisher, Red-bellied Woodpecker, Downy Woodpecker, Hairy Woodpecker, Yellow-bellied Sapsucker, Northern Flicker(yellow-shafted form), Pileated Woodpecker, Eastern Wood Pewee, Acadian Flycatcher, Willow Flycatcher, Eastern Phoebe, Eastern Kingbird, Great Crested Flycatcher, Red-eyed Vireo, White-eyed Vireo, Yellow-throated Vireo, Warbling Vireo, Blue Jay, American Crow, Barn Swallow, Tree Swallow, Black-capped Chickadee, Tufted Titmouse, White-breasted Nuthatch, Brown Creeper, Carolina Wren, House Wren, Golden-crowned Kinglet, Ruby-crowned Kinglet, Eastern Bluebird, American Robin, Wood Thrush, Veery, Swainson's Thrush, Hermit Thrush, Northern Mockingbird, Brown Thrasher, Gray Catbird, European Starling, American Pipit, Cedar Waxwing, Yellow Warbler, Magnolia Warbler, Black-throated Blue Warbler, Chestnut-sided Warbler, Cape May Warbler, Blackburnian Warbler, Yellow-rumped Warbler(Myrtle form), Black-throated Green Warbler, Blackpoll Warbler, Black-and-white Warbler, American Redstart, Blue-winged Warbler, Nashville Warbler, Northern Parula, Worm-eating Warbler, Ovenbird, Louisiana Waterthrush, Northern Waterthrush, Mourning Warbler, Hooded Warbler, Wilson's Warbler, Canada Warbler, Common Yellowthroat, Yellow-breasted Chat, Scarlet Tanager, Northern Cardinal, Indigo Bunting, Rose-breasted Grosbeak, Eastern Towhee, American Tree Sparrow, Field Sparrow, Chipping Sparrow, Grasshopper Sparrow, White-throated Sparrow, White-crowned Sparrow, Dark-eyed Junco, Fox Sparrow, Song Sparrow, Eastern Meadowlark, Bobolink, Brown-headed Cowbird, Red-winged Blackbird, Common Grackle, Baltimore Oriole, Orchard Oriole, Purple Finch, House Finch, American Goldfinch, House Sparrow
Other Wildlife
To do
Site Information
History and Use
To do
Areas of Interest
To do
Access and Facilities
Visiting birders should note that most of the area is closed to the public during the winter hunting season.
From Lancaster, take PA 501 north to Brickerville and turn right at the stoplight (US 322) to the town of Clay. Turn left and follow the brown signs to the WMA.
Contact Details
Pennsylvania Game Commission.
External Links
Content and images originally posted by MikeDale
Reviews
bobsofpa's review
Snow Geese stay the winter here. Feed is left in the surrounding fields for them. During the spring and summer there are a large number of Tree Swallows.
Access is limited to about 10 feet from the road except at Visitor Center and Willow Point Trail. Even on the trail you are limited to a very narrow path. The driving tour road is closed from September 15 to March 1st. Pros
Cons
kindred spirit's review
Middle Creek is a treasure. The birding there is awesome during migration! In the winter there are literally thousands of snow geese, tundra swans, canadas, and many ducks. In summer there are numerous song birds (saw my first bobolink there)and waterfowl, as well as raptors. There have been bald eagles nesting there for several years. I have also seen red shoulder, red-tailed, kestrels, and a migrating peregrime once. Great place and easy to find! Pros
good birding through all seasons
Cons
mhmyers's review
I stumbled on Middle Creek quite by accident and loved it. Here are some photos I took there and in the surrounding area: