Setophaga caerulescens
Dendroica caerulescens
Identification
Adult male unmistakeable; dark blue with black face and black on sides with white belly.
Adult female is plain drab olive-colored with small white spot at base of primaries, white eye-arc, and dark auriculars.
Distribution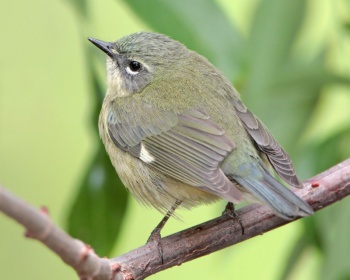 Breeds in northeastern North America from western Ontario and northern Michigan east to eastern Quebec, New Brunswick and Nova Scotia south to Pennsylvania; also along the Appalachians south to northern Georgia.
Winters in Central America, Bahamas, Caribbean and the tip of Florida.
Rare to casual vagrant in the west with with the most records in California (over 600 records).
Taxonomy
Formerly placed in genus Dendroica.
Subspecies1
Contains two subspecies:
Habitat
Nearly always found in shady understory of deciduous and mixed woodlands. In migration can be found in most woodlands.
Behaviour
Breeding
Nests in shrubs and small trees.
Diet
Diet mostly insectivorous but will eat seeds and other vegetable matter in the winter.
Vocalisation
Song: Buzzy and rising at the end, zeeer-zeeer-zeeeeee.
Reference
Clements, JF. 2011. The Clements Checklist of Birds of the World. 6th ed., with updates to August 2011. Ithaca: Cornell Univ. Press. ISBN 978-0801445019. Spreadsheet available at http://www.birds.cornell.edu/clementschecklist/downloadable-clements-checklist
Dunn, Jon; Garrett, Kimball. 1997. A Field Guide to Warblers of North America. Boston: Houghton Mifflin Company. ISBN 9780395783214
Recommended Citation
External Links
GSearch checked for 2020 platform.