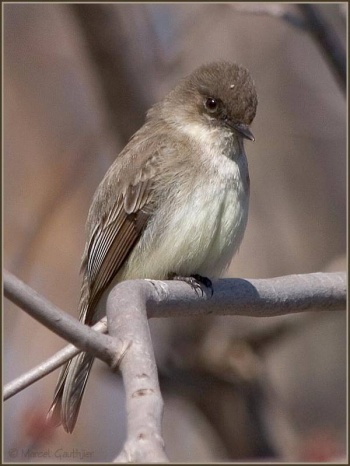 Sayornis phoebe
Identification
12·4–16·8 cm (4¾-6½ in)
Gray-brown above
White throat
Dirty gray breast
Yellowish underparts which (become whiter during the season)
Lack of both an eye ring and wing bars, and an all dark bill distinguish it from other American flycatchers
Pumps its tail up and down like other phoebes
Similar Species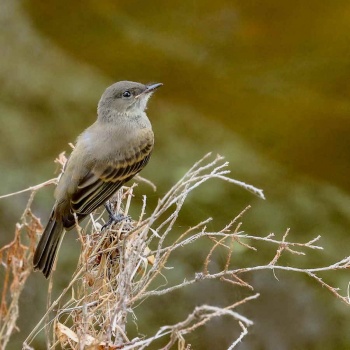 Compare the similar Eastern Wood Pewee, which has stronger wing-bars and does not bob its tail habitually.
Distribution
A partial migrant that begins to leave breeding areas in September and returning March-May. Breeds in central and eastern Canada and throughout the eastern USA.
Winters in the south-east USA to Mexico.
In the Western Palearctic recorded only in Britain, on Lundy Island off Devon in April 1987 and probably the same bird was seen at Slapton, Devon shortly before, although this report is not currently accepted.
Taxonomy
This is a monotypic species[1].
Habitat
Usually found in woodland and scrub near flowing water.
Behaviour
Diet
Their diet consists mostly of insects, supplemented by fruit from autumn to spring.
Vocalisation
Voice: a quick rough phoebe.
Do not confuse with the much sweeter phoebe song of the Black-capped Chickadee.
Song:

Recording © by NJLarsen, Carolina Sandhills NWR, South Carolina, USA, 29 April 2023

Gallery
Click on photo for larger image
References
Clements, J. F., T. S. Schulenberg, M. J. Iliff, S. M. Billerman, T. A. Fredericks, B. L. Sullivan, and C. L. Wood. 2019. The eBird/Clements Checklist of Birds of the World: v2019. Downloaded from http://www.birds.cornell.edu/clementschecklist/download/
Handbook of the Birds of the World Alive (retrieved October 2014)
Recommended Citation
External Links
GSearch checked for 2020 platform.1