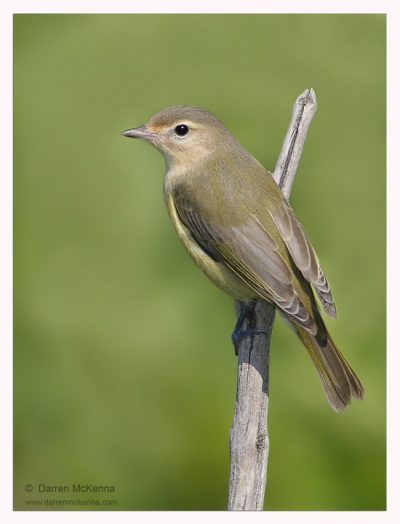 Vireo gilvus
Identification
12·5–14 cm (5-5½ in)
A drab vireo with few distinguishing marks; warbling song is the best clue. There is an indistinct stripe over the (black) eye. Upper parts are gray or olive-gray, breast whitish with light yellow wash on flanks. Blue-gray legs and feet.
Variations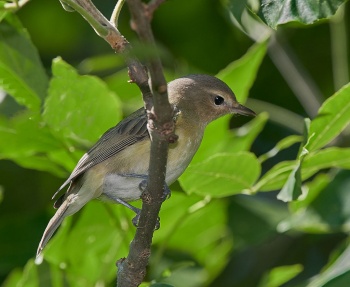 Easternmost and westernmost birds are quite different: eastern bird averages longer, deeper bill (looks a little swollen) with paler upper mandible, longer wing, and heavier. In plumage, the crown of western birds often darker than rest of upperparts, which has a generally stronger olive-green tone than eastern birds. Differences in plumage appears stronger between eastern and north-western birds and less pronounced when comparing with south-western birds.
Distribution
Throughout the USA except the deep south, in the western provinces of Canada and extreme western mainland of Mexico. Has declined in the eastern U.S. where shade trees have been sprayed with insecticides.
Taxonomy
Subspecies
Warbling vireo has a total of five recognized subspecies[1]:
Mountains of southern Baja California (Sierra de la Laguna)
Breeds from Montana and southern Idaho east to western South Dakota, south to western Texas and south central Mexico (Oaxaca); winters in south central Mexico
Resident in south central Mexico (Puebla)
One of these, victoriae has been claimed as a separate species, Cape Warbling Vireo. Another treatment is for this and three other subspecies (swainsonii, leucopolius, and sympatricus) to be split into Western Warbling vireo (would then be Vireo swainsonii), and the remaining subspecies to be Eastern Warbling Vireo (Vireo gilvus) with subspecies gilvus, brewsteri, eleanorae, bulli, amauronotus, and strenuus. The current consensus among worldwide checklist makers seems to be not to accept this split.
Subspecies swainsonii should be spelled swainsoni[2].
Habitat
Treetops, especially large trees and along rivers and creeks
Behaviour
Individuals or pairs flit about in the treetops in wooded country, especially in riparian zones. Moves rapidly when foraging, but may perch in the same spot to sing for a several minutes. Often in the densest foliage, so hard to spot even when close.
Diet
Insects, caterpillars, insect eggs, and some fruits.
Vocalisation
Song: A warble, repeatedly frequently; 12-20 syllables for eastern birds, shorter for western birds.
References
Recommended Citation
External Links
GSearch checked for 2020 platform.