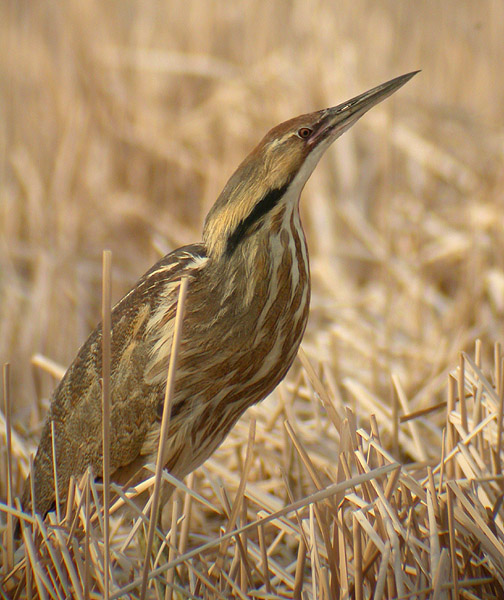 Botaurus lentiginosus
Identification
Length 58-86 cm (23-34 in), wingspan 105-125 cm, weight 370-570 g
A secretive, medium-sized, streaked brown heron.
Outer wing appears blackish brown in flight, contrasting with lighter brown of inner wing and body.
At close range adults show long black stripe down side of throat.
Similar Species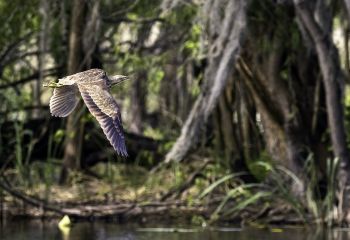 Young Black-crowned Night Heron and Yellow-crowned Night Heron are similar but stockier, with shorter necks and more rounded wings without dark tips. They are also somewhat less secretive than bitterns.
As a vagrant in western Europe, distinguished from Eurasian Bittern by its somewhat smaller size, brown not black crown, black neck stripe, and more rufous-brown (not yellow-buff) tones, particularly on the neck.
Distribution
Breeds from southeastern Alaska, Manitoba, and Newfoundland south to California, New Mexico, Arkansas, and South Carolina. Winters from coastal British Columbia, Southwest, Illinois, and along Atlantic Coast to Long Island (occasionally farther north), and south to Costa Rica (rarely) and Greater Antilles. A rare autumn to winter vagrant to western Europe, with most of the records from Iceland, Ireland, Great Britain, and the Azores.
Taxonomy
This is a monotypic species[1].
Habitat
Freshwater and brackish marshes and marshy lakeshores; regular in salt marshes during migration and winter.
Behavior
Breeding
2-6 buff or olive-buff eggs placed on a platform of reeds concealed in a marsh. Does not nest in colonies.
Vocalisation
On breeding grounds, a loud pumping sound, oong-KA-chunk! repeated a few times and often audible for half a mile. The call begins softly and slowly increases in volume.
Flight call a low kok-kok-kok.
References
Clements, J. F., T. S. Schulenberg, M. J. Iliff, S. M. Billerman, T. A. Fredericks, B. L. Sullivan, and C. L. Wood. 2019. The eBird/Clements Checklist of Birds of the World: v2019. Downloaded from http://www.birds.cornell.edu/clementschecklist/download/
Recommended Citation
External Links

GSearch checked for 2020 platform.