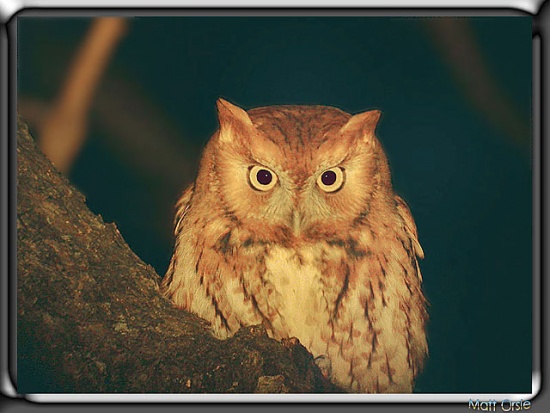 Megascops asio
Identification
8.5 inches
Two color morphs: red and gray.
The gray is most common in eastern USA, but the red morph is found more frequently in the southeast.
Florida birds are intermediate or brown.
Distribution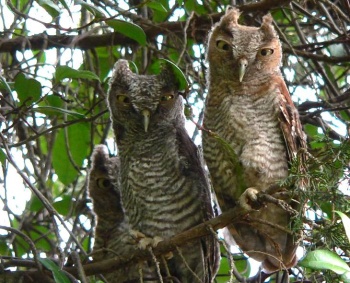 East North America from east Montana, the Great Lakes, and south Ontario to Florida, the Gulf of Mexico, and further south to Tamaulipas in northeast Mexico.
Taxonomy
This and almost all Screech-Owls in the Americas have previously been considered to belong in the same genus (Otus) as the European and Asian Scops-Owls, but a reassignment to Megascops has been accepted by among other authorities, the American Ornithologists' Union.
Subspecies
There are 6 subspecies1:
Central Oklahoma to Texas
M. a. mccallii: (McCall's):
Southern Texas to north-eastern Mexico (Nuevo Le¢n and Tamaulipas)
Habitat
Their main habitat is open deciduous or mixed woodland and forest edges.
Behaviour
Usually solitary. Nocturnal; using tree cavities for the day roost.
Breeding
They nest in a natural tree cavity or a woodpecker hole. They are also known to make use of nest boxes. They are strictly nocturnal, roosting during the day in cavities or next to tree trunks.
Diet
They swoop on prey from a perch on a lower tree branch or take insects in flight. Their diet consists of large insects, small rodents and small birds. They have excellent hearing and night vision to find their prey.
References
Clements, JF. 2011. The Clements Checklist of Birds of the World. 6th ed., with updates to August 2011. Ithaca: Cornell Univ. Press. ISBN 978-0801445019. Spreadsheet available at http://www.birds.cornell.edu/clementschecklist/downloadable-clements-checklist
TrekNature
Recommended Citation
External Links
Search the Gallery using the scientific name:
Search the Gallery using the common name:
GSearch checked for 2020 platform.