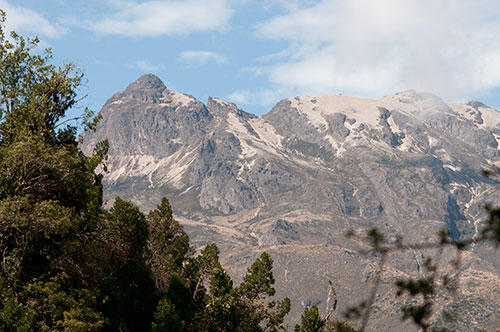 Overview
Lat: 0 06' 42", Lon: 78 35' 05", Alt: 3,500 m
The Yanacocha-Reserve is located about one hour from Quito, Ecuador on the slopes of the Pichincha volcano, at an altitude of about 3500m. That means it is the easiest accessible area with temperate forest on the west side of the Andes near Quito, Ecuador. The reserve even includes a sector of Polylepis forest which is accessible on a side road - notice that the forest around the main trail from the ranger station is not Polylepis. However, the main trail and its side trails is the area that in season is visited by the Black-breasted Puffleg, a bird endemic to this mountain and presumably spending the time of year where it is not found in the reserve higher up on the same mountain in inaccessible areas.
Because of the high altitude of the reserve there can be heavy fog in the area. Generally there is a better chance to have a clear morning during the months of April - August. This is also the best time to observe the Black-breasted Puffleg. Early morning is generally the best time for a visit the reserve, later in the day it may dry out too much with strong sunshine or it may fog over so strongly that you cannot see the birds present.
On a typical visit you can expect to see at least 25 different species of birds. There are 20 different species of hummingbirds that frequent the feeders along the reserve paths. The main walkway is wide and level making it easily traveled in comfortable shoes. The secondary paths can be steep and muddy making boots a better choice. Tripods are easily manipulated on the main path but footing is limited on the secondary paths. Temperatures can get cold so dressing in layers is recommended.
Birds
Notable Species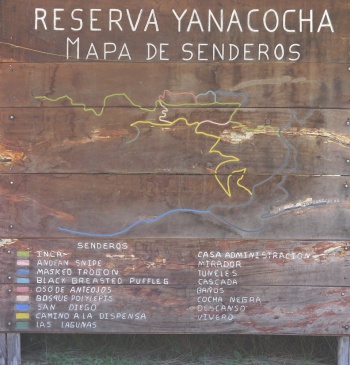 Critically Endangered: Black-breasted Puffleg
Near Threatened Species: Imperial Snipe, Plate-billed Mountain Toucan, Greater Scythebill, Giant Conebill
Rarities
Tawny-breasted Tinamou, White-throated Hawk, Aplomado Falcon, Peregrine Falcon, Andean Lapwing, Upland Sandpiper, Baird's Sandpiper, White-tipped Dove, Great Horned Owl, Stygian Owl, Short-eared Owl, Rufous-bellied Nighthawk, Lesser Violetear, Giant Hummingbird, Buff-tailed Coronet, Green-tailed Trainbearer, White-bellied Woodstar, Plate-billed Mountain Toucan, Powerful Woodpecker, Greater Scythebill, Tawny-rumped Tyrannulet, Acadian Flycatcher, Red-rumped Bush Tyrant, Barred Becard, Blue-and-white Swallow, Brown-bellied Swallow, Barn Swallow, American Cliff Swallow, Gray-breasted Wood Wren, Paramo Seedeater, Slaty Finch, Grassland Yellowfinch,
Check-list
Birds you can see here include:
Curve-billed Tinamou, Andean Condor, Plain-breasted Hawk, Black-chested Buzzard-Eagle, Variable Hawk, Carunculated Caracara, American Kestrel, Andean Guan, Jameson's Snipe, Imperial Snipe, Band-tailed Pigeon, Eared Dove, White-throated Quail-Dove, White-capped Parrot, Andean Pygmy-Owl, Rufous-banded Owl, Band-winged Nightjar, White-collared Swift, Sparkling Violetear, Speckled Hummingbird, Shining Sunbeam, Mountain Velvetbreast, Great Sapphirewing, Buff-winged Starfrontlet, Sword-billed Hummingbird, Black-breasted Puffleg, Sapphire-vented Puffleg, Golden-breasted Puffleg, Black-tailed Trainbearer, Purple-backed Thornbill, Tyrian Metaltail, Rainbow-bearded Thornbill, Masked Trogon, Crimson-mantled Woodpecker, Bar-bellied Woodpecker, Azara's Spinetail, White-browed Spinetail, White-chinned Thistletail, Streaked Tuftedcheek, Pearled Treerunner, Undulated Antpitta, Chestnut-crowned Antpitta, Chestnut-naped Antpitta, Equatorial Antpitta, Tawny Antpitta, Ash-colored Tapaculo, Blackish Tapaculo, Ocellated Tapaculo, White-crested Elaenia, White-throated Tyrannulet, White-banded Tyrannulet, Tufted Tit-Tyrant, Agile Tit-Tyrant, Brown-backed Chat-Tyrant, Rufous-breasted Chat-Tyrant, Crowned Chat-Tyrant, Streak-throated Bush Tyrant, Smoky Bush Tyrant, Red-crested Cotinga, Barred Fruiteater, Turquoise Jay, Great Thrush, Glossy-black Thrush, Sand Martin, Rufous Wren, Grass Wren, Plain-tailed Wren, Paramo Pipit, Spectacled Whitestart, Black-crested Warbler, Cinereous Conebill, Blue-backed Conebill, Giant Conebill, Masked Flowerpiercer, Glossy Flowerpiercer, Black Flowerpiercer, Golden-crowned Tanager, Scarlet-bellied Mountain Tanager, Grass-green Tanager, Hooded Mountain Tanager, Black-chested Mountain Tanager, Buff-breasted Mountain Tanager, Superciliaried Hemispingus, Plushcap, Southern Yellow Grosbeak, Plain-colored Seedeater, Plumbeous Sierra Finch, Rufous-naped Brushfinch, Gray-browed Brush Finch, Rufous-collared Sparrow, Hooded Siskin
Other Wildlife
Puma, Spectacled Bear
Site Information
History and Use
The land for Yanacocha Reserve was purchased in the 1990s and established as a reserve by Jocotoco Foundation in 2001. The reserve presently consists of 1300 ha. (3300 acres) including the regular as well as the Polylepis forest. that is home to many species of birds.
Areas of Interest
High elevation forest including Polylepis woodland on the slopes of Volcan Pichincha.
Spectacular views of the upper reaches of the Pichincha River.
Pleasant walks along the trails.
Hummingbird feeders along the main trail, giving close views of many species of hummingbirds, including three species of Pufflegs.
Access and Facilities
If you are traveling on a budget you will have to spend a little extra cash to get there as transportation from the main road is a must. A bus can take you to the lower entrance, but from that point you have a 10 km hike up to the Reserve.
From Quito you would go north on Ave. Mariscal Sucre until you see a sign that indicates the Ecoroute to Nono and Tandayapa. The name of this street is Machala. It is 8.5 km from Mariscal Sucre until you reach the road to Yanacocha. About half way you will run out of paved road but the way is well marked. About 300 yards before you get to the road to Yanacocha you will come across a couple of stop-lights that seem to be out of place as they are in the middle of no-where. The entrance road to Yanacocha is well marked.
It is 10 km from the road to Nono up to the reserve. However, take some time to bird this area as there are many species that are active along the way. Once you get to the ranger station you will have to pay a fee of $15 for foreigners, $3 for locals and $2 for children. If you get there early and there is no one there you can enter the reserve and pay on your return. There is only one way in and out. If you want to visit the Polylepis section, it is recommended to contact the Jocotoco Foundation ahead of time to make arrangements.
There are bathrooms at the ranger station that are clean and well kept. Large parking area. Main path is level and well maintained. Secondary paths are narrower and more rustic. The ranger station does have some items for purchase such as field guides, caps and T-shirts.
Contact Details
External Links
Content and images originally posted by Steve Herrmann (Ecuadorrebel)