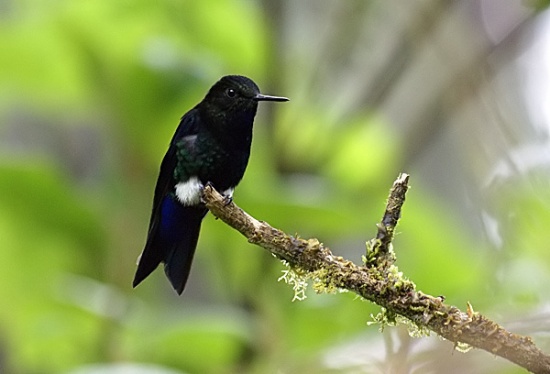 Eriocnemis nigrivestis
Identification
8.5cm.

Male
Blackish upperparts
Dark blue uppertail-coverts and blackish underparts
Violet-blue throat and undertail-coverts
Dark steel-blue forked tail
White leg-puffs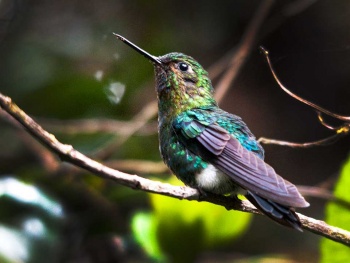 Female
Shining bronze-green above
Bluish-green rump and uppertail-coverts
Golden-green underparts
Pale blue chin
Tail, undertail-coverts and leg-puffs as male
Similar Species
Glowing Puffleg is similar to the female
Distribution
South America: found only in Ecuador, on the Northwestern slopes of the Pichincha volcano.
Taxonomy
This is a monotypic species[1].
Habitat
Humid and wet cloud forest, montane forest, elfin forest and forest borders at 1,700-3,500m.
Behaviour
The diet includes flowers and nectar. Recent observation showed a preference to Ericaceae Cavendishia.
References
Clements, JF. 2011. The Clements Checklist of Birds of the World. 6th ed., with updates to August 2011. Ithaca: Cornell Univ. Press. ISBN 978-0801445019. Spreadsheet available at http://www.birds.cornell.edu/clementschecklist/downloadable-clements-checklist
BirdLife International
Recommended Citation
External Links
Search the Gallery using the scientific name:
Search the Gallery Using the common name:
GSearch checked for 2020 platform.