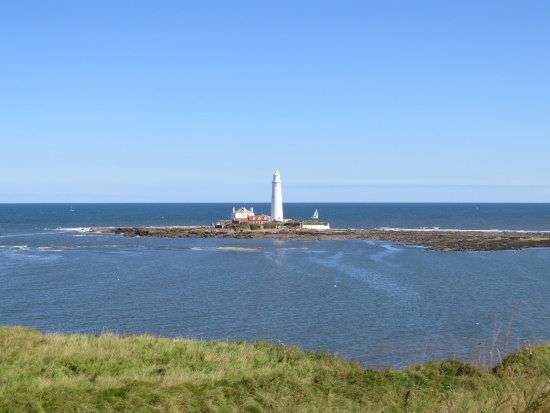 Overview
St Mary's Island is a small tidal island at the north end of Whitley Bay in southeast Northumberland, connected to the mainland at low tide by a causeway. The island itself has a visitor centre and a small seawatching hide, currently only open during the visitor centre opening hours, at low tide on selected days. The adjacent mainland has a small wetland with five viewing screens, and areas of rough grass with several patches of shrubs which attract migrants. Slightly further southwest, Whitley Bay cemetery also attracts a good number of passage migrants.
Birds
Notable Species
Seawatching is best in autumn, and can offer a full selection of seabirds including Manx Shearwater, Balearic Shearwater, Sooty Shearwater, Storm Petrel, Grey Phalarope, Arctic Skua, Great Skua, Pomarine Skua, Long-tailed Skua, Mediterranean Gull, Roseate Tern, and Little Auk. The tidal rocks attract a good selection of waders in autumn and winter, with European Golden Plover the most abundant (regularly 1-2,000, up to 6,000 occasionally), and smaller numbers of Eurasian Oystercatcher, Northern Lapwing, Common Ringed Plover, Whimbrel, Eurasian Curlew, Ruddy Turnstone, Red Knot, Sanderling, Dunlin, and Common Redshank. Ruff, Little Stint and Curlew Sandpiper are less frequent, but with at least 1-2 recorded in most autumns.
Rarities
Blue-winged Teal, Fea's Petrel, Cory's Shearwater, Great Shearwater, American Golden Plover, White-rumped Sandpiper, Sabine's Gull, Pallid Swift, Eurasian Wryneck, Richard's Pipit, Tawny Pipit, Olive-backed Pipit, Bluethroat, Red-flanked Bluetail, Siberian Stonechat, Red-breasted Flycatcher, Blyth's Reed Warbler, Barred Warbler, Eastern Bonelli's Warbler, Dusky Warbler, Greenish Warbler, Yellow-browed Warbler, Common Firecrest, Red-backed Shrike, Isabelline Shrike.
Check-list
Birds you can see here include:
Mute Swan, Whooper Swan, Pink-footed Goose, Greylag Goose, Barnacle Goose, Brent Goose, Shelduck, Wigeon, Common Teal, Mallard, Northern Shoveler, Tufted Duck, Common Eider, Common Scoter, Velvet Scoter, Common Goldeneye, Red-breasted Merganser, Goosander, Grey Partridge, Red-throated Diver, Great Northern Diver, Little Grebe, Northern Fulmar, Sooty Shearwater, Manx Shearwater, Northern Gannet, Great Cormorant, Shag, Little Egret, Grey Heron, Sparrowhawk, Common Buzzard, Common Kestrel, Merlin, Peregrine Falcon, Water Rail, Common Moorhen, Eurasian Coot, Eurasian Oystercatcher, Common Ringed Plover, European Golden Plover, Grey Plover, Northern Lapwing, Red Knot, Sanderling, Little Stint, Curlew Sandpiper, Purple Sandpiper, Dunlin, Ruff, Jack Snipe, Common Snipe, Woodcock, Bar-tailed Godwit, Whimbrel, Eurasian Curlew, Common Redshank, Common Greenshank, Common Sandpiper, Ruddy Turnstone, Pomarine Skua, Arctic Skua, Long-tailed Skua, Great Skua, Mediterranean Gull, Little Gull, Black-headed Gull, Common Gull, Lesser Black-backed Gull, Herring Gull, Iceland Gull, Glaucous Gull, Great Black-backed Gull, Kittiwake, Sandwich Tern, Roseate Tern, Common Tern, Arctic Tern, Common Guillemot, Razorbill, Little Auk, Puffin, Rock Dove, Stock Dove, Wood Pigeon, Collared Dove, Long-eared Owl, Short-eared Owl, Common Swift, Great Spotted Woodpecker, Sky Lark, Sand Martin, Barn Swallow, House Martin, Meadow Pipit, Rock Pipit, Yellow Wagtail, Grey Wagtail, Pied Wagtail, Waxwing, Eurasian Wren, Dunnock, Robin, Black Redstart, Common Redstart, Whinchat, European Stonechat, Northern Wheatear, Ring Ouzel, Blackbird, Fieldfare, Song Thrush, Redwing, Mistle Thrush, Grasshopper Warbler, Sedge Warbler, Reed Warbler, Lesser Whitethroat, Common Whitethroat, Garden Warbler, Blackcap, Yellow-browed Warbler, Common Chiffchaff, Willow Warbler, Goldcrest, Spotted Flycatcher, Pied Flycatcher, Long-tailed Tit, Coal Tit, Blue Tit, Great Tit, Magpie, Jackdaw, Rook, Carrion Crow, Common Starling, House Sparrow, Tree Sparrow, Chaffinch, Brambling, European Greenfinch, European Goldfinch, Eurasian Siskin, Common Linnet, Common Redpoll, Common Bullfinch, Lapland Bunting, Snow Bunting, Reed Bunting
Other Wildlife
Grey Seals frequently haul out on the east side of the island; most are yearling pups. Several species of whales and dolphins have been seen; recent records include Humpback Whale, Minke Whale, Bottlenose Dolphin, White-beaked Dolphin, and Common Porpoise, the last two being the commonest. A good range of inter-tidal invertebrates and seaweeds can be seen in and around rock pools on the shore.
Site Information
History and Use
The lighthouse was completed in 1898, to warn shipping of the hazardous coast. It was operational until 1984. The lighthouse keepers cottages are now used as a Visitor Centre, by North Tyneside Council.
Areas of Interest
The visitor centre also incorporates the old lighthouse, no longer lit at night, but there are stairs inside to reach the top, giving an interesting all-round view of the coast.
Access and Facilities
As the lighthouse is situated on an island, their opening times depend on the tide. Bus 308, 309 from Newcastle; alight at Whitley Bay cemetery and walk NE 500 m to wetland, 1 km to island. Limited free car parking at Whitley Bay cemetery, and 'pay and display' car parks between the wetland and the island. Toilets (decent) in visitor centre during opening hours; also a small low quality toilet beside the car park just northeast of the wetland.
Contact Details
Recommended Citation
External Links