Alternative name: Cape Verde Petrel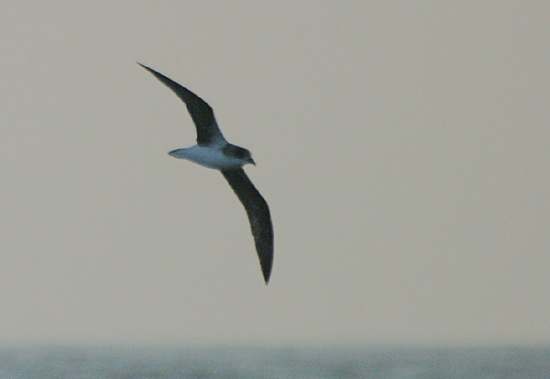 Pterodroma feae
Identification
35–38 cm (13¾-15 in)

Grey back and wings
Dark "W" marking across the wings
Blackish undersides of wings
White belly.
White upper breast separating pale grey half-collars.
Confusion Species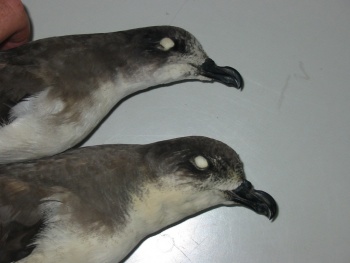 It shares the remarkable flight mode with swing-wing (not flapping) action, and frequent 'looping the loop', of other Pterodroma petrels. It is most similar to Zino's Petrel which is marginally smaller and has a less heavy bill, and Soft-plumaged Petrel which differs in having a darker head and complete grey band across the upper breast.
Can be slightly reminiscent of Great Shearwater or maybe a large Manx Shearwater, but their underwings are not dark, and are immediately distinguishable by their typical shearwater flight mode.
Distribution
Breeds in the Cape Verde Islands, and Bugio Island in the Desertas Islands near Madeira. At sea, it ranges across much of the temperate northern Atlantic Ocean, most often seen on deep-water upwelling areas on the continental slopes off eastern North America and western Europe, but also nearly annually into the northwestern North Sea.
Taxonomy
Closely related to Zino's (Madeira) Petrel.
Previously considered a subspecies of the Soft-plumaged Petrel P. mollis.
Subspecies
Two subspecies are recognised[1]:
P. f. feae breeds on Cape Verde Islands and found in the eastern Atlantic Ocean
P. f. deserta breeds on Bugio in the Desertas Islands, found in the eastern Atlantic Ocean; now often accepted as full species, Desertas Petrel P. deserta[2].
Habitat
Open sea.
Behaviour
Highly pelagic, only coming to land on remote oceanic islands to breed.
Breeding
Colonial nester, using either abandoned rabbit burrows, ones that it has excavates itself or in holes in rocks. A single white egg is laid. The nest is visited at night.
Diet
The diet includes planktonic food items from the ocean surface.
References
Clements, J. F., T. S. Schulenberg, M. J. Iliff, D. Roberson, T. A. Fredericks, B. L. Sullivan, and C. L. Wood. 2017. The eBird/Clements checklist of birds of the world: v2017, with updates to August 2017. Downloaded from http://www.birds.cornell.edu/clementschecklist/download/
Gill, F and D Donsker (Eds). 2014. IOC World Bird Names (version 4.3). Available at http://www.worldbirdnames.org/.
Wikipedia
Madeira Birds
Collins Bird Guide ISBN 0 00 219728 6
Recommended Citation
External Links