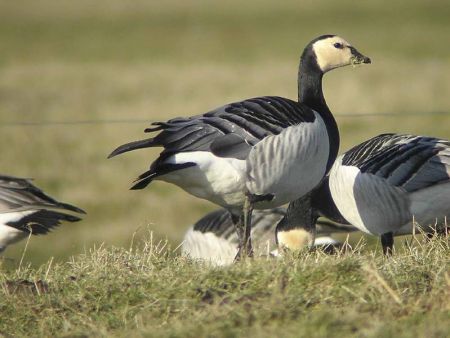 Branta leucopsis
Identification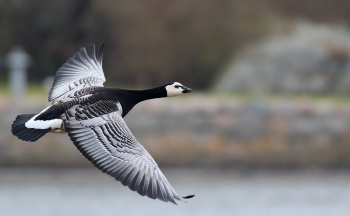 Length 58–71 cm (23–28 in), wingspan 120–142 cm, weight 1.5–2.5 kg
Adult
Head mostly white (or creamy-white), with black crown, lores, neck and breast.
Upperparts are grey, barred black and white.
Tail is black, with white upper- and under-tail coverts.
Underparts pale silvery-grey, with light barring on flanks.
Very short black bill, and black legs.

Juvenile: slightly browner on the wings; as with all geese, body feathering with rounded, not truncated, feather tips, so appears more 'scaly' than 'barred'.
Similar Species
Cackling Goose has the same size and structure (including the small bill), but plumage differs, being instead like the larger Canada Goose, with brown-grey upperparts and with less white on the face, just a "chin-strap". The smaller Brent Goose lacks any white on the head and has a shorter tail. Barnacle Goose also occurs in a rare mostly white mutation (leucistic or partial albino) which may be confused with Snow Goose or Ross's Goose.
Distribution
Breeds in Eastern Greenland, Svalbard, Novaya Zemlya, Russia. and scattered locations in NW Siberia; reported also breeding in Franz Josef Land.
Winters in Scotland, especially on Islay (Greenland birds), northwestern Ireland (Greenland birds); around Caerlaverock and Mersehead on the Solway Firth (Svalbard birds), the latter with some overspill in the far north of England (northern Cumbria and around Lindisfarne in Northumberland); and the Netherlands (Novaya Zemlya birds).
Vagrant to northeastern North America.
Feral populations also breed widely around the Baltic Sea in Sweden, Finland, and the Baltic States; these birds winter with the Novaya Zemlya population in the Netherlands, with some interchange of individuals. Feral birds also breed in the Netherlands and northern Germany, and a few in southeastern England.
Taxonomy
This is a monotypic species[1]. Closely related to Cackling Goose.
Habitat
Marshes, rivers, and estuaries.
Breeds on the rocky coasts of arctic islands.
Behaviour
Very gregarious in the winter forming large flocks, usually monospecific but occasionally mixed with other geese species.
Migrates late September through October to early November, and late April to May.
Flight Action
Flocks often closely packed but rather ragged, rather than a V-shaped formation. Strong flight. Wing beats a little slower than Brent Goose, more the rhythm of Greater White-fronted Goose.
Diet
Their mainly vegetarian diet consists of leaves, stems, roots and seeds of grasses, sedges and other aquatic plants. Supplemented in the winter months by grain and vegetables.
Breeding
Breeds colonially. The clutch consists of 4-5 eggs which are incubated by the female for 24-25 days; the young fledge 40-45 days later.
Vocalisation
Short, sharp barking notes, given on ground and in flight, not unlike the yapping of a small dog.
References
Clements, J. F., T. S. Schulenberg, M. J. Iliff, D. Roberson, T. A. Fredericks, B. L. Sullivan, and C. L. Wood. 2018. The eBird/Clements checklist of birds of the world: v2018. Downloaded from http://www.birds.cornell.edu/clementschecklist/download/
BirdLife International. 2016. Branta leucopsis. The IUCN Red List of Threatened Species 2016: e.T22679943A85970946. http://dx.doi.org/10.2305/IUCN.UK.2016-3.RLTS.T22679943A85970946.en. Downloaded on 04 September 2018.
Carboneras, C. & Kirwan, G.M. (2018). Barnacle Goose (Branta leucopsis). In: del Hoyo, J., Elliott, A., Sargatal, J., Christie, D.A. & de Juana, E. (eds.). Handbook of the Birds of the World Alive. Lynx Edicions, Barcelona. (retrieved from https://www.hbw.com/node/52822 on 4 September 2018).
Owen, M. and Skimmings, P. (1992), The occurrence and performance of leucistic Barnacle Geese Branta leucopsis. Ibis, 134: 22-26. doi:10.1111/j.1474-919X.1992.tb07224.x
Collins Pocket Guide to British Birds 1966
Collins Field Guide 5th Edition
Collins Bird Guide ISBN 0 00 219728 6
Recommended Citation
External Links
GSearch checked for 2020 platform.1