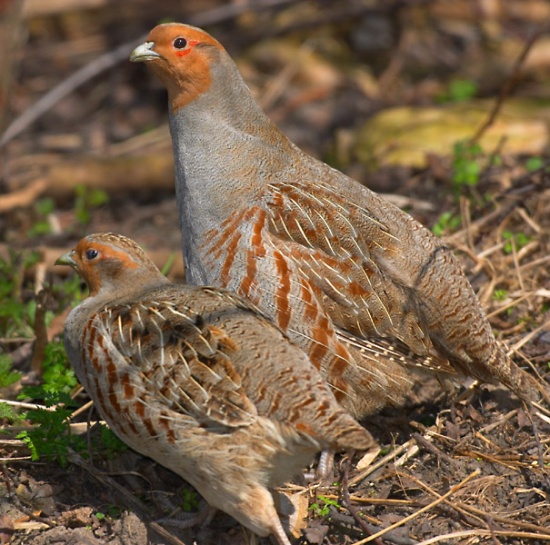 Perdix perdix
Identification
Relatively small headed and chubby
Orange face and throat
Green bill
Grey legs
Male
White underbelly
Chestnut horseshoe on lower breast
Female
Similar to male, but duller
Similar Species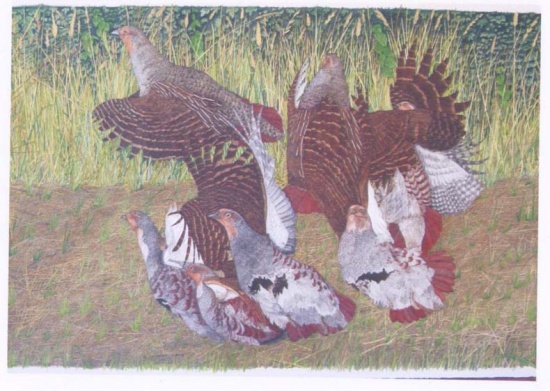 Distribution
Breeds throughout Europe from the UK to Kazakhstan, and Scandinavia, with a patchy distribution in southern Europe.
Also found in parts of southern Canada (Alberta, Saskatchewan and Manitoba) and northern USA, where it was introduced from Europe, as a game bird and has thrived on the prairies and agricultural land.
Taxonomy
Subspecies[1]
There are 7 subspecies:
Finland east to Ural Mountains and south to Black Sea and northern Caucasus
Habitat
Can be found on a wide variety of habitats, from farmland to moorland and sand dunes. Adults are more likely to be seen in open grass or vegetation the young, however, prefer cereal crops.
Status
Once common, the population has crashed, possibly due to farming practices.
Behaviour
Can be found in 'coveys' outside of the breeding season.
Action
They are inclined to fly close to the ground. Wing flaps produce a whirring noise.
Diet
Adults: grass, seeds and shoots; also insects when breeding.
Chicks: only eat invertebrates such as sawflies, beetles and aphids.
Breeding
Mid-April to early September. Up to 16 eggs laid in a well-hidden scrape nest lined with grass and leaves. If they lose their first clutch, they may lay again.
Vocalisation
Includes a high, hoarse keev, and a pitt-pitt-pitt when alarmed.
References
Clements, J. F., T. S. Schulenberg, M. J. Iliff, D. Roberson, T. A. Fredericks, B. L. Sullivan, and C. L. Wood. 2014. The eBird/Clements checklist of birds of the world: Version 6.9., with updates to August 2014. Downloaded from http://www.birds.cornell.edu/clementschecklist/download/
ArKive
BF Member observations
Recommended Citation
External Links
GSearch checked for 2020 platform.1