This article is incomplete.
This article is missing one or more sections. You can help the BirdForum Opus by expanding it.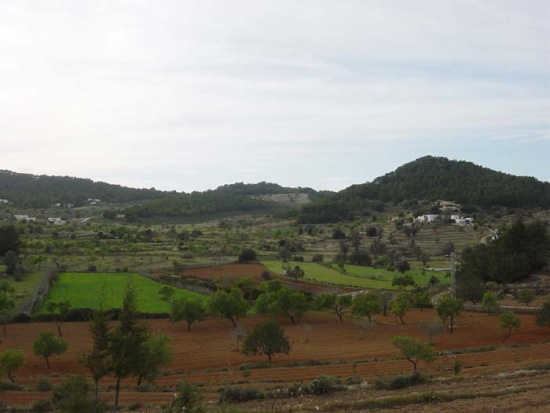 Overview
Ibiza today is best-known as the haunt of thousands of nightclubbers but it has long been popular with visitors and has an excellent tourist infrastructure with particular emphasis on package holidays. The island is well-vegetated with extensive wooded areas and has high cliffs, particularly on the northern coast.
Birds
Notable Species
The breeding birds of Ibiza are fewer than those of the larger Balearic Islands but many migrants are attracted to its shorelines, salinas and woodlands. Despite its popularity with visitors, the birdlife of Ibiza remains very little-known but there are sought-after Mediterranean specialities such as Eleonora's Falcon, Audouin's Gull and Balearic Warbler.
Las Salinas
One of the best-known birding areas on Ibiza is Las Salinas in the far south. This area of saltpans is very close to the airport and suffers greatly from disturbance but waders are attracted here during passage periods. Greater Flamingo is regular and Stone-curlew, Kentish Plover and Black-winged Stilt breed.
The salinas are reached on the PM801 out of Ibiza Town and turning south on the PM802 after 4km. This road skirts the eastern edge of the pans and can be viewed from here or from a track to the right signposted Cabo Falco. This track follows the southern edge of the salinas and leads to a restaurant and the sea.
Walking south from here leads to Cabo Falco where the cliffs have Blue Rock Thrush and Thekla Lark. The Cavallet Salinas are another group of saltpans worth checking for waders, gulls and terns. They can be reached by returning to the PM802 and continuing south towards La Canal and the saltpans are on the left.
Atalaia
At 476m the highest point on Ibiza is Atalaia which provides excellent views over the surrounding land. The lower areas here are home to Hoopoe and Golden Oriole, while higher up Balearic Crossbill and Common Firecrest can be seen.
Atalaia is reached on the PM803 out of San Josep towards Sant Antoni, turning off after 13km towards Cala Vedella. Shortly after this turn-off is another left turn signposted Talaia which leads to the summit. This can be driven but a more productive option would be to walk up to the top.
Cala d'Hort
Nearby Cala d'Hort can be reached by returning to the road towards Cala Vedella and taking the fork signposted Cala d'Hort. This area has Blue Rock Thrush and Northern Raven, Eurasian Crag Martin and Peregrine Falcon as well as Balearic Warbler.
There are also stunning views of Es Vedra and Es Vedranella, two small islands which host breeding Eleonora's Falcon. In addition these rocky limestone islets support important numbers of Balearic Shearwater and Audouin's Gull as well as Yellow-legged Gull, European Storm Petrel and Mediterranean Shag. Cory's Shearwater may also breed. Continuing north past Cala Vedella and Cala Terida there is a turn-off to Cala Bassa. Turning left 1km before Cala Bassa leads to the coast and views towards the Bledas Islands and the juniper-covered Isla Conejera where Mediterranean Shag, Audouin's Gull and shearwaters breed.
Sant Inez
Sant Inez is an area worth exploring in the north of the island and reached on the PM812 from San Rafael. Turn left at the Bar Tienda Can Cosni and follow the track through farmland, scrub and pinewoods. Swifts, Blue Rock Thrush and Peregrine Falcon can be seen around the cliffs and shearwaters over the sea.
Santa Eulalia
The only river on Ibiza is in the east of the island just west of Santa Eulalia. A small reedbed here, the only one on Ibiza, has warblers including Zitting Cisticola, Cetti's Warbler and Great Reed Warbler and can be reached fronm the C810 Santa Eulalia to Ibiza Town road.
Check-list
Birds you can see here include:
Cory's Shearwater, Balearic Shearwater, European Storm Petrel, Mediterranean Shag, Little Egret, Greater Flamingo, Common Shelduck, European Honey Buzzard, Black Kite, Osprey, Common Kestrel, Eleonora's Falcon, Peregrine Falcon, Black-winged Stilt, Stone-curlew, Little Ringed Plover, Ringed Plover, Kentish Plover, Little Stint, Dunlin, Ruff, Spotted Redshank, Common Redshank, Common Greenshank, Green Sandpiper, Wood Sandpiper, Common Sandpiper, Audouin's Gull, Yellow-legged Gull, Rock Dove, Common Woodpigeon, European Turtle Dove, Eurasian Scops Owl, Common Swift, Pallid Swift, European Bee-eater, European Roller, Eurasian Hoopoe, Eurasian Wryneck, Greater Short-toed Lark, Thekla Lark, Eurasian Crag Martin, Barn Swallow, Northern House Martin, Tawny Pipit, Tree Pipit, Meadow Pipit, Iberian Yellow Wagtail, Common Wren, Black Redstart, Whinchat, European Stonechat, Northern Wheatear, Blue Rock Thrush, Eurasian Blackbird, Cetti's Warbler, Zitting Cisticola, Balearic Warbler, Spectacled Warbler, Sardinian Warbler, Blackcap, Common Chiffchaff, Willow Warbler, Common Firecrest, Spotted Flycatcher, Great Tit, Eurasian Golden Oriole, Woodchat Shrike, Northern Raven, House Sparrow, Rock Sparrow, European Serin, European Greenfinch, European Goldfinch, Eurasian Linnet, Balearic Crossbill
Other Wildlife
To do
Site Information
Spring and autumn are the most productive times to visit and there are also fewer tourists.
The rocky islet of Tagomago off the eastern coast is generally out of bounds to visitors but it may be possible to hire a boat in Es Cana to make a trip around the island. Balearic Shearwater and possibly Eleonora's Falcon breed here.
Access and Facilities
The package holiday industry has ensured Ibiza has plentiful hotels and self-catering accommodation and there are flights from most major airports. There are also daily flights from Mallorca as well as a regular car-ferry.
Contact Details
To do
External Links

Content and images originally posted by Steve