This article is incomplete.
This article is missing one or more sections. You can help the BirdForum Opus by expanding it.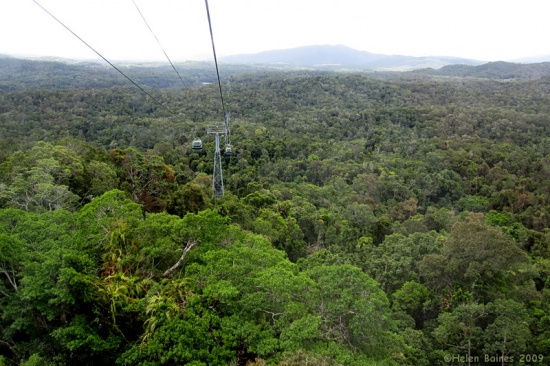 Overview
Immediately to the west of Cairns, the land rises rapidly into a range of mountains and a large plateau known as the Atherton Tablelands. This is an area of very high biodiversity and contains a number of species of birds and other wildlife, much of which is not found on the coast in or around Cairns. Sadly, most of the rainforest that once clothed this plateau is now completely gone; converted into open farmland. However, much of what remains is protected and still harbours many interesting species. All of the Wet Tropics' endemic bird species are found here for example.
Much of the Tablelands consists of rolling farmland, both pasture and cultivated, dotted with small towns and numerous isolated patches of forest. There are also much larger areas of forest on the surrounding ranges. Most of the tablelands receive high rainfall, but there is an area of drier country stretching from Mareeba in the south to Mount Molly in the north. A whole different range of species can be found in this drier area.
Birds
Notable Species
A large number of bird species can be seen on the Tablelands including twelve found nowhere else. More than 370 species occur in the region.
The Tablelands' endemic species are as follows: Fernwren, Atherton Scrubwren, Mountain Thornbill, Bridled Honeyeater, Macleay's Honeyeater, Grey-headed Robin, Chowchilla, Bower's Shrike Thrush, Pied Monarch, Victoria's Riflebird, Golden Bowerbird, Tooth-billed Bowerbird.
Other specialities of the region include: Southern Cassowary, Emu, Brown Quail, King Quail, Plumed Whistling Duck, Magpie Goose, Green Pygmy Goose, Pink-eared Duck, Great Crested Grebe, Australasian Grebe, Little Pied Cormorant, Black-necked Stork, White-necked Heron, Black-shouldered Kite, Whistling Kite, Grey Goshawk, Wedge-tailed Eagle, Spotted Harrier, Brown Falcon, Nankeen Kestrel, Sarus Crane, Brolga, Red-necked Crake, Pale-vented Bush-hen, Australasian Swamphen, Eurasian Coot, Australian Bustard, Painted Buttonquail, Latham's Snipe, Australian Painted Snipe, Comb-crested Jacana, Bar-shouldered Dove, Brown Cuckoo Dove, Topknot Pigeon, White-headed Pigeon, Crested Pigeon, Squatter Pigeon, Superb Fruit Dove, Rose-crowned Fruit Dove, Wompoo Fruit Dove, Pacific Emerald Dove, Red-tailed Black Cockatoo, Scaly-breasted Lorikeet, Little Lorikeet, Double-eyed Fig Parrot, Australian King Parrot, Red-winged Parrot, Crimson Rosella, Pale-headed Rosella, Fan-tailed Cuckoo, Chestnut-breasted Cuckoo, Horsfield's Bronze Cuckoo, Shining Bronze Cuckoo, Pacific Koel, Pheasant Coucal, Barking Owl, Rufous Owl, Southern Boobook, Lesser Sooty Owl, Barn Owl, Tawny Frogmouth, Papuan Frogmouth, Large-tailed Nightjar, White-throated Needletail, Blue-winged Kookaburra, Azure Kingfisher, Little Kingfisher, Forest Kingfisher, Buff-breasted Paradise Kingfisher, Noisy Pitta, White-throated Treecreeper, Brown Treecreeper, Lovely Fairywren, Red-backed Fairywren, Striated Pardalote, White-browed Scrubwren, Yellow-throated Scrubwren, Large-billed Scrubwren, Brown Gerygone, White-throated Gerygone, Fairy Gerygone, Weebill, Noisy Friarbird, Little Friarbird, Blue-faced Honeyeater, Noisy Miner, Lewin's Honeyeater, Graceful Honeyeater, Yellow-spotted Honeyeater, Yellow-faced Honeyeater, Fuscous Honeyeater, White-naped Honeyeater, White-cheeked Honeyeater, Eastern Spinebill, Scarlet Honeyeater, Lemon-bellied Flycatcher, Jacky Winter, Eastern Yellow Robin, Pale-yellow Robin, Yellow-breasted Boatbill, White-browed Robin, Grey-crowned Babbler, Eastern Whipbird, Varied Sittella, Crested Shrike-tit, Grey Whistler, Golden Whistler, Rufous Whistler, Grey Shrikethrush, Rufous Shrikethrush, Black-faced Monarch, Spectacled Monarch, White-eared Monarch, Rufous Fantail, Grey Fantail, Black-faced Cuckoo-shrike, Barred Cuckoo-shrike, White-winged Triller, Dusky Woodswallow, Pied Butcherbird, Grey Butcherbird, Pied Currawong, Torresian Crow, Spotted Catbird, Great Bowerbird, Satin Bowerbird Double-barred Finch, Black-throated Finch, Red-browed Firetail, Blue-faced Parrotfinch, Olive-backed Sunbird, Mistletoebird, Little Grassbird, Golden-headed Cisticola, Silvereye, Russet-tailed Thrush, and Bassian Thrush.
Rarities
To do
Check-list
Birds you can see here include:
To do
Other Wildlife
The Atherton Tablelands are rich in wildlife. This includes many endemics and local specialities.
Mammals: Over 100 species of mammals occur in the region, 13 of which are endemic to the Wet Tropics. Wet Tropics mammals include the following: Platypus, Echidna, Musky Rat Kangaroo, Agile Wallaby, Eastern Grey Kangaroo, Euro, Red-legged Pademelon, Lumholtz's Tree Kangaroo, Northern Bettong, Atherton Antechinus, Yellow-footed Antechinus, White-footed Dunnart, Northern Brown Bandicoot, Long-nosed Bandicoot, Herbert River Ringtail, Green Ringtail, Lemuroid Ringtail, Long-tailed Pygmy Possum, Striped Possum, Mountain Brush-tailed Possum, Sugar Glider, Yellow-belied Glider, Feathertail Glider, Greater Glider, Spotted-tailed Quoll, Northern Quoll, Masked White-tailed Rat, Giant White-tailed Rat, Australian Water Rat, Fawn-footed Melomys, Grassland Melomys, Lakeland Downs Mouse, Black-footed Tree Rat, Prehensile-tailed Rat, Spectacled Flying Fox, Eastern Tube-nosed Bat, Northern Freetail Bat, Gould's Wattled Bat, Chocolate Wattled Bat, Hoary Wattled Bat, Eastern Dusky Leaf-nosed Bat, Eastern Bentwing Bat, Little Bentwing Bat, Large-footed Myotis and Northern Long-eared Bat.
Reptiles: At least 200 species of reptiles occur in the Wet Tropics, many of which occur on the Tablelands. These include: Green Tree Snake, Brown Tree Snake, Keelback, Slatey-Grey Snake, Macleay's Water Snake, Amethystine Python, Carpet Python, Spotted Python, Children's Python, Water Python, Northern Crowned Snake, Collared Whip Snake, Red-bellied Black Snake, Eastern Brown Snake, Coastal Taipan, Eastern Small-eyed Snake, Northern Death Adder, Rough-scaled Snake, North-eastern Blind Snake, Lace Monitor, Spotted Tree Monitor, Sand Goanna, Boyd's Forest Dragon, Eastern Water Dragon, Tommy Roundhead, Northern Two-lined Dragon, Frilled Lizard, Northern Leaf-tailed Gecko, Tree Dtella, Chamaeleon Gecko, Ring-tailed Gecko, Pink-tongued Skink, Eastern Bluetongue, Eastern Water Skink, Major Skink, Worm Skink, Burton's Legless Lizard, Common Scalyfoot and Saw-shelled Turtle. A small introduced population of Freshwater Crocodile exists at Mareeba Wetlands.
Amphibians: More than 60 species of Frogs occur in the Wet Tropics, many of which occur on the Tablelands. These include the following: White-lipped Tree Frog, Green Tree Frog, Northern Stony-creek Frog, Kuranda Tree Frog, Waterfall Frog, Green-eyed Tree Frog, Northern Orange-eyed Tree Frog, Northern Barred Frog, Cogger's Barred Frog, Ornate Nursery Frog, Peeping Whistling Frog and introduced Cane Toad.
Site Information
Areas of Interest
A number of good birding sites exist on the Tablelands. Due to the relatively close proximity of many of them to one another, it should be possible for several sites to be visited in a day. Birders should however plan for at least a week, preferably two, to make the most of the region as a whole. These include on the Northern Tablelands: the Black Mountain Road, Emerald Creek, Mareeba Wetlands, Lake Mitchell, Mount Molloy, Kingfisher Park and Mount Lewis; and on the Southern Tablelands: Crater Lakes National Park, Yungaburra, Hasties Swamp, Mount Hypipamee National Park and Springvale Road.
Access and Facilities
The Tablelands can be accessed by road directly from Cairns. Three switchback roads that wind their way up into the hills at various points along the coast give access to different parts of the Tablelands. Several buses a day run between Cairns and the town of Kuranda, with less frequent services running to Mareeba and the town of Atherton. Various wildlife and birding tours are also available to the Tablelands.
There are numerous small settlements on the Tablelands that have cafes and restaurants as well as the usual supermarkets and newsagents. There is also a fairly well-developed tourist infrastructure for sightseers looking for souvenirs. A number of national parks and smaller reserves have facilities ranging from restaurants, cafes and accommodation in some places, to nothing at all in others. Some sites allow camping, others do not.
Many birders choose to base themselves on the Tablelands and bird the surrounding area. Popular with birders are Cassowary House (on the Black Mountain Road near Kuranda), Kingfisher Park near Julatten and Chambers Wildlife Lodge near Lake Eacham (in the Crater Lakes National Park); but numerous other locations offer accommodation as well.
Contact Details
To do
External Links