Alternative name: Allied Harrier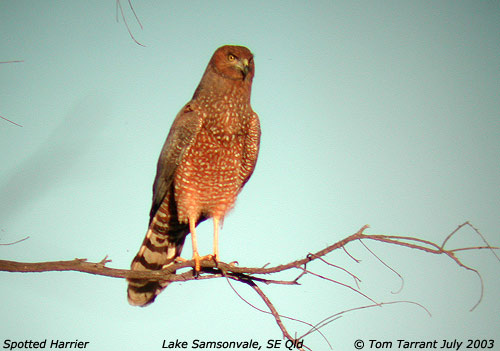 Circus assimilis
Identification
White-spotted chestnut breast, blue-grey upper parts, owl-like chestnut coloured facial disc with a narrow light grey ruff, yellow eyes, long slender yellow legs and a long tail, with a wedge-shaped tip. Its long, broad wings have dark, well rounded, 'fingered' tips. The female is larger than the male.[2]
Distribution
Indonesia and Australia. Occurs over much of Australia but scarce or absent from coastal areas of the south-west, south and north-east. Vagrant to Tasmania.
Also occurs in Sulawesi, Timor and the Lesser Sunda Islands. Nomadic or migratory.
Taxonomy
This is a monotypic species[1].
Habitat
Plains and scrubland, sometimes swamps, open wooded country, particularly in arid and semi-arid areas.
Behaviour
It hunts by day, and the diet includes ground birds such as quail and pipits, also mice, rats, rabbits and lizards. [2]
Its nest is built in trees in woodland and is a large flimsy platform of twigs and sticks, lined with green leaves. The female incubates the eggs, broods and guards the young. The male hunts and brings food to the female.[2]
References
Clements, J. F., T. S. Schulenberg, M. J. Iliff, D. Roberson, T. A. Fredericks, B. L. Sullivan, and C. L. Wood. 2016. The eBird/Clements checklist of birds of the world: v2016, with updates to August 2016. Downloaded from http://www.birds.cornell.edu/clementschecklist/download/
Birds in Backyards
Recommended Citation
External Links