This article is incomplete.
This article is missing one or more sections. You can help the BirdForum Opus by expanding it.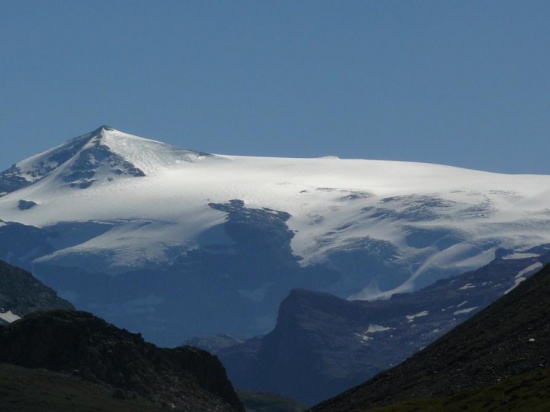 Overview
France's first national park, Vanoise covers a large and scenic area in the southeast of the country, sharing the border for a few km with the Italian Gran Paradiso National Park.
Lying between Little St Bernard Pass and Mont Cenis it contains some famous skiing resorts such as Val d'Isere but tourist development is largely confined to the peripheral zone, leaving the inner core of mountains, valleys and lakes relatively undisturbed. The highest point is Grande Casse at 3,852m.
Birds
Notable Species
Birds found in the park are typically mid-high altitude alpine species including Golden Eagle and Peregrine Falcon, various grouse and passerines such as Red-billed Chough, Wallcreeper, Rufous-tailed Rock Thrush and Snow Finch.
Now extremely rare in Europe the Lammergeier can be seen here in tiny numbers after reintroduction and breeding first took place in 1997. Short-toed Eagle is also present in small numbers and other raptors include Northern Goshawk, Eurasian Sparrowhawk and Common Buzzard. The forests have owls such as Eurasian Eagle Owl, Eurasian Pygmy Owl and Tengmalm's Owl and Three-toed Woodpecker.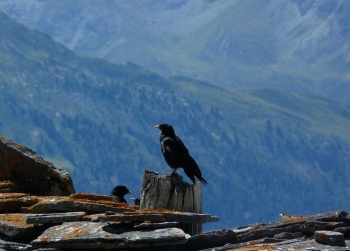 Checklist
Birds you can see here include:
European Honey Buzzard, Lammergeier, Short-toed Eagle, Northern Goshawk, Eurasian Sparrowhawk, Common Buzzard, Golden Eagle, Peregrine Falcon, Rock Ptarmigan, Hazel Grouse, Black Grouse, Western Capercaillie, Rock Partridge, Common Quail, Corn Crake, Eurasian Eagle Owl, Eurasian Pygmy Owl, Tengmalm's Owl, European Nightjar, Black Woodpecker, Three-toed Woodpecker, Eurasian Skylark, Tree Pipit, Water Pipit, Grey Wagtail, Common Wren, Common Dipper, Dunnock, Alpine Accentor, Whinchat, European Stonechat, Black Redstart, Common Redstart, Northern Wheatear, Rufous-tailed Rock Thrush, Ring Ouzel, Eurasian Blackbird, Fieldfare, Song Thrush, Mistle Thrush, Garden Warbler, Western Bonelli's Warbler, Common Chiffchaff, Goldcrest, Willow Tit, Crested Tit, Coal Tit, Wallcreeper, Common Treecreeper, Red-backed Shrike, Spotted Nutcracker, Alpine Chough, Red-billed Chough, Northern Raven, White-winged Snow Finch, Citril Finch, Eurasian Siskin, Yellowhammer, Rock Bunting
Other Wildlife
Mammals present include good numbers of Alpine Ibex and Chamois, Pine Marten and Beech Marten, Mountain Hare, Alpine Marmot, Red Squirrel, Red Fox and Badger.
The flora of the park is extremely rich with about a quarter of all the flowering plants recorded in France occurring here. This diversity is due in part to the wide range of topographical and geological conditions found here.
Site Information
History and Use
To do
Areas of Interest
To do
Access and Facilities
The park has a well-signed network of hiking trails from which virtually all of the park can be explored, there are also guided excursions and photo safaris.
The main information centre is at Lanslebourg-Mont Cenis and there is accommodation in mountain refuges in the inner zone and in hotels and campsites in the outer zone.
Contact Details
To do
External Links
Maps
Content originally posted by Steve, images by bru.b