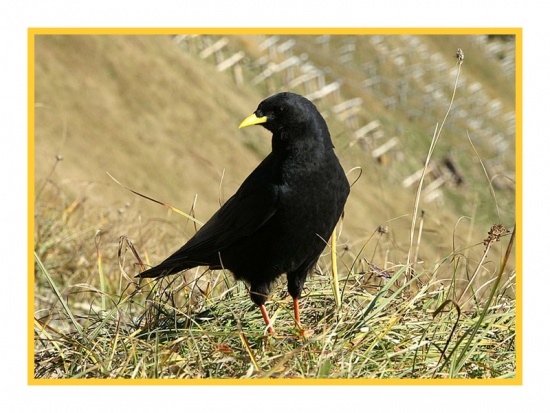 Alternative name: Alpine Chough
Pyrrhocorax graculus
Identification
34-38cm (13½-15 in). A medium-sized corvid.
Black plumage, weakly glossed bluish-green
Fairly long tail, broad wings with fingered primaries, pinched wing-base with shorter inner primaries
Short, yellow bill, slightly decurved
Red legs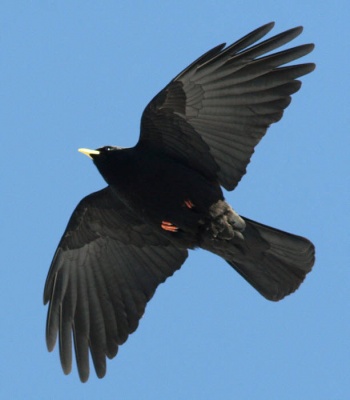 Sexes similar, juveniles with dull sooty black plumage, horn-coloured bill and black or dark brown legs (becoming red in the first winter).
Similar species
Can be confused with Red-billed Chough when bill is not seen. Differs with longer tail, narrower wings and less strongly fingered primaries.
Distribution
Widespread and locally common in mountain areas of southern Europe, North-West Africa and South-West Asia.
In Europe breeds in the Cantabrians, Sierra de Gredos and Pyrenees, in the Alps, Corsica and southern Italy, and in the mountain ranges of southeast Europe to southern Greece and Crete. Recently recorded in southern Spain where thought to be recent immigrants from Morocco.
In North Africa breeds in the Rif and Atlas of central Morocco and in Asia in the mountains of eastern Turkey and the Caucasus, and also occurs in the Middle East although current status unclear. Range extends eastwards across Central Asia to the Himalayas.
Vagrants recorded in Czechoslovakia, Hungary, Gibraltar, Cyprus, and Armenia.
The species is mostly resident with some altitudinal movement in winter.
Taxonomy
Red-billed Chough is a close relative but White-winged Chough is not closely related.
Subspecies
There are 3 subspecies[1]:

Central Asia from central and northern Afghanistan northeast through the Pamirs and patchily on through the Tien Shan and Altai to Sayan Mountains and, in south, from west central and northern Pakistan (including an isolated population in northern Baluchistan) east in Himalayas to Nepal, Bhutan, and extreme western Arunachal Pradesh (India), and central and southwestern China
Habitat
Mountain pastures and meadows with neighbouring cliff faces and rocky outcrops, also around high-altitude human habitation such as ski resorts.
Behaviour
Diet
Their diet includes ground insects and their larva, including grasshoppers and beetles.They may also visit gardens for fruit and will scavenge at waste tips.
Breeding
Breeding season in Europe from May to June. Two birds form a life-long pair. Solitary nester but may form loose colonies. The nest is a bulky structure of sticks, roots and similar material, placed in a cliff, rock crevice, a cave or a rock chimney. Lays 4 eggs.
Vocalisation
Has distinctive calls. A sweet rippling "preeep" is most heard.
References
Clements, J. F., T. S. Schulenberg, M. J. Iliff, S. M. Billerman, T. A. Fredericks, J. A. Gerbracht, D. Lepage, B. L. Sullivan, and C. L. Wood. 2021. The eBird/Clements checklist of Birds of the World: v2021. Downloaded from https://www.birds.cornell.edu/clementschecklist/download/
Del Hoyo, J, A Elliott, and D Christie, eds. 2009. Handbook of the Birds of the World. Volume 14: Bush-shrikes to Old World Sparrows. Barcelona: Lynx Edicions. ISBN 978-8496553507
Avibase
ArKive
Recommended Citation
External Links
Search the Gallery using the scientific name:

Search the Gallery using Yellow-billed Chouch:
Search the Gallery using Alpine Chough:
GSearch checked for 2020 platform.