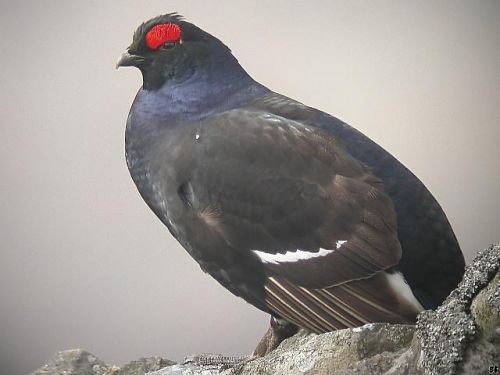 Lyrurus tetrix
Tetrao tetrix
Identification
Red wattle over the eye
Feathered legs
Male: 49-55cm. Blue-black glossy plumage, white wingbar and under-tail coverts. Lyre-shaped tail, which appears forked in flight.
Female and juvenile: 40-45cm. Greyish-brown, mottled black upperparts and barred below. Pale white wing bar. Forked tail.
Similar Species
Female is similar to the smaller Red Grouse but can be told by the less rufous plumage.
Distribution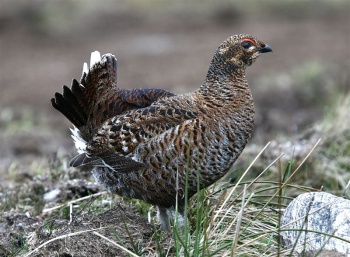 Patchy breeding range in north and west Britain, the Low Countries and Germany, the Alps and the mountains of Central Europe. More widespread in Scandinavia, found throughout most of Norway, Sweden and Finland except the extreme north and from southern and eastern Poland, Belarus and the Baltic States east across Russia.
Formerly much more widespread, now rare in many parts of range and no longer breeds in Denmark. The species has been in severe decline in Britain for many years, especially in Wales but there has been a slight recovery there in recent years. Also very rare in northern England and great care should be taken to avoid disturbance. Resident throughout range but there may be occasional movements in the north at times of peak population.
Recorded as a vagrant in Greece, far from normal range although a former breeder in Bulgaria and Turkey.
Taxonomy
Placed in genus Tetrao by some authorities.
Subspecies[1]
L. t. britannicus: male glossed more blue and female darker and more rufous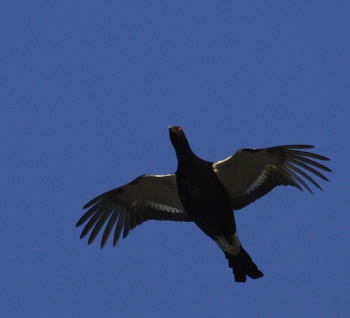 L. t. viridanus: males are glossed greener and have more white above, female paler than nominate
Southern Siberia south to north-western Altai and Sayan mountains
Occasionally hybridises with the Capercaillie to produce the "Rackelhahn", and hybrids with Willow Grouse and Common Pheasant have also been recorded.
Habitat
Forest edge, open forest and clearings, usually conifer or birch. Also swampy heathland and moorland with scattered trees.
Behaviour
Frequently sits in trees.
Breeding
The female builds nest, usually on the ground; 8 -10 eggs are laid from mid May and are incubated for about 24 days by the female who cares for the young.
Diet
The diet includes buds, shoots, catkins and berries.
Vocalisation
References
Clements, JF. 2008. The Clements Checklist of Birds of the World. 6th ed., with updates to December 2008. Ithaca: Cornell Univ. Press. ISBN 978-0801445019.
Collins Pocket Guide to British Birds 1966
Collins Field Guide 5th Edition
Recommended Citation
External Links
Use Tetrao tetrix to
Use Lyrurus tetrix to
Use Black Grouse to

GSearch checked for 2020 platform.