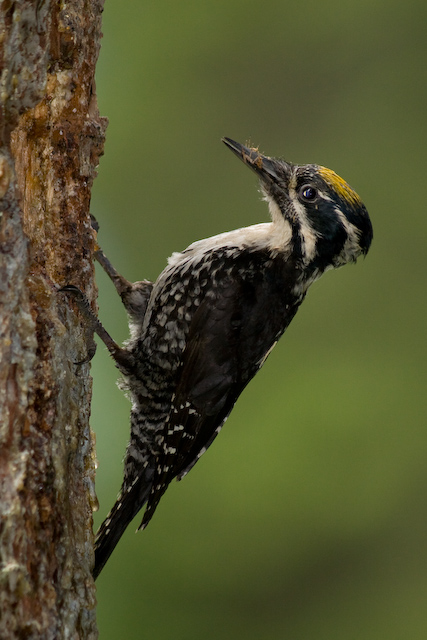 Picoides tridactylus
Identification
21.5-24cm
Black head, wings and rump
White throat and belly
White, black barred flanks
White back with black bars
Black tail with white, black barred, outer feathers
Male has yellow cap
Distribution
Breeds throughout most of Fenno-Scandia (except the far north, the higher mountains and south-west Norway), parts of eastern and southern Poland and the Baltic States and across Russia between about 660 and 530N. Isolated populations exist in Central Europe mainly in the Alps and Carpathians with a few scattered pockets of distribution in the Balkans.
Occurs across Asia from the Urals to China and Kamchatka and a rare breeder in Hokkaido, Japan. Isolated populations in the Tien Shan Mts and in western China.
Mainly resident but may be nomadic, dispersive or eruptive in far north of range.
Vagrants recorded in Denmark and Germany.
Taxonomy
Has been considered conspecific with American Three-toed Woodpecker.
Subspecies
There are 5 subspecies[1]:
P. t. crissoleucus: paler-headed than nominate
Northern taiga from Ural Mountains to Sea of Okhotsk
P. t. albidior: smaller than nominate with whiter plumage
P. t. alpinus: darker than nominate with dark barring on the back and bolder flank markings
P. t. funebris: darker than other races with less white on back
Habitat
Main habitat is coniferous forest with abundant dead wood, often around swampy areas, sometimes in birch and willow. In the south of range found in conifers on mountainsides. Has been observed at heights around 1285m.
Behaviour
Breeding
They nest in cavities.
Diet
The diet includes insects, larvae, fruit and tree sap.
Vocalisation
References
Clements, J. F., T. S. Schulenberg, M. J. Iliff, B.L. Sullivan, C. L. Wood, and D. Roberson. 2012. The eBird/Clements Checklist of Birds of the World. 6th ed., with updates to October 2012. Ithaca: Cornell Univ. Press. ISBN 978-0801445019. Spreadsheet available at http://www.birds.cornell.edu/clementschecklist/downloadable-clements-checklist
Woodpeckers of Europe: A Study of the European Picidae. Gerard Gorman. ISBN 1-872842-05-4
Wikipedia
BF Member observations
Recommended Citation
External Links
GSearch checked for 2020 platform.