Alternative name: Rufous-tailed Rock Thrush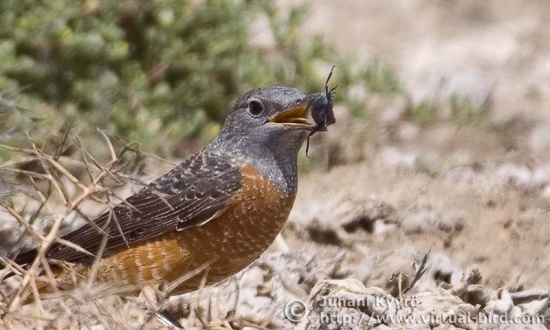 Monticola saxatilis
Identification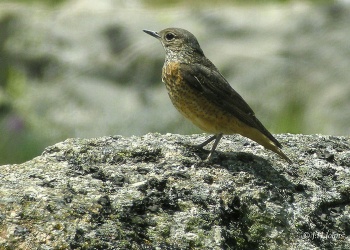 16–19 cm (6¼-7½ in)
Male
Pale slate-blue-grey head, neck and mantle
Underparts and outer tail feathers are chestnut-orange
Dark brown wings
White blaze on back
Females and Immatures
Dark brown scaly upperparts
Paler brown scaly underparts.
Outer tail feathers are reddish, like the male.
Distribution
Southern Europe across central Asia to northern China.
Taxonomy
This is a monotypic species[1].
Habitat
Open dry hilly areas, usually above 1500m.
Behaviour
Breeding
It nests in rock cavities, laying 4-5 eggs.
Diet
The diet includes a wide range of insects and berries.
Vocalisation
References
Clements, J. F., T. S. Schulenberg, M. J. Iliff, D. Roberson, T. A. Fredericks, B. L. Sullivan, and C. L. Wood. 2017. The eBird/Clements checklist of birds of the world: v2017, with updates to August 2017. Downloaded from http://www.birds.cornell.edu/clementschecklist/download/
Wikipedia
Collins Field Guide 5th Edition
Recommended Citation
External Links
GSearch checked for 2020 platform.1