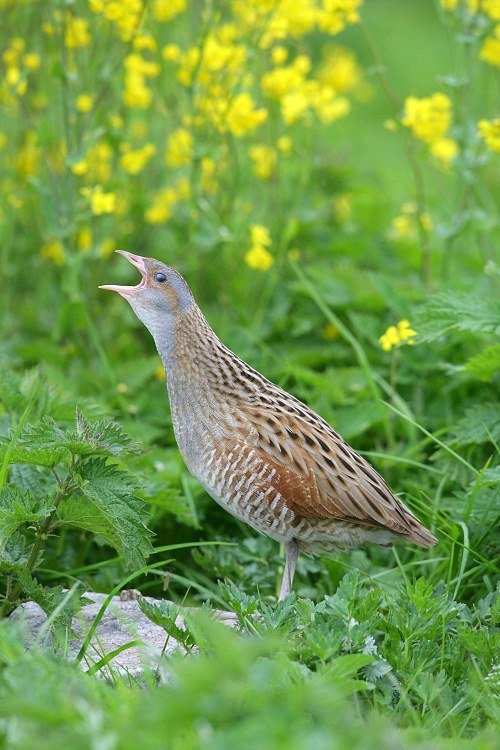 Crex crex
Identification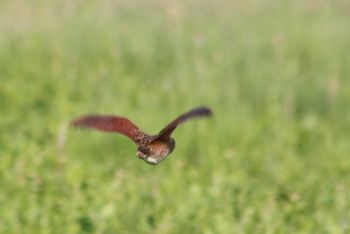 The body is mostly buffy gray with rusty-brown wings visible in flight. The back has black centers of the feathers leading to a spotted or striped impression, and some rusty barring can be seen on the flanks.
Legs and bill are dull yellow.
Distribution
Breeds Palearctic; winters Mediterranean to Africa and Madagascar. Accidental in eastern Canada with recent records in Newfoundland and Nova Scotia.
Many 19th century records in the eastern United States.
Taxonomy
This is a monotypic species[1].
Habitat
Meadows, grass fields, drier parts of marshes (drier areas than what most of the Porzana species prefer).
The young, before they can fly, will try to stay in cover and never runs over newly harvested areas. Modern harvest methods which often take place during that period, can therefore decimate the population if fields are harvested from the edge to the center; reversing that harvest habit with starting from the center has led to some improvements in the survival of these birds.
Status
This species has diminished in numbers in the more developed countries. The spread of modern harvest methods to the former Eastern bloc has potential to increase the threat to the species.
Behaviour
Breeding
The clutch of 8-12 greyish-green, blotchy eggs is laid in a shallow, vegetation-lined cup nest. The young hatch after about 16-19 days and leave the nest a couple of days later. They are cared for by the female. They fledge 5-6 weeks later. There is usually a second brood.
Diet
They eat insects and seeds.
Flight
Dangles legs in weak flight.
Vocalisation
The scientific name mimics its voice.

References
Clements, J. F., T. S. Schulenberg, M. J. Iliff, S. M. Billerman, T. A. Fredericks, B. L. Sullivan, and C. L. Wood. 2019. The eBird/Clements Checklist of Birds of the World: v2019. Downloaded from http://www.birds.cornell.edu/clementschecklist/download/
RSPB
Recommended Citation
External Links
GSearch checked for 2020 platform.1