Poecile montanus
Includes Songar Tit
Identification
11.5cm. Sooty brown cap, buff under parts, rufous flanks, pale buff edgings to the secondaries form a light patch on the closed wing. Often has pale edges to inner edges of bill but lacks pale spot on upper mandible at base of bill as seen on Marsh Tit. Cheek is usually plain buff-white. Overall scruffy looking as opposed to the dapper looking Marsh Tit.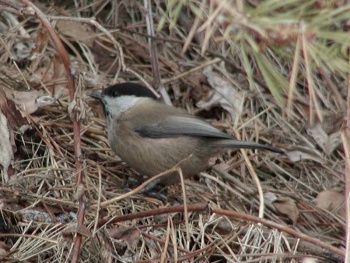 Similar Species
It is often confused with Marsh Tit but the pale panel on the secondaries is a good distinguishing feature when present. Also the Marsh Tit has a distinctive 'pish-ooo' call which Willow Tit lacks. Willow Tit's song is very nasal, as if it has a bad cold.
For a exhaustive discussion on the ID of Marsh and Willow Tits see this thread [[1]].
Distribution
Central and northern Palearctic region.
Taxonomy
The scientific name has in the past been given as either Parus montanus or Poecile montana
Subspecies
This is a polytypic species, consisting of 14 subspecies[1]:
P. m. kleinschmidti: Britain
P. m. rhenanus: Western Europe to western Germany and northern Switzerland
P. m. montanus: Central Europe
P. m. borealis: Scandinavia to Baltic States, Carpathian Mountains and south-eastern Russia
P. m. uralensis: South-eastern Russia to southern Urals, south-western Siberia and northern Kazakstan
P. m. anadyrensis: North-eastern Siberia to northern coast of Sea of Okhotsk
P. m. kamtschatkensis: Kamchatka Peninsula
P. m. sachalinensis: Sakhalin; vagrant to Hokkaido
P. m. restrictus: Japan
P. m. songarus: Tien Shan Mountains of Kazakstan
P. m. affinis: North-central China (Ningxia to southern Gansu and north-eastern Qinghai)
The last three subspecies have been recognized as full species, Songar Tit, in the past. Further Sichuan Tit was formerly included in this species.

Habitat
Mixed forests.
Behaviour
Breeding
It excavates a nesting hole usually in a rotten stump or in a tree, lined with fur, hair and wood chips, and occasionally feathers. The clutch consists of 6-9 eggs with reddish spots or blotches.
Diet
The diet includes caterpillars, insects and seeds.
References
Clements, J. F., T. S. Schulenberg, M. J. Iliff, D. Roberson, T. A. Fredericks, B. L. Sullivan, and C. L. Wood. 2018. The eBird/Clements checklist of birds of the world: v2018. Downloaded from http://www.birds.cornell.edu/clementschecklist/download/
Wikipedia contributors. (2019, May 2). Willow tit. In Wikipedia, The Free Encyclopedia. Retrieved 09:33, May 4, 2019, from https://en.wikipedia.org/w/index.php?title=Willow_tit&oldid=895242976
Brazil, M. (2009). Birds of East Asia. Princeton Univ. Press.
Eck, S., & Martens, J. (2006). Systematic notes on Asian birds. 49. A preliminary review of the Aegithalidae, Remizidae and Paridae. Zoologische Mededelingen, 80:1-63.
Gosler, A., Clement, P. & Garcia, E.F.J. (2019). Willow Tit (Poecile montanus). In: del Hoyo, J., Elliott, A., Sargatal, J., Christie, D.A. & de Juana, E. (eds.). Handbook of the Birds of the World Alive. Lynx Edicions, Barcelona. (retrieved from https://www.hbw.com/node/59860 on 16 April 2019).
Harrap, S. & Quinn. D. (1995) Chickadees, Tits, Nuthatches & Treecreepers. Princeton Univ. Press.
Scott G.W. (1999) Separation of marsh tits parus palustris and willow tits parus montanus , Ringing & Migration, 19:4, 323-326, DOI: 10.1080/03078698.1999.9674201
Recommended Citation
External Links
Search the Gallery specifically for Songar Tit:
GSearch checked for 2020 platform.1