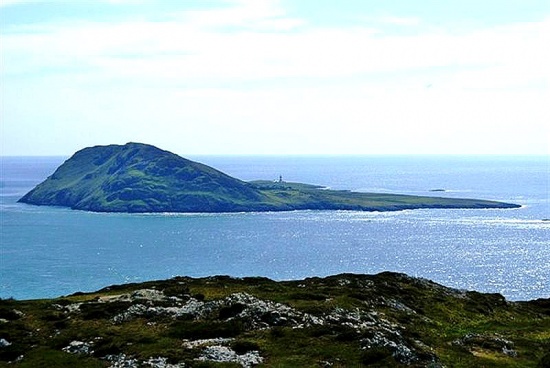 Overview
Bardsey is a small island, 180 hectares in size, situated off the Llŷn Peninsula at the north-western tip of Wales, famous as the site of a bird observatory and also as the ancient burial ground of thousands of saints. The island is a privately owned nature reserve and consists mainly of grassland fringed by rocky cliffs. The southern tip of the island is a peninsula with a lighthouse, linked to the main part by a narrow isthmus and the highest point is over 160m.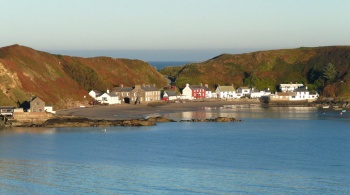 Birds
Notable Species
Although it is best-known as a site for migrants, Bardsey has good seabird colonies with breeding Manx Shearwater and Northern Fulmar, Shag, Common Guillemot and Razorbill. Other breeders on the cliffs include Peregrine Falcon, Northern Raven and Rock Pipit and this is one of the Welsh strongholds of Red-billed Chough.
European Storm-petrel regularly visit the island in summer but their breeding status is difficult to determine and Atlantic Puffin can be seen at sea although they do not breed on Bardsey. As well as Kittiwake, Great Black-backed Gull and Lesser Black-backed Gull and Herring Gull breed.
Breeding landbirds include Little Owl, Carrion Crow, Jackdaw and Common Magpie. Oystercatcher, Northern Lapwing and Eurasian Curlew breed on the island.
Rarities
Migrants regularly seen on Bardsey include various chats, warblers and flycatchers but the island has an excellent record for turning up rarities. Hoopoe, Woodchat Shrike, Common Firecrest, Yellow-browed Warbler, Icterine Warbler and Melodious Warbler are among the rarer migrants that appear with some frequency.
Sooty Shearwater is regular offshore in small numbers in autumn and Leach's Storm-petrel seen on occasion.
Exceptional rarities have included the only Western Palearctic record of Summer Tanager as well as Blackpoll Warbler and Yellow Warbler, Sora Crake, Rose-breasted Grosbeak, American Robin and Grey-cheeked Thrush from North America and Pallas's Warbler and Dusky Warbler and Yellow-breasted Bunting and Black-headed Bunting from Asia.
Black-browed Albatross, Long-tailed Skua and Sabine's Gull and Bonaparte's Gull are among the unusual seabirds recorded off Bardsey.
Checklist
Birds you can see here include:
Red-throated Diver, Northern Fulmar, Sooty Shearwater, Manx Shearwater, European Storm Petrel, Leach's Storm Petrel, Great Cormorant, European Shag, Northern Gannet, Mallard, Common Kestrel, Merlin, Peregrine Falcon, Common Moorhen, Eurasian Oystercatcher, Northern Lapwing, Red Knot, Sanderling, Purple Sandpiper, Dunlin, Common Snipe, Eurasian Woodcock, Whimbrel, Eurasian Curlew, Common Sandpiper, Ruddy Turnstone, Pomarine Skua, Arctic Skua, Great Skua, Lesser Black-backed Gull, Herring Gull, Great Black-backed Gull, Black-legged Kittiwake, Common Guillemot, Razorbill, Atlantic Puffin, Common Wood Pigeon, European Turtle Dove, Little Owl, Common Swift, Eurasian Hoopoe, Eurasian Skylark, Sand Martin, Barn Swallow, Tree Pipit, Meadow Pipit, Rock Pipit, Pied Wagtail, Grey Wagtail, Common Wren, Whinchat, Black Redstart, Common Redstart, Northern Wheatear, Ring Ouzel, Eurasian Blackbird, Fieldfare, Redwing, Song Thrush, Mistle Thrush, Common Grasshopper Warbler, Sedge Warbler, Icterine Warbler, Melodious Warbler, Common Whitethroat, Garden Warbler, Blackcap, Yellow-browed Warbler, Wood Warbler, Willow Warbler, Common Chiffchaff, Goldcrest, Common Firecrest, Spotted Flycatcher, Red-breasted Flycatcher, European Pied Flycatcher, Woodchat Shrike, Common Magpie, Red-billed Chough, Eurasian Jackdaw, Carrion Crow, Northern Raven, Common Starling, Eurasian Tree Sparrow, Chaffinch, Brambling, European Greenfinch, European Goldfinch, Eurasian Linnet, Lesser Redpoll, Common Rosefinch, Snow Bunting, Lapland Bunting, Yellowhammer, Reed Bunting
Other Wildlife
The flora of Bardsey is rich and varied with more than 300 species recorded. Plants such as Rock Sea Spurrey Spergularia rupicola, Thrift Armeria maritima, Spring Squill Scilla verna, Lesser Meadow Rue Thalictrum minus, Sharp Rush Juncus acutus and Wilson's Filmy Fern Hymenophyllum wilsonii grow amongst the Bracken Pteridium aquilinum and Western Gorse Ulex gallii. Autumn Lady's Tresses Spiranthes spiralis is one of several species of orchid found on the island.
Rabbit Oryctolagus cuniculus are abundant on the island and Grey Seal Halichoerus grypus are common in the surrounding seas where Common Porpoise Phocoena phocoena are regularly seen and several dolphin species have been recorded.
There are no reptiles and the sole amphibian is Palmate Newt Triturus helveticus.
Site Information
April to early June and late August to late October are the best times to visit to see migrants.
History and Use
Bardsey is a National Nature Reserve. The Bardsey Bird and Field Observatory was established in 1953 and it is the only accredited bird observatory in Wales. Prior to 1953, the first serious records were collated by Eagle Clarke from notes kept by the lighthouse keepers between 1879-1887. In 1954, A. Till, a resident lighthouse keeper, was enrolled as an honorary warden of the Observatory, but after 1954 the Wardens were salaried, beginning with R. Thearle. The lighthouse was built in 1821.
Areas of Interest
The best time to visit Bardsey is between April and October. Check out the "When to Come" section on the Bardsey Bird & Field Observatory website (see External Links, below), where each month has a breakdown of what you are likely to see.
Access and Facilities
Bardsey can be reached by a 2-3 hour boat-trip from Pwllheli leaving at 08.30 every Saturday.
The observatory can provide self-catering accommodation: for details visit Bardsey Bird & Field Observatory or telephone Mrs Alicia Normand on 01626-773908.
Contact Details
Observatory Warden - Steven Stansfield
Postal Address: Cristin, Bardsey Island, Off Aberdaron, via Pwllheli, Gwynedd, LL53 8DE, UK
Telephone: 07855 264 151
Email: steve at bbfo dot org dot uk
External Links

Content and images originally posted by Steve