This article is incomplete.
This article is missing one or more sections. You can help the BirdForum Opus by expanding it.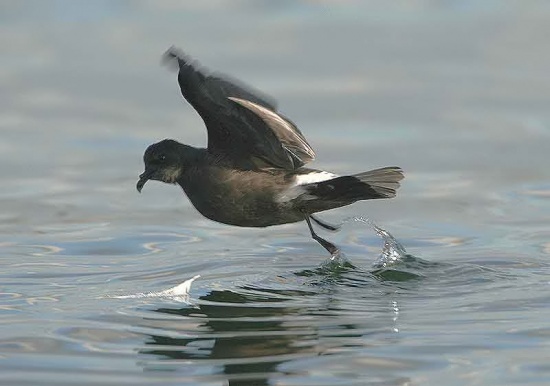 Alternative name: Leach's Petrel Includes: Chapman's Storm Petrel
Hydrobates leucorhous
Oceanodroma leucorhoa
Identification
A small seabird of the tubenose family. It is named after the British zoologist William Elford Leach.
8-21 cm. Dark plumage and white rump with a black line through it. Forked tail
Distribution
Atlantic and Pacific Oceans.
Taxonomy
This is a polytypic species[1] consisting of 2 subspecies.
Subspecies
Breeds in the north Pacific, from northeastern Japan through the Kuril and Aleutian Islands to southeastern Alaska, south to central California (Farallon Islands); and in the north Atlantic from the northeastern USA (Massachusetts, Maine) and eastern Canada east to Iceland, the Faeroe Islands, northern Scotland, and northwestern Norway;
Found in Coronados Islands and San Benito Islands (northwest Mexico)
Formerly considered conspecific with Townsend's Storm Petrel and Ainley's Storm Petrel.
Habitat
Close to the sea in well concealed areas such as rock crevices, shallow burrows.
Can turn up on lakes and reservoirs, many miles inland, as a result of storms
Behaviour
Breeding
1 white egg is laid. Visits the nest only at night
Diet
Small fish and crustaceans
Vocalisation
References
Clements, J. F., T. S. Schulenberg, M. J. Iliff, S. M. Billerman, T. A. Fredericks, J. A. Gerbracht, D. Lepage, B. L. Sullivan, and C. L. Wood. 2021. The eBird/Clements checklist of Birds of the World: v2021. Downloaded from https://www.birds.cornell.edu/clementschecklist/download/
Gill, F and D Donsker (Eds). 2016. IOC World Bird Names (version 6.3). Available at http://www.worldbirdnames.org/.
Recommended Citation
External Links
Birdforum thread: How to see a Leach's Storm Petrel in the UK: [[1]]