Phylloscopus sibilatrix

Rhadina sibilatrix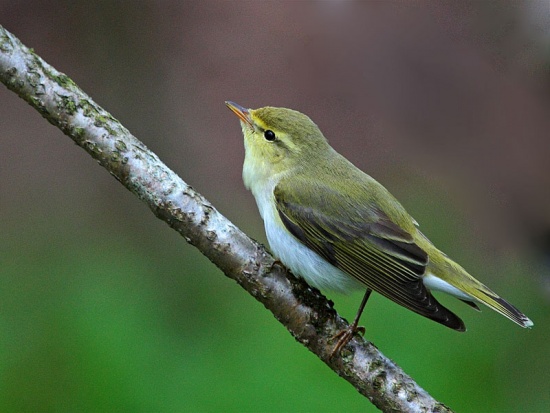 Identification
Length 11–12.5 cm, weight 6.5–15 g
Bright green upperparts, yellow throat and upper chest; white underparts. Wing and tail feathers very dark green with bright yellow-green fringes. Yellow supercilium. Juvenile similar to adult.
Similar species
Long wings, relatively short, broad tail, and strong chest give a distinctive 'front-heavy' shape compared to Willow Warbler and other Phylloscopus species. Brighter green above and more yellow throated than Western Bonelli's Warbler and Eastern Bonelli's Warbler. On the African wintering grounds, could be confused with Laura's Woodland Warbler, but that differs in having bright yellow, not white, under-tail coverts.
Distribution
Breeds in northern and central Europe and Russia, north to around 63°N latitude and east to about 90°E longitude. In N Europe from sea level, but further south, in mountain forests (Pyrenees, Alps, Balkan, and northern Caucasus mountains). In NW Europe, a very rare breeder in Ireland and scarce and declining in Britain, where primarily in western upland woods. Abundant in eastern Europe, and very common on passage in SE Europe. Winters in tropical Africa between about 10°N and 10°S latitude.
An accidental vagrant to western China, and Alaska (where 3 records).
Taxonomy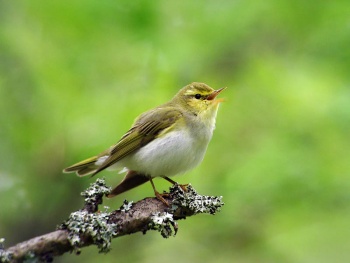 Closely related to the Western Bonelli's Warbler – Eastern Bonelli's Warbler species pair; with them, sometimes separated into the genus Rhadina. It is a monotypic species[1].
Habitat
Prefers tall, mature mixed or broadleaf forests, often of oak Quercus or beech Fagus, often with sparse understorey and on sloping ground near rivers.
Behaviour
Sings from prominent perches often low down (typically 3–10 m above ground) or in flight between perches, under tall (20–45 m) forest canopy.
Diet
The diet includes insects and spiders.
Breeding
The nest is built near the ground in low shrub.
Vocalisation
Song: two distinct songs, typically interspersed; a plaintive descending "piuuu-piuuu-piuuu", and a higher-pitched musical trill often described as a spinning coin on marble (both given in the recording below, in this order). One of the most distinctive and evocative sounds of European forests in spring.

References
Clements, JF. 2011. The Clements Checklist of Birds of the World. 6th ed., with updates to August 2011. Ithaca: Cornell Univ. Press. ISBN 978-0801445019. Spreadsheet available at http://www.birds.cornell.edu/clementschecklist/downloadable-clements-checklist
Collins Field Guide 5th Edition
Birdwatchers Pocket Guide ISBN 1-85732-804-3
Wikipedia
Recommended Citation
External Links
GSearch checked for 2020 platform.1