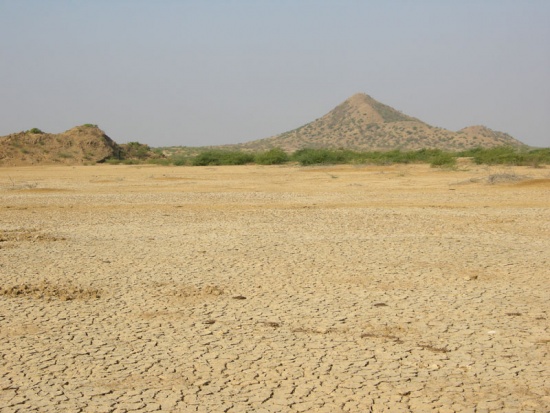 Overview
Banni Grassland is a semiarid area south of the Rann of Kutch in Kutch District, Gujarat in northwest India. Chhari Dhand is a seasonal lake/marsh. Depending on the monsoon Chhari Dhand can be full of water in winter or it may be just a big dustbowl in middle of Banni Grassland.
The area is an Indian IBA and famous for its breeding, wintering and passage birds. Most birders visit in winter, however Banni Grassland offers good birding year-round.
Birds
Notable Species
The most sought-after breeding species of Banni Grassland is the enigmatic Lesser Florican. However, it can only be seen during the monsoon season from July to September and is not present in winter when most birders visit the area. Houbara Bustard is present in winter but very scarce and shy.

In winter the Banni Grassland is full of Common Cranes. Around rocks Red-tailed Wheatears can be found. Variable Wheatear, Isabelline Wheatear and Desert Wheatear are common. Cream-coloured Courser is relatively rare and needs some luck. East of Chhari Dhand is some good habitat for White-browed Bushchat (all year) and Asian Desert Warbler (winter). During the day Short-eared Owl can be found in the same place.
A night visit can produce Sykes's Nightjar which is widespread, Indian Eagle-Owl and Pallid Scops Owl which is now also known to breed here.
The village of Fulay is famous for its wintering Grey Hypocolius. They can be found in early morning in the fields and hedges east of the village. Ask for Mohammed in Fulay, he can show you the birds for a 200RS fee. The edges also host Marshall's Iora and many other birds.
If Chhari Dhand is filled with water many waterfowl, waders, egrets, storks and pelicans use the lake to overwinter. At the east coast are some observation towers which can be used. Be sure to check the reedbeds for warblers, prinias, Bluethroat and wagtails.
One of the many passage migrants are the colourful Blue-cheeked Bee-eaters and European Roller. Demoiselle Crane is most likely seen during migration and rare in winter.
Rarities
Especially on migration vagrants are possible. The area is huge and underwatched. Check the waterfowl of Chhari Dhand for rare ducks (like Baikal Teal) or other rarities.
Check-list
Birds of the grassland
Birds you can see here include:
Black-winged Kite, Shikra, Long-legged Buzzard, Short-toed Eagle, Booted Eagle, Greater Spotted Eagle, Steppe Eagle, Montagu's Harrier, Pallid Harrier, Common Kestrel, Peregrine Falcon, Grey Francolin, Rain Quail, Common Crane, Demoiselle Crane, Lesser Florican, Houbara Bustard, Cream-coloured Courser, Yellow-wattled Lapwing, Eurasian Curlew, Laughing Dove, Eurasian Collared Dove, Chestnut-bellied Sandgrouse, Greater Coucal, Indian Eagle-Owl, Short-eared Owl, Pallid Scops Owl, Sykes's Nightjar, Indian Roller, Common Hoopoe, Blue-cheeked Bee-eater, Little Green Bee-eater, Indian Bushlark, Oriental Skylark, Crested Lark, Ashy-crowned Sparrow-Lark, Bimaculated Lark, Rufous-tailed Lark, Greater Short-toed Lark, Barn Swallow, Tawny Pipit, Long-billed Pipit, Red-vented Bulbul, White-eared Bulbul, Marshall's Iora, Long-tailed Shrike, Great Grey Shrike, Isabelline Shrike, Bay-backed Shrike, Grey Hypocolius, Indian Black Robin, Black Redstart, Isabelline Wheatear, Desert Wheatear, Variable Wheatear, Red-tailed Wheatear, Pied Bushchat, Siberian Stonechat, White-browed Bushchat, Common Babbler, Rufous-fronted Prinia, Grey-breasted Prinia, Delicate Prinia, Common Tailorbird, Lesser Whitethroat, Asian Desert Warbler, Purple Sunbird, Striolated Bunting, Grey-necked Bunting, Indian Silverbill, Common Rosefinch, House Sparrow, Black Drongo, Rosy Starling, Common Myna, House Crow
Birds of Chhari Dhand
Birds you can see here include:
Little Grebe, Dalmatian Pelican, Great White Pelican, Little Cormorant, Little Egret, Great Egret, Intermediate Egret, Cattle Egret, Grey Heron, Purple Heron, Indian Pond Heron, Asian Openbill, White Stork, Painted Stork, Glossy Ibis, Black-headed Ibis, Red-naped Ibis, Eurasian Spoonbill, Lesser Flamingo, Greater Flamingo, Ruddy Shelduck, Common Teal, Garganey, Gadwall, Eurasian Wigeon, Northern Shoveler, Northern Pintail, Indian Spot-billed Duck, Mallard, Tufted Duck, Ferruginous Duck, Common Pochard, Red-crested Pochard, Cotton Pygmy-goose, Brahminy Kite, Greater Spotted Eagle, Osprey, Western Marsh Harrier, Common Moorhen, Eurasian Coot, Black-winged Stilt, Red-wattled Lapwing, Black-tailed Godwit, Common Greenshank, Marsh Sandpiper, Little Stint, White-throated Kingfisher, Common Kingfisher, Barn Swallow, Yellow Wagtail, Citrine Wagtail, Plain Prinia, Clamorous Reed Warbler, Paddyfield Warbler, Bluethroat, Rosy Starling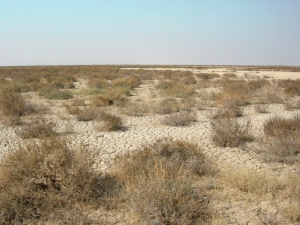 Other Wildlife
Golden Jackals can be seen often. Nilgai, Chinkara, Blackbuck, Wild boar, Desert Fox and Indian Hare may also bee seen. Luck is needed to glimps an Indian Desert Cat (a subspecies of Wildcat), a Caracal or an Indian Wolf.
Site Information
History and Use
Banni Grassland is mainly used for grazing. In the villages around the grassland some farms can be found but the soil and the climate is not favourable for agriculture.
The area is officially protected and managed by the Forest Departement.
Areas of Interest
Some time should be spend around the village of Fulay, in its fields and orchards. North of Fulay is a small, rocky hill (called Birdrock). Look out there for Red-tailed Wheatear. Best access to Chhari Dhand is from the east of the lake, where an observation tower can be found. East of the lake is also the best habitat for White-browed Bushchat.
Access and Facilities
The next train station and airport are in Bhuj, the capital of the Kutch district. From there follow the SH42 to Nakhatarana where you have to turn right to Moti Virani and finally to Fulay, the last village before the grassland. From Fulay jeep tracks lead into the grassland and to Chhari Dhand. Moti Virani can be reached by bus via Nakhatarana.
Another possibility is the SH45 from Bhuj to the north. Banni can be reached over Jhura and Niruna.
However, there are no roads, only tracks and a local driver or guide is highly advisable. During the rainy season some parts may not be accessible.

Accomodation can be found in Bhuj. Resthouses may also be found in Nakhatarana. Another possibility is CEDO in Moti Virani.
Take enough water and some food with you as there are no shops or restaurants in the smaller villages.
Contact Details
Centre for Desert and Ocean (CEDO)
Moti Virani, Kutch, Gujarat, India
Tel +91 2835 221284
[email protected]
External Links