This article is incomplete.
This article is missing one or more sections. You can help the BirdForum Opus by expanding it.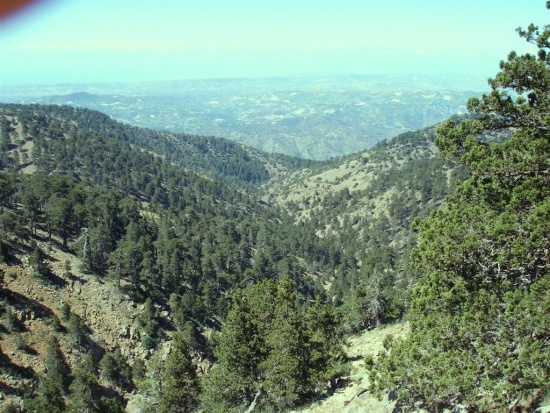 Overview
The Troodos Mts lie in the centre of Cyprus and include pine forest, rocky areas with fast-flowing streams and waterfalls, small villages and areas of cultivated land.
The beautiful forests of Troodos Pine, particularly the Adelphi Forest in the north-east of the range, have a selection of species that can be difficult to find elsewhere on the island.
Birds
Notable Species
Griffon Vulture and Bonelli's Eagle can be seen in these mountains, Eastern Imperial Eagle survives in very small numbers and Long-legged Buzzard occurs in the foothills.
The pine forests are home to endemic island subspecies of Jay, Short-toed Treecreeper, Coal Tit and Cyprus Crossbill.
More open areas have Masked Shrike, Cretzschmar's Bunting and Black-headed Bunting, and the two near endemic species, Cyprus Warbler and Cyprus Pied Wheatear. Eurasian Crag Martin and Pallid Swift breed around many cliffs and villages.
Check-list
Birds you can see here include:
Griffon Vulture, Eurasian Sparrowhawk, Long-legged Buzzard, Eastern Imperial Eagle, Bonelli's Eagle, Common Kestrel, Common Woodpigeon, European Turtle Dove, Common Cuckoo, Cyprus Scops Owl, Common Swift, Pallid Swift, Eurasian Hoopoe, Eurasian Crag Martin, Barn Swallow, Red-rumped Swallow, Northern House Martin, Grey Wagtail, Common Wren, Common Nightingale, Cyprus Pied Wheatear, Eurasian Blackbird, Cetti's Warbler, Eastern Olivaceous Warbler, Cyprus Warbler, Blackcap, Wood Warbler, Common Chiffchaff, European Pied Flycatcher, Cyprus Coal Tit, Great Tit, Short-toed Treecreeper, Masked Shrike, Cyprus Jay, Northern Raven, House Sparrow, Spanish Sparrow, Chaffinch, European Serin, European Greenfinch, Eurasian Siskin, Cyprus Crossbill, Cretzschmar's Bunting, Black-headed Bunting
Site Information
History and Use
To do
Areas of Interest
To do
Access and Facilities
The Troodos Mts are best visited in spring when the greatest variety of species is likely to be present. To reach the area take the northerly road from Limassol.
The village of Platres makes an ideal base from which to explore this area.
Contact Details
To do
External Links
Content and images originally posted by Steve