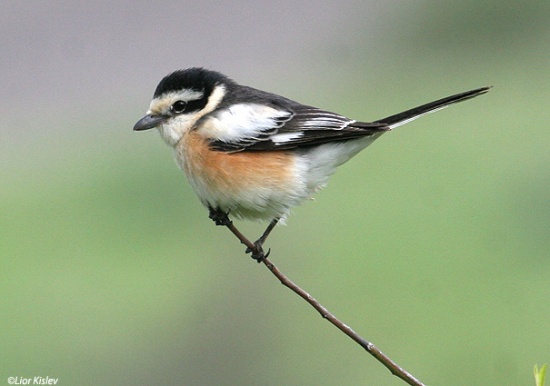 Lanius nubicus
Identification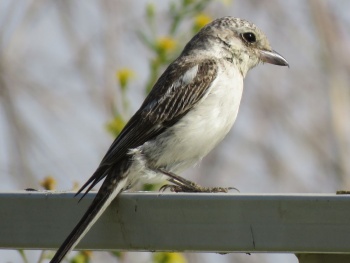 17–18·5 cm (6¾-7¼ in)
Black upperparts, crown and long tail
Black wings with large white patches
White forehead spreader over eye
Broad black line through the eye
Orange flanks
White underparts
Female and young birds: the upperparts are dark grey rather than black, and the duller orange flanks.
Distribution
From Greece to Turkey, Cyprus, Israel, Syria to South West Iran. Winters in Arabia and Central Africa.
Taxonomy
This is a monotypic species[1].
Habitat
Open woodland and cultivated country with large scattered trees.
Behaviour
Breeding
The nest is built in a tree. The clutch contains 4-7 eggs. They may lay again, especially if the first attempt fails.
Diet
Their main diet consists of large insects, such as crickets. They will also eat some small birds, voles and lizards which are impaled on thorns or barbed wire as a "larder".
References
Clements, J. F., T. S. Schulenberg, M. J. Iliff, D. Roberson, T. A. Fredericks, B. L. Sullivan, and C. L. Wood. 2018. The eBird/Clements checklist of birds of the world: v2018. Downloaded from http://www.birds.cornell.edu/clementschecklist/download/
Handbook of the Birds of the World Alive (retrieved November 2018)
Recommended Citation
External Links
GSearch checked for 2020 platform.1