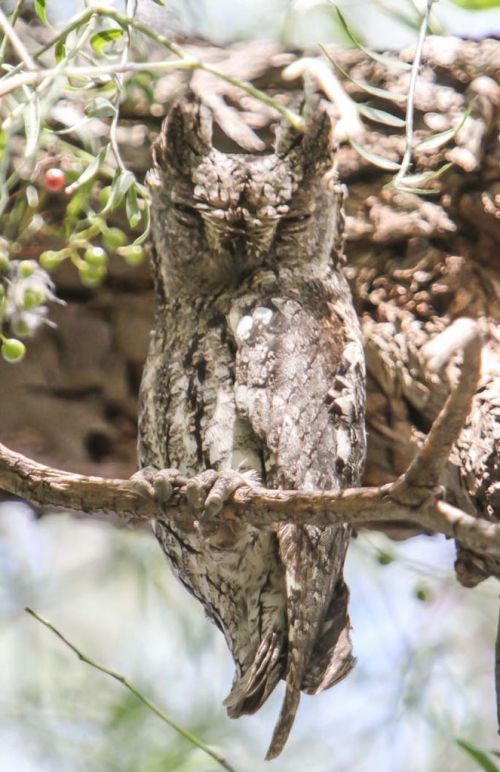 Otus cyprius
Identification
19 cm
Principally grey with some rufous feathers on upperside. Upperside grey-brown and black with white spots on nape, scapulars and wing coverts. Bill bluish and eyes yellow.
Similar species
Eurasian Scops Owl Is usually paler, but the most important difference is difference in voice.
Distribution
Taxonomy
This is a monotypic species[1].
Formerly included in Eurasian Scops Owl
Habitat
Common in all types of woodland including plantations and gardens. Found at all elevations in Cyprus.
Behaviour
It is unknown if all members of this species are resident or if some migrate outside Cyprus in winter.
Food mainly larger insects such as crickets and grasshoppers, and less commonly also include vertebrates up to the size of a small thrush.
Vocalisation
Usually given as series of phrases where each phrase has two sounds, the second slightly lower than the first. Occasionally heard is phrases with three or four notes. Eurasian Scops Owl usually has a single short whistle in each phrase.
References
Clements, J. F., T. S. Schulenberg, M. J. Iliff, S. M. Billerman, T. A. Fredericks, J. A. Gerbracht, D. Lepage, B. L. Sullivan, and C. L. Wood. 2021. The eBird/Clements checklist of Birds of the World: v2021. Downloaded from https://www.birds.cornell.edu/clementschecklist/download/
Birdforum thread with a discussion of the split of Cyprus Scops Owl from post #25 to at least #42
Holt, D. W., R. Berkley, C. Deppe, P. L. Enríquez, J. L. Petersen, J. L. Rangel Salazar, K. P. Segars, K. L. Wood, and J. S. Marks (2021). Eurasian Scops-Owl (Otus scops), version 1.1. In Birds of the World (J. del Hoyo, A. Elliott, J. Sargatal, D. A. Christie, and E. de Juana, Editors). Cornell Lab of Ornithology, Ithaca, NY, USA. https://doi.org/10.2173/bow.eursco1.01.1
Recommended Citation
External Links
GSearch checked for 2020 platform.