This article is incomplete.
This article is missing one or more sections. You can help the BirdForum Opus by expanding it.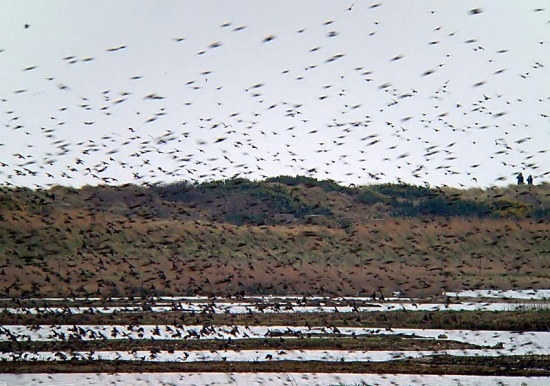 Overview
One of the RSPB's most famous reserves and one of the most heavily visited. It is also probably one of the most interesting in terms of the number of species that can be seen. The large number of breeding birds reflects the diversity of habitats that make up this 800 hectare reserve on the Suffolk coast.
As well as coastal habitats such as lagoons with islands, dunes, beaches and saltmarsh, there are freshwater wetlands with reedbeds and areas of deciduous woodland, heath and farmland. The various habitats are carefully managed to provide the optimum conditions for breeding and visiting birds and disturbance from the public is kept to a minimum.
Birds
Over 300 species of bird have been recorded on the reserve, 200 of these are recorded annually and about 100 breed, a reflection of the variety of habitats present. Great Bittern, Pied Avocet and breeding terns are the specialities of Minsmere but there is very much more to be seen. More than twenty species of wader can be seen in a day in late summer at Minsmere.
Garganey are often present in summer as well as Cetti's Warbler and other warblers in the wetland areas. Savi's Warbler was once regular here but has declined as elsewhere in Britain and is now very rare.
Other inhabitants of the reedbeds include Marsh Harrier and Bearded Tit. The woodlands have Tawny Owl, Eurasian Sparrowhawk and all three British woodpeckers and European Nightjar and Wood Lark breed on the heathland.
Rarities
Birders are attracted to Minsmere to see rare visitors such as Purple Heron, Eurasian Spoonbill and Spotted Crake which turn up with regularity but major rarities also occur with some frequency.
In March 2002 an Alpine Accentor was present on the reserve and in March 2003 a Black Kite was recorded.
Check-list
Birds you can see here include:
Red-throated Diver, Little Grebe, Great Crested Grebe, Great Cormorant, European Shag, Northern Gannet, Eurasian Bittern, Grey Heron, Purple Heron, Eurasian Spoonbill, Mute Swan, Bewick's Swan, Greater White-fronted Goose, Dark-bellied Brent Goose, Common Shelduck, Eurasian Wigeon, Gadwall, Common Teal, Mallard, Northern Pintail, Garganey, Northern Shoveler, Common Pochard, Tufted Duck, Greater Scaup, Common Eider, Common Scoter, Common Goldeneye, Red-breasted Merganser, Goosander, Western Marsh Harrier, Hen Harrier, Eurasian Sparrowhawk, Common Buzzard, Rough-legged Buzzard, Osprey, Common Kestrel, Merlin, Northern Hobby, Peregrine Falcon, Water Rail, Spotted Crake, Common Moorhen, Eurasian Coot, Eurasian Oystercatcher, Pied Avocet, Little Ringed Plover, Ringed Plover, Eurasian Golden Plover, Grey Plover, Northern Lapwing, Red Knot, Sanderling, Little Stint, Curlew Sandpiper, Dunlin, Ruff, Common Snipe, Eurasian Woodcock, Black-tailed Godwit, Bar-tailed Godwit, Whimbrel, Eurasian Curlew, Spotted Redshank, Common Redshank, Common Greenshank, Green Sandpiper, Wood Sandpiper, Common Sandpiper, Ruddy Turnstone, Red-necked Phalarope, Arctic Skua, Little Gull, Mediterranean Gull, Yellow-legged Gull, Herring Gull, Sandwich Tern, Common Tern, Little Tern, Black Tern, Short-eared Owl, Tawny Owl, European Nightjar, Common Swift, Common Kingfisher, Eurasian Hoopoe, Eurasian Wryneck, Green Woodpecker, Great Spotted Woodpecker, Lesser Spotted Woodpecker, Wood Lark, Eurasian Skylark, Horned Lark, Sand Martin, Barn Swallow, Northern House Martin, Tree Pipit, Meadow Pipit, Water Pipit, Yellow Wagtail, Common Wren, Dunnock, Eurasian Robin, Common Nightingale, Bluethroat, Black Redstart, Common Redstart, Whinchat, European Stonechat, Northern Wheatear, Ring Ouzel, Eurasian Blackbird, Song Thrush, Mistle Thrush, Cetti's Warbler, Common Grasshopper Warbler, Savi's Warbler, Sedge Warbler, Common Reed Warbler, Lesser Whitethroat, Common Whitethroat, Garden Warbler, Blackcap, Common Chiffchaff, Willow Warbler, Goldcrest, Common Firecrest, Spotted Flycatcher, Bearded Tit, Long-tailed Tit, Marsh Tit, Willow Tit, Coal Tit, Blue Tit, Great Tit, Eurasian Nuthatch, Common Treecreeper, Red-backed Shrike, Great Grey Shrike, Common Starling, House Sparrow, Eurasian Tree Sparrow, Chaffinch, European Greenfinch, Eurasian Siskin, Twite, Lesser Redpoll, Common Rosefinch, Snow Bunting, Yellowhammer, Reed Bunting, Corn Bunting
Other Wildlife
Mammals found on the reserve include, Red Deer Cervus elaphus, Muntjac Muntiacus reevesi, Brown Hare Lepus capensis, Water Vole Arvicola terrestris, Harvest Mouse Micromys minutus and three species of shrew. Otter Lutra lutra, introduced in the 1980s, are sometimes seen and the American Mink Mustela vison is established in the area.
Site Information
History and Use
To do
Areas of Interest
To do
Access and Facilities
The reserve is open every day except 25 and 26 December and is well signposted from the village of Westleton in Suffolk.
Entrance to the reserve is by permit only but there is a public hide overlooking The Scrape, reached along the beach from the National Trust car park at Dunwich Cliffs.
Grid reference: TM473672
Contact Details
Tel: 01728 648281
External Links
Content and images originally posted by Steve
Reviews
Leicaman's review
The best birdwathing site in England that I know of. The variety of birds is better in the spring and early summer than the autumn.
Pros
Cons
Well away from public transport
GavinM's review I agree with Leicaman, it's a fabulous place and as a bonus there's always been something unexpected passing through when I've been there (spoonbills and arctic skua from my last two visits)
Pros
Cons
Sheer number of people (sometimes)
CORVUS1's review
I WAS THERE AGAIN ON THE 04/02/06. THIS TIME SIGHTING TWO FIRSTS FOR MY LIST, "SHORELARK" AND "BITTERN" AND A VERY YOUNG MUNKJAK DEER. I JUST WISH I COULD GET THERE MORE OFTEN. Pros
Cons