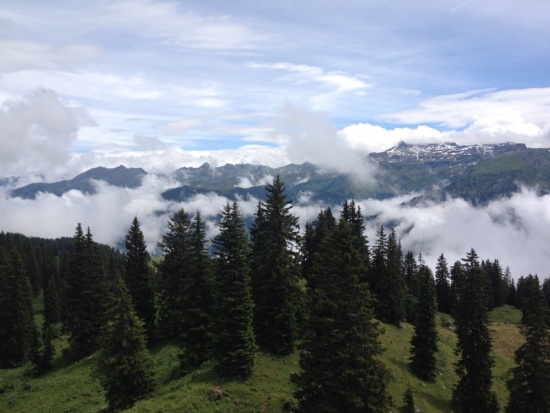 Overview
Braunwald is a small mountain resort in the canton Glarus in eastern Switzerland. It's a good place for many alpine species and alpine mammals.
Access and accomodation are easy.
Birds
The best months to visit are mid-May to mid-July. In May there may still be some snow. July and August are still fine for Golden Eagle, however passerines may be hard to find.
Some species will be easy to see like Common Cuckoo, Water Pipit, Black Redstart, Northern Wheatear, Willow Tit (race montanus), Crested Tit, Spotted Nutcracker or Ring Ouzel.
Other species need some luck and good timing, like Wallcreeper or Common Rock Thrush. Rock Partridge and Rock Ptarmigan will need early starts but are possible. Golden Eagle can be seen in good weather. Alpine Accentor occurs higher up and Citril Finch is found in the more open parts of the forest.
Owls are hard to find and easier in April or early May. For Black Grouse an early visit in the year is recommended. Hazel Grouse occurs but is hard to find.
Rarities
Bearded Vulture is sometimes seen around Braunwald.
Check-list
Birds you can see here include:
Northern Goshawk, Eurasian Sparrowhawk, Common Buzzard, Golden Eagle, Common Kestrel, Peregrine Falcon, Hazel Grouse, Rock Ptarmigan, Black Grouse, Rock Partridge, Common Cuckoo, Pygmy Owl, Tengmalm's Owl, Common Swift, Alpine Swift, Green Woodpecker, Black Woodpecker, Great Spotted Woodpecker, Eurasian Three-toed Woodpecker (rare), Eurasian Skylark, Eurasian Crag Martin, Barn Swallow, Water Pipit, Tree Pipit, Grey Wagtail, White Wagtail, White-throated Dipper, Eurasian Wren, Hedge Accentor, Alpine Accentor, European Robin, Black Redstart, Northern Wheatear, Rufous-tailed Rock Thrush, Ring Ouzel, Eurasian Blackbird, Song Thrush, Mistle Thrush, Lesser Whitethroat, Garden Warbler, Blackcap, Common Chiffchaff, Goldcrest, Common Firecrest, Spotted Flycatcher, Willow Tit, Crested Tit, Coal Tit, Blue Tit, Great Tit, Eurasian Nuthatch, Wallcreeper, Eurasian Treecreeper, Spotted Nutcracker, Eurasian Jay, Yellow-billed Chough, Carrion Crow, Common Raven, Common Starling, House Sparrow, White-winged Snowfinch (rare), Chaffinch, Citril Finch, European Greenfinch, European Goldfinch, Eurasian Siskin, Eurasian Linnet, Lesser Redpoll, Common Crossbill, Eurasian Bullfinch, Yellowhammer
Other Wildlife
Marmot is easy to see. They are sometimes very close to you. Chamois and Ibex are possible but not very common.
Site Information
History and Use
Braunwald is a mountain resort with a small ski station. It's popular for families and for climbers (there is a via ferrata at Eggstöcke).
Areas of Interest
The forest birds can be found in any forest above Braunwald. For the alpine species a good itinerary is to go up to Gumen by chairlift (starting at 8 am) and then take the path to Bützi. Up at Bützi you can spend some time looking for Rock Thrush, Rock Partridge and Ptarmigan. Be careful in the karst! Citril Finch is easy around Ortstockhaus.
Be careful when walking in the mountains. Take enough clothing, food, good shoes and water with you. It may get very cold suddenly and it can snow in July! Buy a map (1:25'000; or download a map from http://map.geo.admin.ch) and inform someone in your hotel where you are going. Take a mobile phone with you. Check the weather forecast.
Access and Facilities
Braunwald can only be reached by funicular. You can get to Linthal / Braunwaldbahn by car or train. There is a direct train from Zürich which needs about 90 minutes to get there.
Accomodation in Leukerbad is plentiful and there is something for every budget (although still Swiss prices).
External Links