Overview
Switzerland is a small country (41,293 sqkm) in the heart of western Europe. It borders Germany, Liechtenstein, Austria, Italy and France. 8 million people are living in the country, making it one of the most densely populated countries in Europe. The deepest point is Lago Maggiore (193m), and the highest point the Dufourspitze (4634m). Officially four languages are spoken in the country: French in the west, Italian in the south, German in the north and centre and Rhaeto-romansch in some Alpine valleys. But most people speak some English.
Birds
Notable Species
Almost 400 species have been recorded in Switzerland and 200 species are breeding.
Some notable breeding species are Red Kite, Black Kite, Lammergeier (reintroduction scheme), Golden Eagle, Western Capercaillie, Rock Partridge, Eagle Owl, Pygmy Owl, Tengmalm's Owl, Scops Owl, European Bee-eater, Eurasian Hoopoe, Black Woodpecker, Grey-headed Woodpecker, Three-toed Woodpecker, Eurasian Crag Martin, Alpine Accentor, Rufous-tailed Rock Thrush, Melodious Warbler, Bonelli's Warbler, Wallcreeper, White-winged Snowfinch and Citril Finch. In winter, the big lakes hold important numbers of wintering ducks, mostly Common Pochards and Tufted Ducks. Breeding and wintering are also big numbers of Red-crested Pochards.
Rarities
Last additions to the Swiss list were Pink-footed Goose and a Bimaculated Lark in 2011 and a Iceland Gull in 2013. Most rarities turn up in spring or autumn.
Areas of Interest
The landscape can be divided into three main parts, the Jura, the Mittelland (or Plateau) and the Alps. For birding reasons the southern part of the Alps, consisting of the regions of Wallis/Valais, Tessin (or Ticino) and the southern valleys of Graubünden/Grisons is separated. Some Mediterranean species like Blue Rock Thrush, Pallid Swift or Spanish Sparrow reach the limit of their distribution here.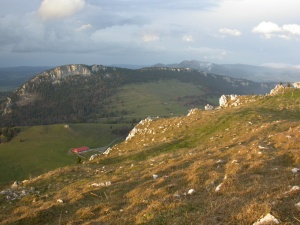 A region in the northwest, mostly long chains of hills, up to 1700m high. Big forests and meadows. Some Alpine species occur here, also.

Hilly area between the Jura and the Alps. Densely populated, all major cities are found here (eg Zurich, Bern, Geneva). Some big lakes and river plains.
Crossing the country from west to east and dividing it into a southern part (Tessin) and a northern, this mountain chain rises up to over 4600m in Switzerland. Many special species and plants. Some regions are very touristic and well developped, others are hard to reach.
Formed here by the cantons of Valais (Wallis) and Ticino (Tessin) and the southern valleys of Graubünden (Grisons). Warmer and drier than the rest of the country and with Mediterranean influence.
Access and Facilities
Most locations can be reached by public transport which is very effective and reliable. In some areas (like Fanel) a bicycle is a good choice. You can rent them at several railway stations or you can transport your own with you in the train, altough this is sometimes quite complicated. Some locations in the Alps can be reached by cablecars. However, their service is sometimes starting too late for birders, so a night in an alpine hut may be needed.
The Alps can be a dangerous place! You may start your tour in sunshine at 8 o'clock in the morning and find yourself in the middle of a snowstorm 5 hours later! Always prepare yourself before going out in the Alps. Take a good map with you and check the local weather forecast. Wear good hiking shoes and good clothing. Be prepared for everything, so take an additional jumper and rain clothes with you. Don't go alone. Inform the staff in your hotel or somebody else where you are going. Take enough to drink and eat with you. Only take your scope with you when you are sure, that you can handle it on narrow, steep paths.
External Links
Subcategories
This category has the following 4 subcategories, out of 4 total.
Pages in category 'Switzerland'
The following 23 pages are in this category, out of 23 total.