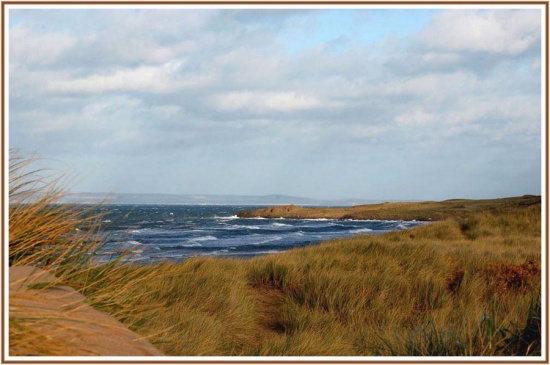 Overview
About 25km to the east of Edinburgh on the southern shores of the Firth of Forth lies Aberlady Bay, part of which is a Local Nature reserve. The habitats consist of extensive tidal mudflats and saltmarsh, sand-dunes and grassland as well as open freshwater, scrub and woodland.
Close by are Gosford Bay, to the south and Gullane Point and Bay to the north-east. Around 250 species have been recorded in this area which is important for breeding species and waders and waterfowl during passage periods and in winter. Gullane Point also provides opportunities for seawatching.
Birds
Notable Species
Breeding species include Little Grebe, Shelduck and Eider as well as Ringed Plover, Lapwing, Snipe and Redshank. The drier areas have Grey Partridge, Skylark and Meadow Pipit. Garden Warbler, Lesser Whitethroat, Blackcap and Spotted Flycatcher nest in the scrub and woodland.
All the regular waders of northern Europe can occur on passage with many present in winter and some such as Knot and Sanderling are also present in small numbers in summer.
Offshore, Fulmar and Gannet, Guillemot and Razorbill can be seen most of the year as can Common and a few Velvet Scoter. Grebes, Manx Shearwater, Kittiwake, Sandwich Tern and skuas occur during passage periods.
Sparrowhawk, Merlin, Peregrine and Short-eared Owl hunt the saltmarshes in autumn and winter.
Red-throated, and sometimes other divers, winter offshore in good numbers and the reserve is used for roosting by a flock of Whooper Swan. Bewick's Swan also occurs at times but Pinkfoot and Greylag are regular. Long-tailed Duck is one of the most exciting wintering ducks which include Scaup, Goosander and Goldeneye. Gosford Bay is famous as a wintering site of Red-necked and Slavonian Grebes.
Passerines feeding on the saltmarsh in winter often include Shorelark, Eurasian Tree Sparrow, Twite and Snow and Lapland Buntings.
Rarities
The area is well-watched which inevitably leads to scarce migrants and rarities being recorded on a regular basis. Little Gull and Black Tern are regular autumn visitors and Glaucous Gull and Jack Snipe are annual in winter.
This is one of the most regular sites for King Eider in mainland Scotland and Surf Scoter is also sometimes recorded. Vagrants recorded in recent years have included Greater Sand Plover, American Golden Plover, Wilson's Phalarope, Lesser Yellowlegs and White-rumped, Sharp-tailed and Broad-billed Sandpipers.
Checklist
Birds you can see here include:
Red-throated Diver, Black-throated Diver, Great Northern Diver, Little Grebe, Great Crested Grebe, Red-necked Grebe, Slavonian Grebe, Northern Fulmar, Manx Shearwater, Northern Gannet, Great Cormorant, Grey Heron, Bewick's Swan, Whooper Swan, Pink-footed Goose, Greylag Goose, Canada Goose, Barnacle Goose, Pale-bellied Brent Goose, Dark-bellied Brent Goose, Common Shelduck, Eurasian Wigeon, Common Teal, Mallard, Northern Pintail, Northern Shoveler, Common Pochard, Tufted Duck, Greater Scaup, Common Eider, King Eider, Long-tailed Duck, Common Scoter, Velvet Scoter, Surf Scoter, Common Goldeneye, Red-breasted Merganser, Goosander, Eurasian Sparrowhawk, Common Kestrel, Merlin, Peregrine Falcon, Grey Partridge, Water Rail, Common Moorhen, Common Coot, Water Rail, Eurasian Oystercatcher, Common Ringed Plover, Eurasian or European Golden Plover, Grey Plover, Northern Lapwing, Red Knot, Sanderling, Little Stint, Curlew Sandpiper, Purple Sandpiper, Dunlin, Ruff, Eurasian Woodcock, Jack Snipe, Common Snipe, Black-tailed Godwit, Bar-tailed Godwit, Whimbrel, Eurasian Curlew, Spotted Redshank, Common Redshank, Common Greenshank, Green Sandpiper, Wood Sandpiper, Common Sandpiper, Ruddy Turnstone, Pomarine Skua, Arctic Skua, Great Skua, Little Gull, Black-headed Gull, Common Gull, Lesser Black-backed Gull, Herring Gull, Glaucous Gull, Great Black-backed Gull, Sandwich Tern, Common Tern, Arctic Tern, Roseate Tern, Little Tern, Black Tern, Common Guillemot, Razorbill, Long-eared Owl, Short-eared Owl, Common Swift, Eurasian Skylark, Shorelark, Barn Swallow, Tree Pipit, Meadow Pipit, Yellow Wagtail, Pied Wagtail, White Wagtail, Grey Wagtail, Common Wren, Dunnock, Eurasian Robin, Whinchat, European Stonechat, Northern Wheatear, Eurasian Blackbird, Fieldfare, Song Thrush, Redwing, Mistle Thrush, Sedge Warbler, Lesser Whitethroat, Garden Warbler, Blackcap, Willow Warbler, Spotted Flycatcher, Carrion Crow, Hooded Crow, House Sparrow, Eurasian Tree Sparrow, Chaffinch, Brambling, European Greenfinch, Eurasian Linnet, Twite, Lesser Redpoll, Mealy Redpoll, Eurasian Bullfinch, Lapland Bunting, Snow Bunting, Reed Bunting
Site Information
There is much of interest throughout the year but passage periods bring the most variety.
Areas of Interest
A track from the car-park to the east of the village leads north to Gullane Point for seawatching or to view Gullane Bay.
Nearby Sites
Access and Facilities
Aberlady Bay can be reached on the A198 road between Musselburgh and North Berwick and can be viewed from the roadside just east of Aberlady village.
There is also a car-park at Gullane village.
For Gosford Bay park at Ferny Ness and view the bay from the A198.
Contact Details
Tel: 01620 827847
SNH: Tel: 01875-870588
External Links
Content and images originally posted by Steve
Reviews
rdspalm's review Excellent birdwatching spot. I visited in November 2004. Excellent views of Short Eared Owls hunting at close range. Great views of geese and duck coming home late afternoon.
Would like to visit again. Thoroughly recommended. Pros
Easy to get to. Good paths. Fairly flat