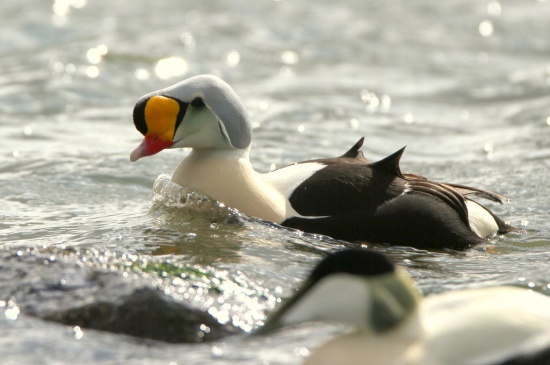 Somateria spectabilis
Identification
47–63 cm; (18-24¼ in)
Adult Male: Breeding:
Body almost totally black or blackish
White mantle
Pinkish-white breast
Grey head with orange forehead
Coral-pink bill
White wing bars show in flight
Similar Species
Female, immature and eclipse male similar to female Common Eider and Steller's Eider
Distribution
Breeds in coastal Alaska and the high Arctic of Canada's Yukon, Northwest Territories and Nunavut, Quebec to coastal Greenland and Iceland. Winters in a line through southern Canada to the Great Lakes and the St Lawrence River, and coastal US. Occasionally to mid-Atlantic United States.
In the Western Palearctic breeds only in the far north on the islands of Svalbard, Novaya Zemlya and Ostrov Kolguyev, and on the mainland of coastal Arctic Russia from the Kanin Peninsula eastwards. Occasionally breeds south of main range and sometimes interbreeds with Common Eider.
In winter occurs from the White Sea west to the north Scandinavia coast and around coasts of Iceland. Chicks have been recorded in Iceland although they were considered to be probable hybrids.
Rare but regular in northern Scotland in very small numbers with long-staying and returning individuals (c.170 records). Also regularly recorded in small numbers in the southern Baltic. Occasional elsewhere in Britain, vagrant over most of Northern Europe and south to Spain, Italy and the Azores.
Taxonomy
This is a monotypic species[1].
Habitat
Breeds on tundra, winters at sea normally in Arctic regions and not confined to inshore waters.
Behaviour
Vagrants to the south of usual range usually seen inshore in the company of Common Eider.
Diet
Dives for crustaceans, molluscs and starfish.
References
Clements, J. F., T. S. Schulenberg, M. J. Iliff, D. Roberson, T. A. Fredericks, B. L. Sullivan, and C. L. Wood. 2018. The eBird/Clements checklist of birds of the world: v2018. Downloaded from http://www.birds.cornell.edu/clementschecklist/download/
Collins Pocket Guide to British Birds 1966
Collins Field Guide 5th Edition
Collins Bird Guide ISBN 0 00 219728 6
BTO BirdFacts
eBird, https://ebird.org/species
Recommended Citation
External Links
GSearch checked for 2020 platform.1