Overview
This is a major wildlife refuge in the state of Nevada, administered by the U.S. Fish & Wildlife Service. The main feature of the refuge is the 17,000 acres of bullrush marsh at around 6000' of elevation, with pockets of open water that graduate into meadows and grasslands. Rocky slopes in the west rise to the 11,000' Ruby Mountains. It is a major migratory resting stop, and a haven for year-round marsh dwellers, although species are limited in winter by the elevation; substantial snow is possible.
Birds
Notable Species
220 species of birds regularly visit. Primary mission of the refuge is providing nesting habitat for migratory birds. Waterfowl are the most conspicious breeders, including Trumpeter Swan. This is the most important nesting area for the Canvasback Duck in the western United States. Redheads are also plentiful.
Check-list
Full Seasonal Bird List.
(The list below is for breeding birds only - there are many more migrants)
Birds you can see here include:
Pied-billed Grebe, Eared Grebe, Double-crested Cormorant, American Bittern, Great Blue Heron, Great Egret, Snowy Egret, Black-crowned Night Heron, White-faced Ibis, Turkey Vulture, Canada Goose, Trumpeter Swan, Gadwall, American Wigeon, Mallard, Blue-winged Teal, Cinnamon Teal, Northern Shoveler, Northern Pintail, Green-winged Teal, Redhead, Canvasback, Ring-necked Duck, Lesser Scaup, Bufflehead, Ruddy Duck, Northern Harrier, Red-tailed Hawk, Golden Eagle, American Kestrel, Prairie Falcon, Chukar, Greater Sage Grouse, Blue Grouse, Virginia Rail, Sora, Common Gallinule, American Coot, Sandhill Crane, Killdeer, Black-necked Stilt, American Avocet, Willet, Spotted Sandpiper, Long-billed Curlew, Wilson's Snipe, Wilson's Phalarope, California Gull, Forster's Tern, Black Tern, Mourning Dove, Great Horned Owl, Burrowing Owl, Long-eared Owl, Short-eared Owl, Northern Saw-whet Owl, Common Nighthawk, Common Poorwill, White-throated Swift, Black-chinned Hummingbird, Calliope Hummingbird, Belted Kingfisher, Lewis's Woodpecker, Red-naped Sapsucker, Williamson's Sapsucker, Downy Woodpecker, Hairy Woodpecker, Northern Flicker, Western Wood Pewee, Willow Flycatcher, Gray Flycatcher, Dusky Flycatcher, Cordilleran Flycatcher, Say's Phoebe, Western Kingbird, Loggerhead Shrike, Plumbeous Vireo, Warbling Vireo, Woodhouse's Scrub Jay, Pinyon Jay, Clark's Nutcracker, Black-billed Magpie, American Crow, Common Raven, Horned Lark, Tree Swallow, Violet-green Swallow, Northern Rough-winged Swallow, Cliff Swallow, Barn Swallow, Mountain Chickadee, Juniper Titmouse, Bushtit, Red-breasted Nuthatch, White-breasted Nuthatch, Brown Creeper, Rock Wren, Canyon Wren, House Wren, Marsh Wren, Ruby-crowned Kinglet, Blue-gray Gnatcatcher, Mountain Bluebird, Townsend's Solitaire, Swainson's Thrush, Hermit Thrush, American Robin, Northern Mockingbird, Sage Thrasher, European Starling, Orange-crowned Warbler, Virginia's Warbler, Yellow Warbler, Yellow-rumped Warbler, Black-throated Gray Warbler, MacGillivray's Warbler, Common Yellowthroat, Yellow-breasted Chat, Western Tanager, Green-tailed Towhee, Spotted Towhee, Chipping Sparrow, Brewer's Sparrow, Vesper Sparrow, Lark Sparrow, Black-throated Sparrow, Sage Sparrow, Savannah Sparrow, Fox Sparrow, Song Sparrow, White-crowned Sparrow, Dark-eyed Junco, Black-headed Grosbeak, Lazuli Bunting, Bobolink, Red-winged Blackbird, Western Meadowlark, Yellow-headed Blackbird, Brewer's Blackbird, Great-tailed Grackle, Brown-headed Cowbird, Bullock's Oriole, Black Rosy-Finch, Pine Grosbeak, Cassin's Finch, House Finch, Pine Siskin, American Goldfinch, House Sparrow
Other Wildlife
Notable resident mammals include: Coyote, Badger, Muskrat, Blacktail Jackrabbit, Mountain Cottontail, Mule Deer, Pronghorn, Porcupine, Belding Ground Squirrel, Least Chipmunk, Ord Kangaroo Rat, Great Basin Pocket Mouse, Great Basin Kangaroo Rat, Deer Mouse, Mountain Vole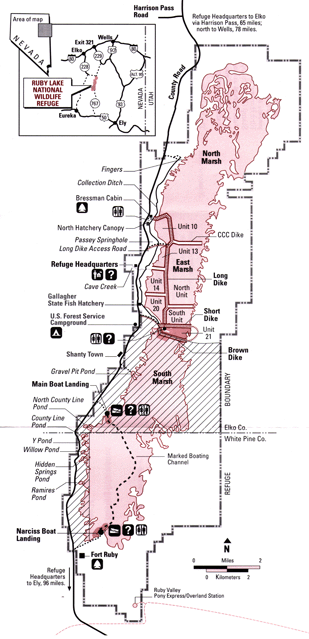 Site Information
History and Use
The marshes are the remnants of a 200-foot deep lake covering over 300,000 acres. As is typical of the Great Basin area, the lake was full at the end of the last ice ages, and has now shrunk to Franklin Lake to the north and marshes to the south. The NWR was established in 1938. It encompasses 37,632 acres - 16 miles in dimension in roughly the north-south direction, and 3 miles at its widest. Motivation for creating the refuge was to provide critical habitat for migrating waterfowl, to keep their numbers adequate for hunting. Hunting is still allowed in the Fall, and fishing is very popular. Thus, the resident and regularly visiting wildlife can be skittish; flushing distances are large, and spotting scopes and long lenses are necessary to view or photograph the 'game' species. Visitation is very light in non-hunting season; you might be the only birders in the entire reserve on a perfect spring day.
Boating allowed June 15-Dec 31, with restrictions (call) on type and power.
Areas of Interest
A small Visitors' Center with knowledgable resident rangers, but very modest exhibits. Cave Creek just behind the Visitors' Center is worth a visit. A short trail leads up the tree-lined creek where passerines can be found in abundance. At the top, water gushes out of a cave.
Access and Facilities
Located in northwest Nevada; headquarters for the NWR is located at [N 40d 12m 06s / W 115d 29m 36s]
From the north, take the Halleck exit from Interstate 80 onto highway 229, and drive 68 miles south. The final 23 miles is on gravel. Signs announce arrival at the refuge. From the other cardinal directions, access is more difficult and complicated, especially if you wish to avoid major stretches of gravel road. It is best to obtain a detailed highway map.
Main access to marsh area is via graveled roads on dikes. Restrooms in many locations. A campground (fee) administered by the NFS is available, and there are opportunities for free primitive camping in adjacent areas (no camping or overnight visitation is allowed within the reserve boundaries). Two recently constructed birding blinds are located in the Marsh area, one near the west side, and one near the east side. They should be reserved, either by calling ahead or in person at the Visitors' Center. Useage is very infrequent - be prepared to clear spider webs and wasp nests inside. The nearest lodging, restaurants, groceries, and fuel are in Elko, 65 miles to the northeast. Come prepared! Visitors must a minimum of 23 miles of gravel road (excellent, graded, 50mph) from any direction.
Contact Details
Headquarters/information station open M-F, phone 775/779-2237.
External Links