Sphyrapicus thyroideus
Identification
Iridescent black head, back, sides and tail, white stripe behind the eye and a lower white stripe across each side of the head, red chin, bright yellow belly, black wings with large white patches. The female is completely different - black, pale yellow breast, brownish head with black streaking and fine barring on the back, breast and sides.
Distribution
Western North America, from southern British Columbia, Washington, and western Montana south to southern California, Arizona, and New Mexico. Uncommon in coastal areas.
Taxonomy
Two subspecies are recognized:[1]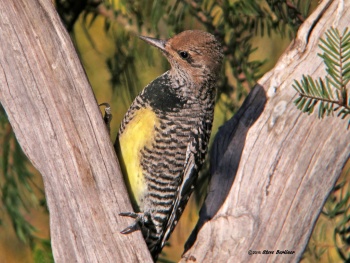 Habitat
Open forested areas, including conifers.
Behaviour
Breeding: They excavate a new nesting cavity each year, sometimes reusing the same tree.
Diet: Includes sap, mainly from conifers; insects are the main food source during the nesting season; berries are eaten outside of the breeding period.
References
Clements, J. F., T. S. Schulenberg, M. J. Iliff, D. Roberson, T. A. Fredericks, B. L. Sullivan, and C. L. Wood. 2016. The eBird/Clements checklist of birds of the world: v2016, with updates to August 2016. Downloaded from http://www.birds.cornell.edu/clementschecklist/download/
Recommended Citation
External Links