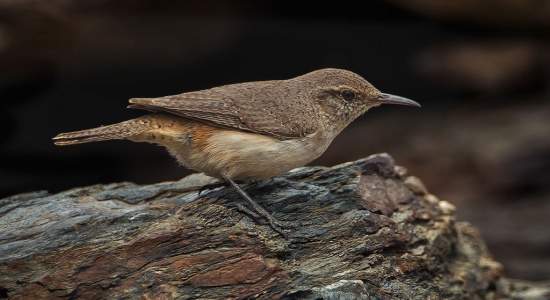 Salpinctes obsoletus
Identification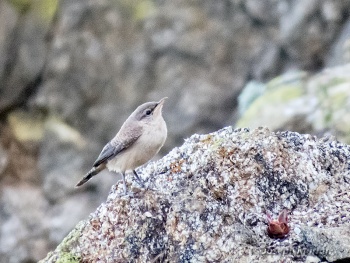 14–16 cm (5½-6¼ in)
Grayish-brown upperparts with many white spotted dark streaks
Pale supercilium
Light gray underparts
Pale brown rump
Long thin bill
Long barred tail
Dark legs
Distribution
Southwestern Canada south to Costa Rica.
Taxonomy
Subspecies
Eight subspecies are recognized:[1]
S. o. guadelouppenis - Guadapule Island, (off western Mexico)
S. o. tenuirostris - San Benidicto Islands (off southern Baja California)
S. o. exsul - San Benidicto Island, Baja, (Revillagigedo Islands off southern Baja California)
S. o. neglectus - Highlands of south-eastern Mexico (Chiapas) to Guatemala and central [[Honduras]
S.o. guttatus - highlands, El Salvador
S.o. fasciatus - Highlands of north-western Nicaragua
S.o. costaricensis - Highlands of nw Costa Rica
Habitat
Rocky canyons. Arid or semiarid areas with exposed rock; desert to alpine habitats.
Behaviour
Breeding
They build a cup nest in a crevice or cavity, usually among rocks. The nest is formed from grass, bits of wood, bark, moss, hair, and occasionally fresh plant material in shallow space; lined with rootlets, hair, wool, spider silk. Placed in cavity or crevice in or among rocks, usually with foundation of stone and often with pavement of small stones extending from nest to entrance of nest cavity and sometimes beyond. The clutch consists of 4-6 white eggs with fine spots of reddish brown.
Diet
The diet consists mostly of invertebrates and small lizards.
References
Recommended Citation
External Links
GSearch checked for 2020 platform.1