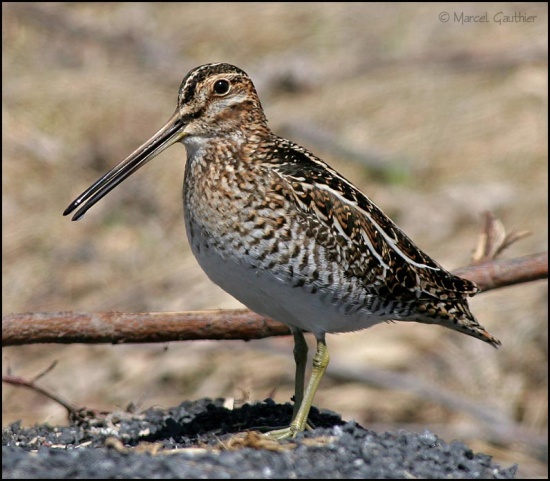 Gallinago delicata
Identification
Short, stocky wading bird, 26-28cm (10¼-11 in) . in length, with wingspan of 43-51cm.
Overall similar to other shorebirds, with long legs and rounded body. Long straight bill, brown and white plumage with strong longitudinal stripes on head; dark spotted back and breast, and buff to white underbelly Black eyes are set back on head. Greenish legs and (large) feet.
Similar Species
It is almost identical in appearance to Common Snipe but has narrower white edge on the wings, and differs in having eight pairs of tail feathers instead of seven.
A thread discussing the differences between Common and Wilson's Snipe is here
Distribution
Breeds from Aleutian Islands and Alaska to southern U.S.; winters from U.S. to northern South America.
Taxonomy
This is a monotypic species[1].
Formerly lumped within Common Snipe (gallinago) of the Old World.
Habitat
Freshwater marshes and swamps, and in open country near lakes, rivers, and ponds.
Behaviour
Usually solitary in open ground near water. Secretive; moves slowly and methodically remaining concealed with its camouflage coloration; difficult to spot until it flies.
Diet
Probes in mud for insects, larvae, and worms.
Flight
Flight pattern is diagnostic; zig zags about, frequently climbing steeply, then dropping steeply to land after a short flight. Bill often held downward during flight to give unique appearance. Sometimes rests on fence posts and telephone poles.
Breeding
Nests on the the ground in well-concealed nests.
Referenes
Clements, J. F., T. S. Schulenberg, M. J. Iliff, T. A. Fredericks, J. A. Gerbracht, D. Lepage, S. M. Billerman, B. L. Sullivan, and C. L. Wood. 2022. The eBird/Clements checklist of Birds of the World: v2022. Downloaded from https://www.birds.cornell.edu/clementschecklist/download/
Recommended Citation
External Links
GSearch checked for 2020 platform.1