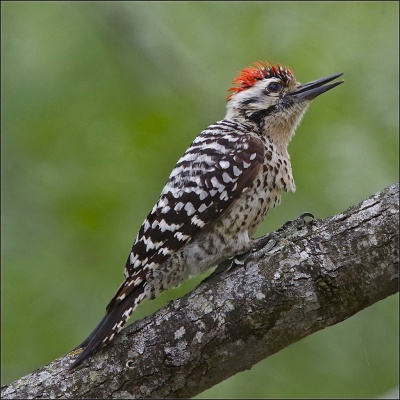 Dryobates scalaris

Picoides scalaris; Dendrocopos scalaris; Picus scalaris
Identification
16.5 to 19 cm (6½ to 7½ inches) in length
Straight black bill
Black and white, barring on back and wings
Black spotted, white underparts and rump

Adult males
Red crown to nape (smaller in immatures)
Buff forehead
Black forecrown with red feather tips

Adult female has a black crown
Similar Species
Nuttall's Woodpecker is similar but darker with broader dark bars across back and face.
Distribution
South-western United States, Mexico, and Nicaragua.
Taxonomy
Subspecies
There are 8 subspecies[1]:
Cerralvo Island, southern Baja California
Tres Marías Islands (off western Mexico)
Coastal western Mexico (southern Sonora to Guerrero, south-western Puebla, western Oaxaca)
Southern Mexico (Veracruz and Chiapas)
North Yucatán Peninsula, Cozumel Island and Holbox Island
Habitat
Deserts and open woodland in very dry areas; also woods along seasonally dry water courses.
Behaviour
Breeding
They nest in cavities excavated in tree trunks. Their clutch contains 2 to 7 plain white eggs which are incubated by both adults.
Diet
Their diet consists mostly of insects, invertebrates and their larva, such as beetles, caterpillars and ants; they also eat some fruit.
References
Clements, J. F., T. S. Schulenberg, M. J. Iliff, S. M. Billerman, T. A. Fredericks, J. A. Gerbracht, D. Lepage, B. L. Sullivan, and C. L. Wood. 2021. The eBird/Clements checklist of Birds of the World: v2021. Downloaded from https://www.birds.cornell.edu/clementschecklist/download/
Handbook of the Birds of the World Alive (retrieved May 2019)
Recommended Citation
External Links
Search the Gallery using the scientific name:
Search the Gallery using the common name:
GSearch checked for 2020 platform.